I grew up eating this yeast raisin bread for part of my life. My aunt Irene showed me how to make is when I was younger, and I am so grateful she did. I don't make it as often as I should considering it is one of Grant's favorite things. His family told me that before we were married or even dating he would hoard it and not share it with the rest of them whenever I made it. Yeast shouldn't be as intimidating as some people make it out to be. This recipe is very easy and fun, I encourage you to make it yourself. I have also made it in the bread maker as well.
Yeast Raisin Bread
6 cups of flour
1 1/2 tsp. salt
1 Tbl. yeast
1/2 cup sugar
Mix together
1 1/2 sticks of butter at room temperature
1 egg
500 ml. milk
mix together
Let rise until it is double its' size.
Add raisins, cut in half, braid each half, and then let rise for another 20 mins. Spread egg on the top of both loaves, and put it in the oven for 40 Mins at 350°F.
For bread maker:
First add the milk, egg, butter, and yeast first.
Then add in the sugar, flour, and then the salt. Put it on the dough cycle, and let it run. My bread maker beeps whenever it is time to put the nuts or fruit in. That is when I add the raisins. Once the dough cycle is done, divide into two loaves. Then braid each loaf, let it rise for 20-40 mins with a cloth over it. Then brush with egg wash and bake.
Here are some Step by Step Picture Directions: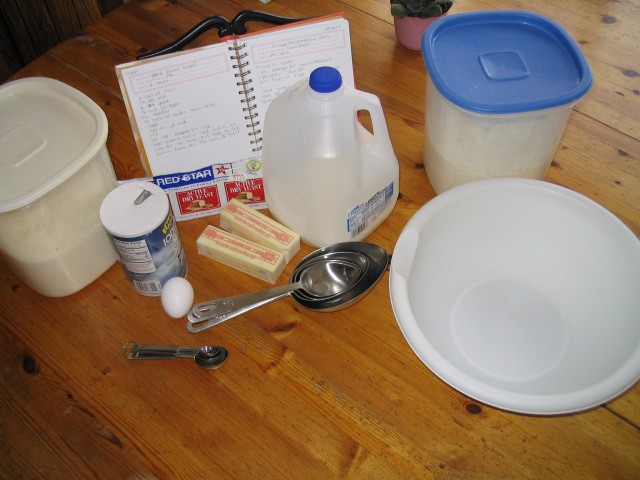 Everything ready to start. These pictures were taken before I had a kitchenaid mixer, which means you can just put everything in the order following and let the kitchenaid do all of the kneading for you.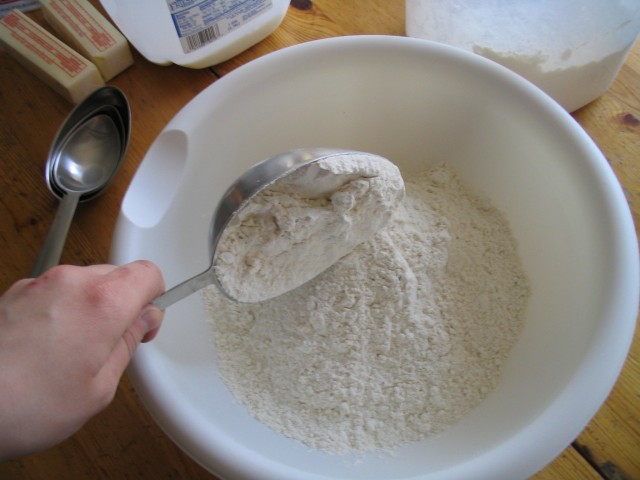 Add the Flour.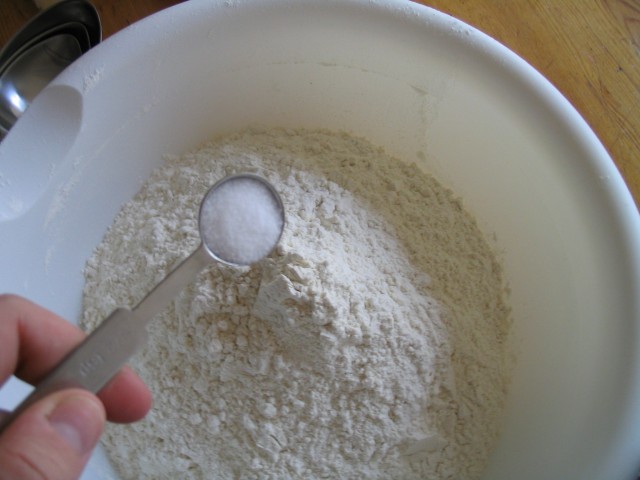 Add the Salt.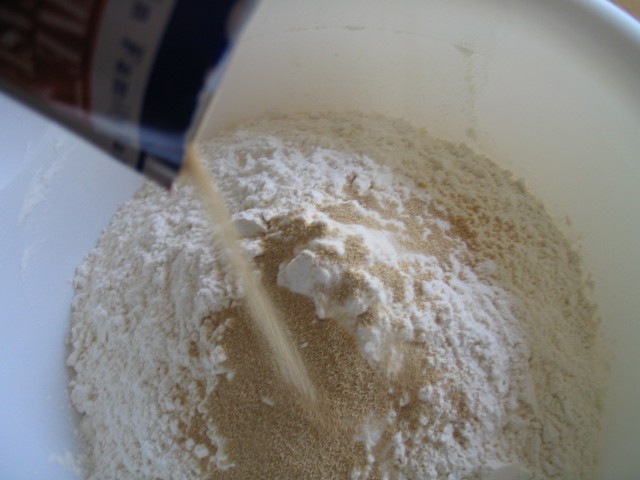 Add the Yeast.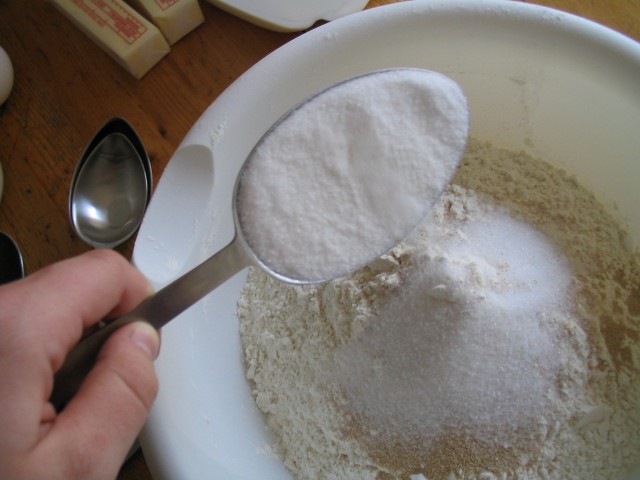 Add the Sugar.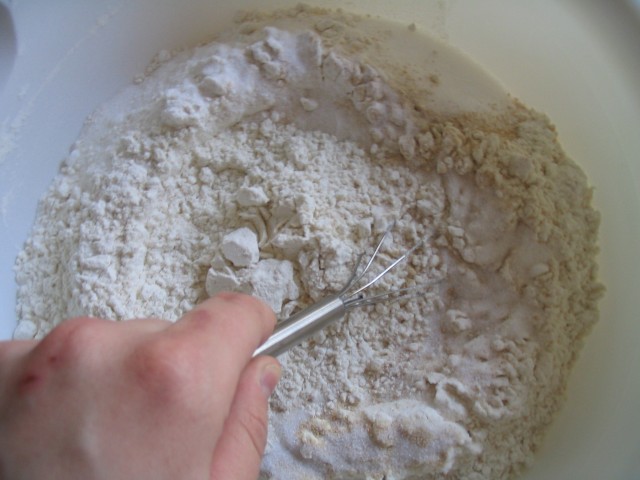 Mix these ingredients.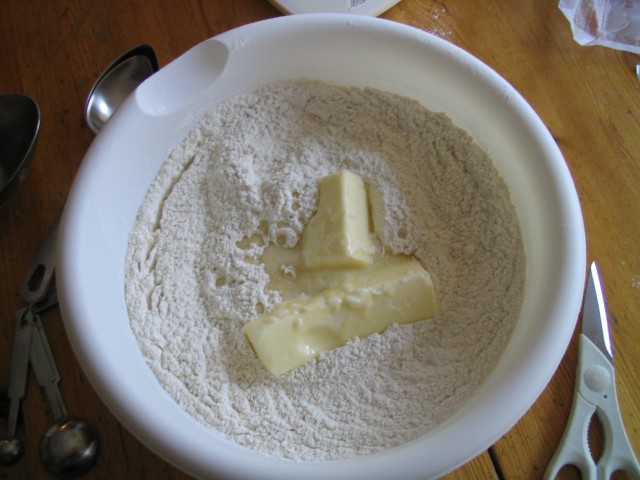 Add the Butter.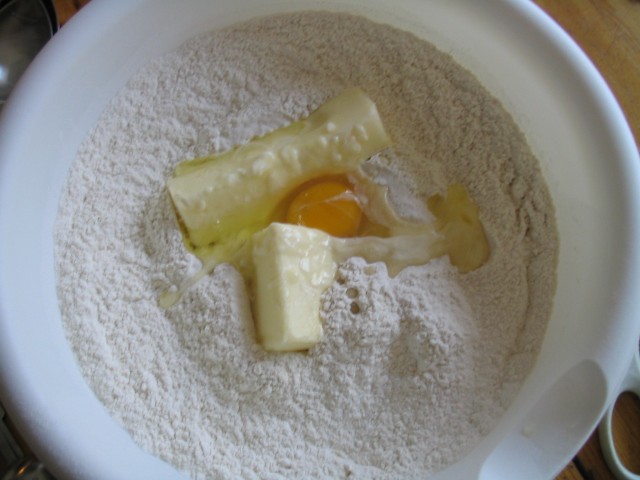 Add the Egg.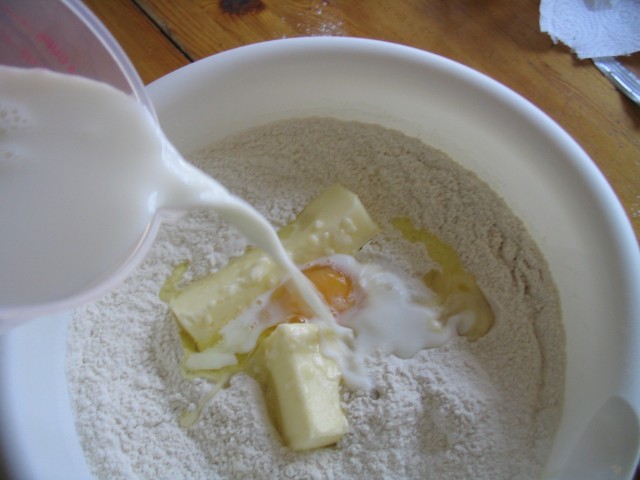 Add the Milk.
Start Kneading, or start your mixer to knead.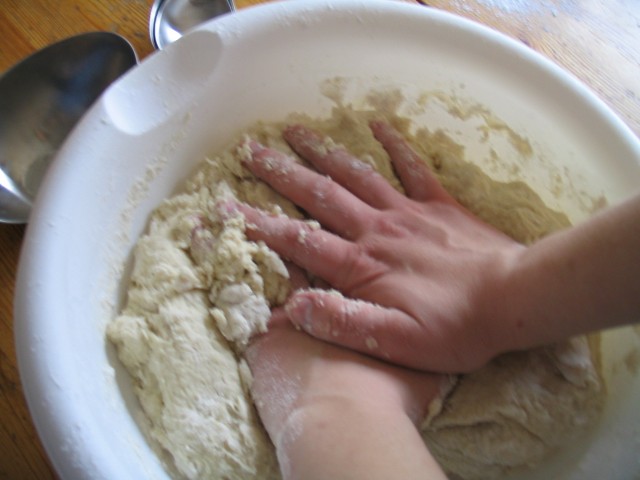 Keep kneading until it forms a ball and isn't sticky, if towards the end it won't stop sticking you can add a little bit more flour. If you add way too much flour, it will become very chewy bread rather than fluffier.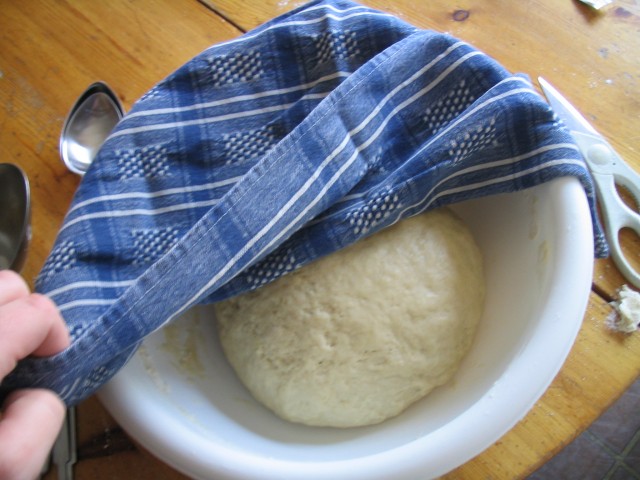 Once in a dough ball, cover with a cloth.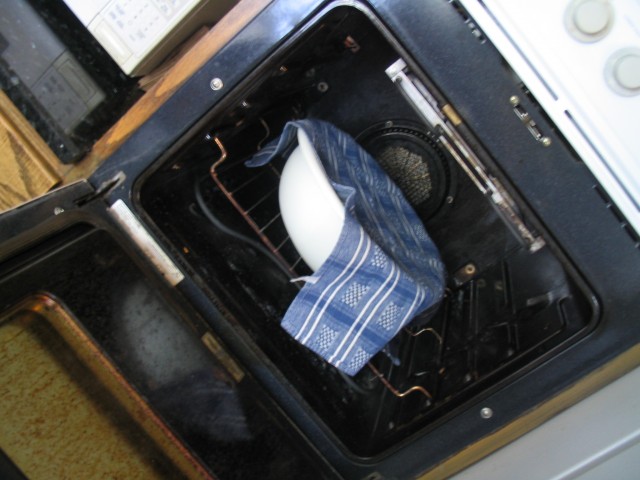 Let it rise in a warm place for at least an hour and double in size.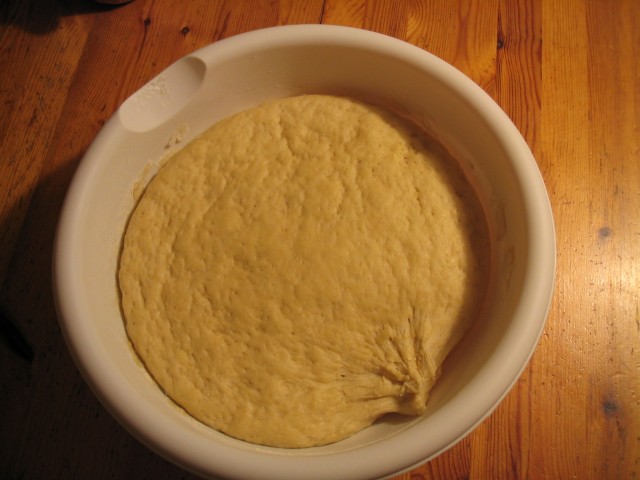 Once it is double in size, be sure to keep hands away, I wasn't paying attention and my parents decided to snack since the dough is very tasty.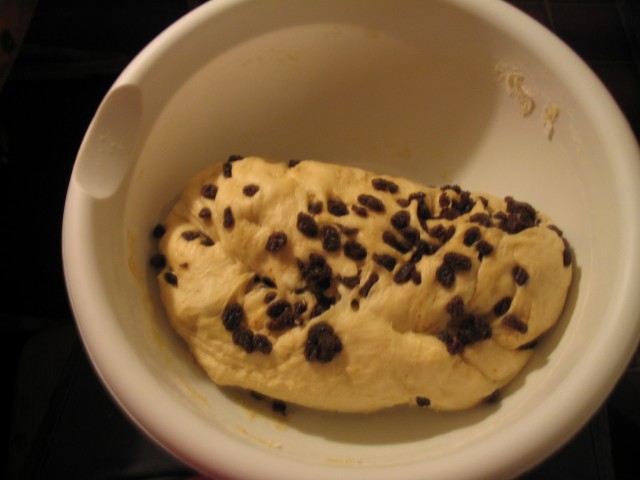 Add the raisins and distribute.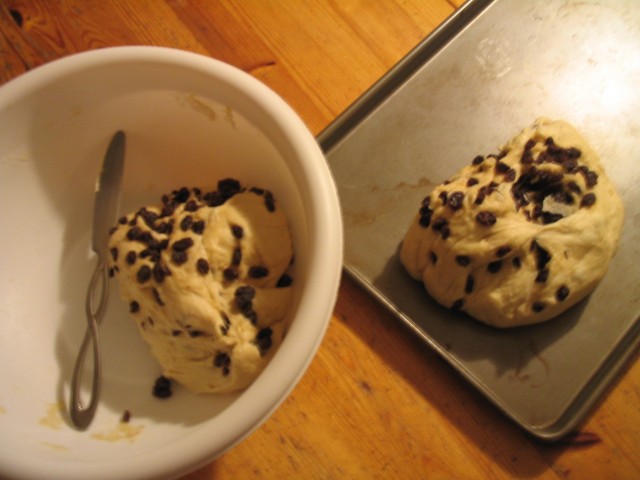 Half the dough into two loaves.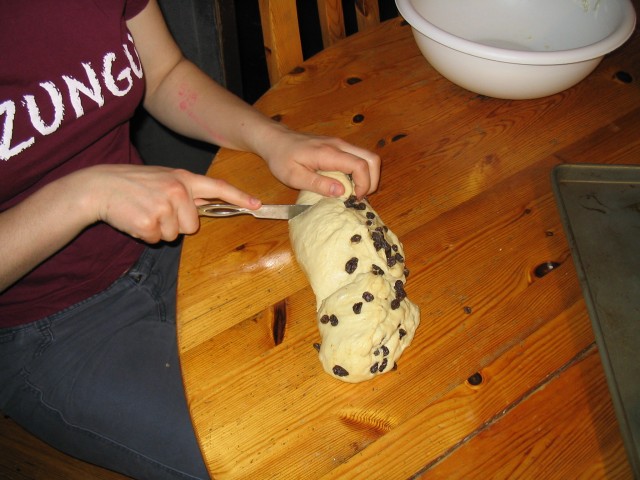 Cut into three portions.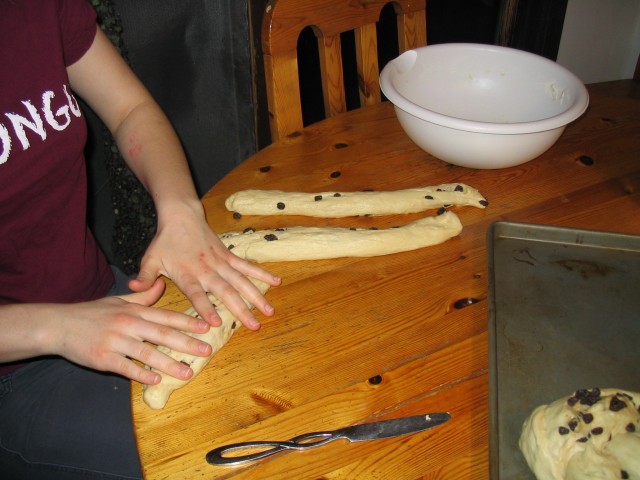 Roll them out to roughly the same size.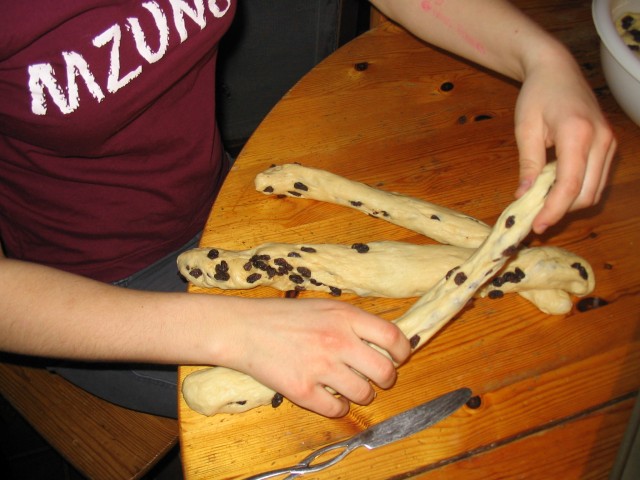 Start braiding.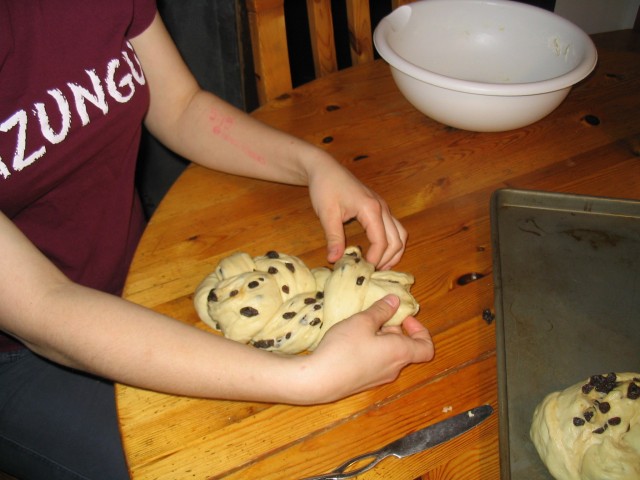 Tuck the ends under which won't all be the same length.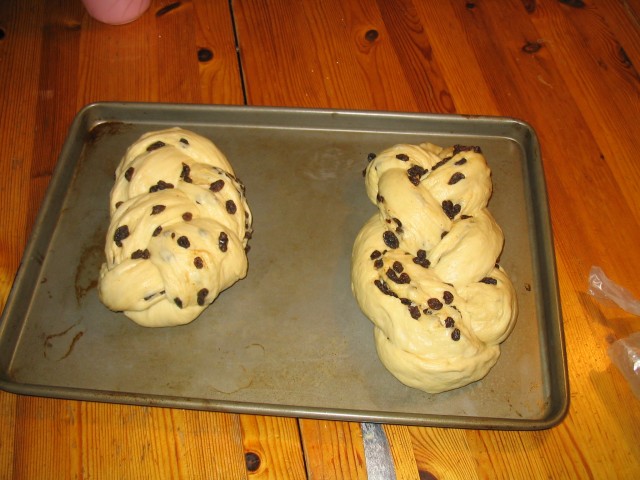 Set on a cookie sheet, if you don't have a teflon sheet spray with cooking spray because this will like to stick. Cover with a cloth and let rise for at least 20-40 mins.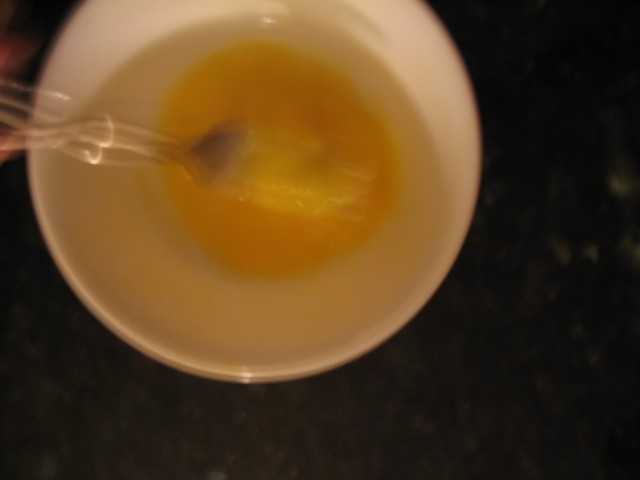 Make an egg wash.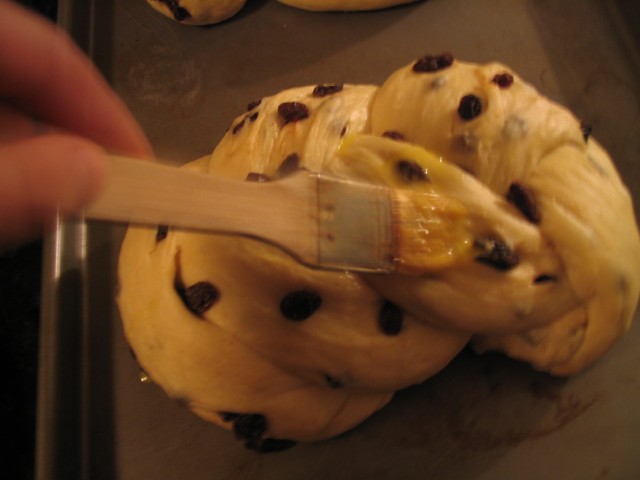 Cover the bread with it.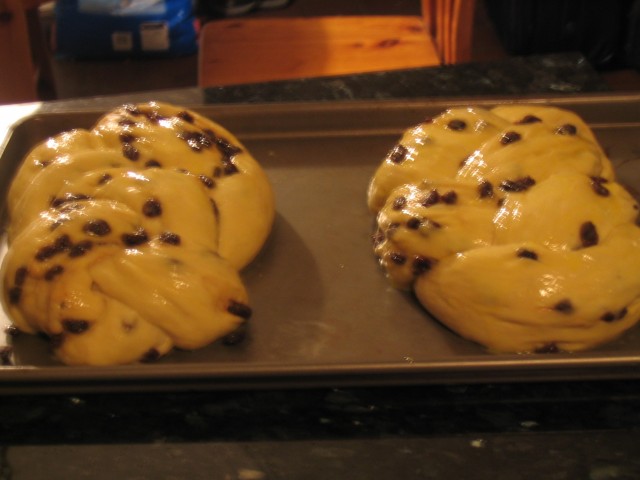 They are ready for the oven.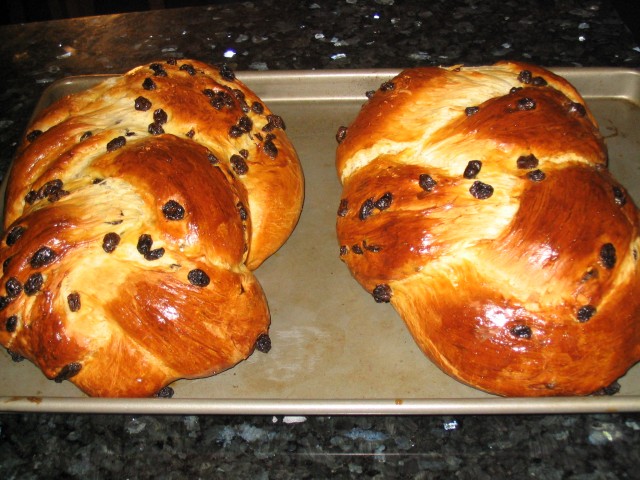 Cool completely, and enjoy! This bread tastes great with butter, or butter and jam in the mornings or just plain!