For our Anniversary, Grant and I wanted to try something different. Last year, we were too poor to do much, but go out to eat to the only place we had a gift card to, but it was still special because we rarely go out to eat. This year, we were inspired by two people in our young married's group called Deacon and Cameron. They did an unplugged anniversary and you can read about theirs here. We did ours a little bit different. We decided to be unplugged or cut off from the outside world for all of Friday after we came home from work, and all of Saturday. We didn't get on our computes or phones at all.  Grant couldn't play computer games, and I wasn't allowed to read any books. We spent time together talking, just sitting in quiet, and just enjoying our time together. For most married couples, quality time together is hard to come by especially if kids are in the picture. Most people work at two different companies, and only have a few hours a day to get things done and then try to squeeze in some time together as well.
Well, Grant and I are currently both working at the same company, and this means that even though we work in different rooms, we can technically see each other anytime we have something to say. We don't do this because we actually work at work,but you get the idea. We are always together, eat, sleep, work, clean, etc. So, this spending time together wasn't much different than our everyday life. I think we both enjoyed it,but I think it would have been more effective if this was abnormal. Saturday, we went hiking to sculpture falls which had been recommended to us by Joy and Steven another couple in our young married's group. When they went, there were a lot of areas to swim, some to just sit, sun bathe, or read. I guess we had very little rain, so when we got there, there wasn't enough water, and we were hot and tired. We ended up not eating the food we brought until the car ride back to our apartment,but I guess it was time spent together, and it was good exercise and fun getting there.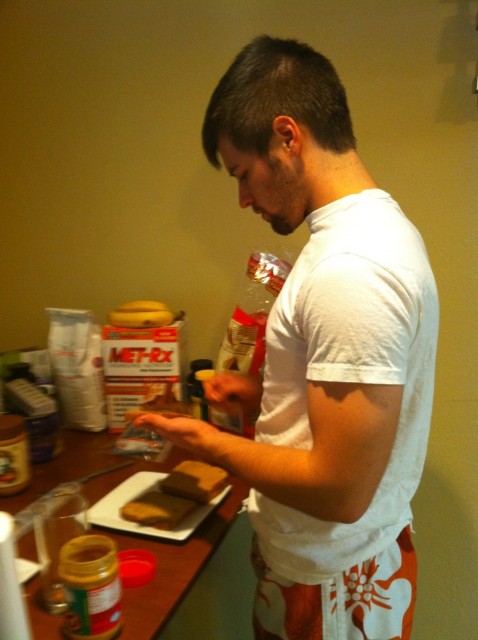 Grant making PBJs before our Hike.
The map starting off at the trail head.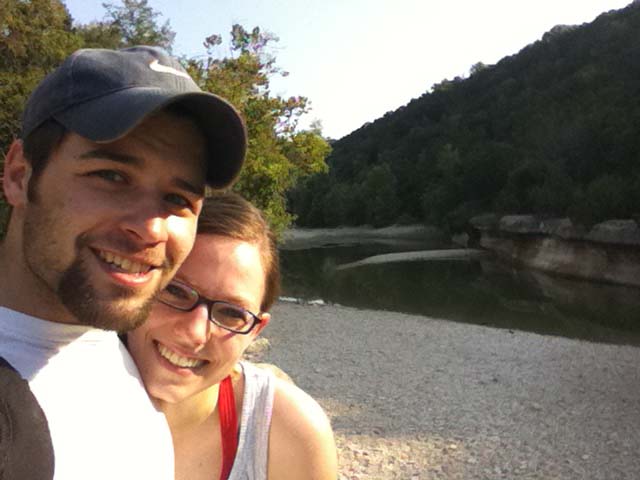 Happy Grant and Jessica after we finally found it after a 40 minute Hike.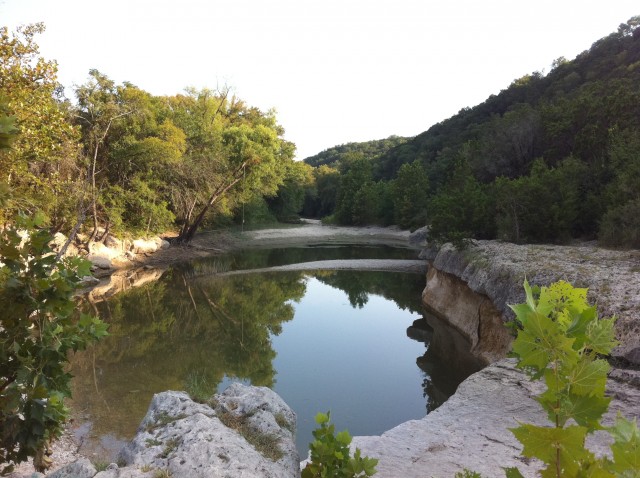 I guess the water normally goes to and above the lip you can see on the right.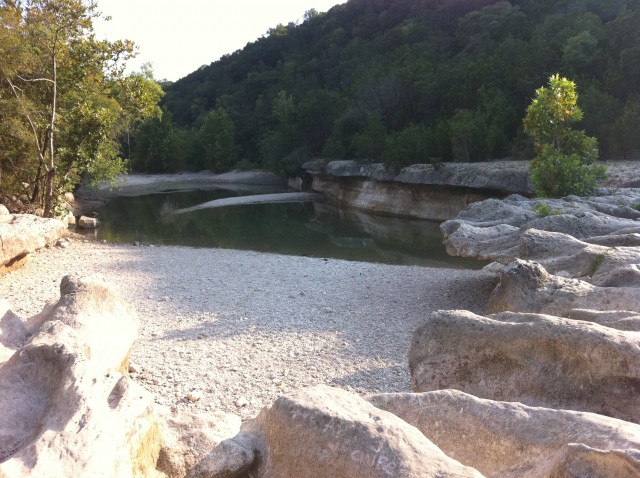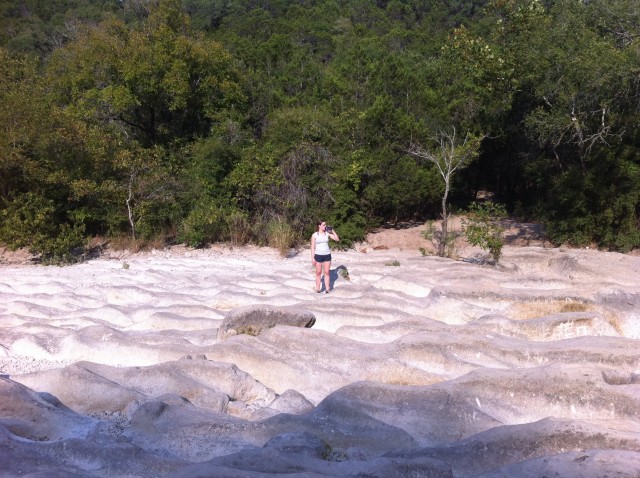 I was a little bit disappointed with the lack of water,but was glad that we had finally made it to the right spot, then we had the 40 minute hike back.
Grant and I also went out to eat a couple of times during our weekend. We went to Applebee's for Dinner on Friday night because we had a gift card, and I am addicted to their chocolate molten cakes. We had a great big homemade breakfast on Saturday morning, had lunch in the car after the hike, and then went out to eat to the Korea House for dinner on Saturday night. This is a great hole in the wall place in Austin, and the hole in the wall phrase works well because if you don't know how to get there you will have trouble. Anyway, the food is always great,but because we weren't getting multiple portions, we didn't get the Korean BBQ that they are known for. We got the cooked meat, with all of the sides, and the some good sushi.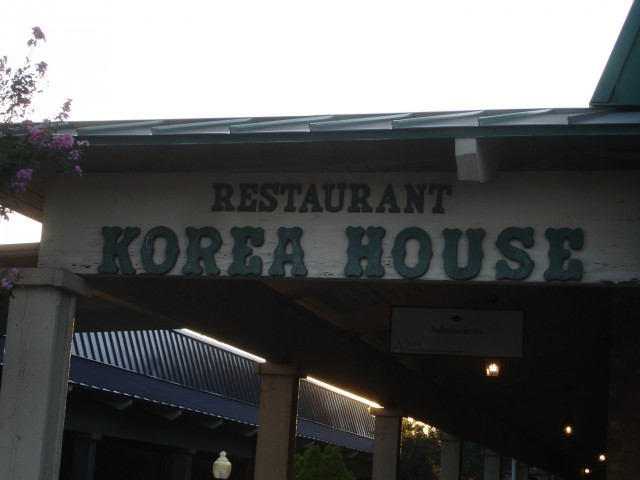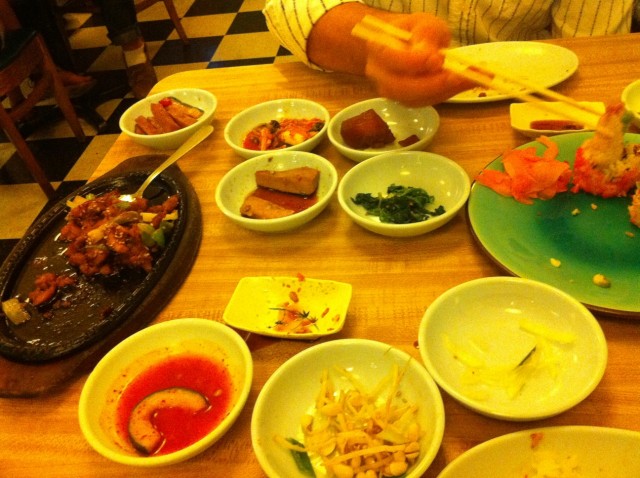 Our Food!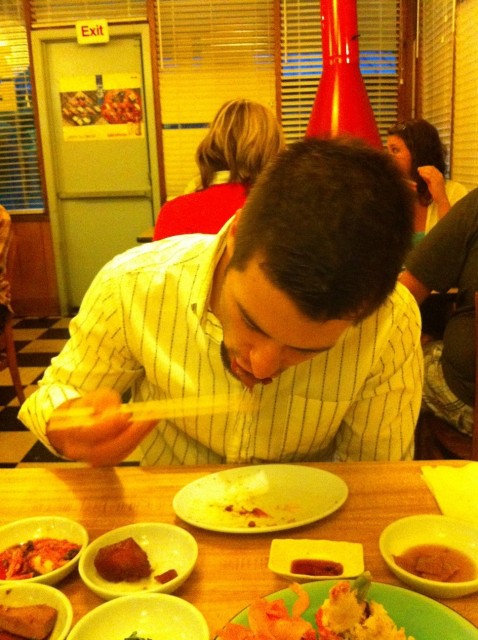 Grant eating.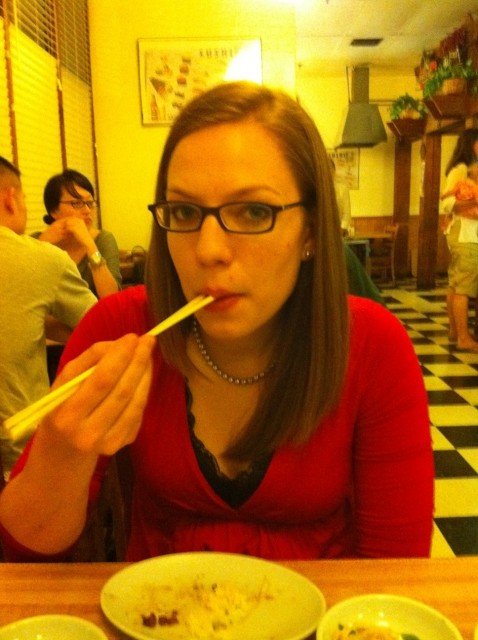 Me eating.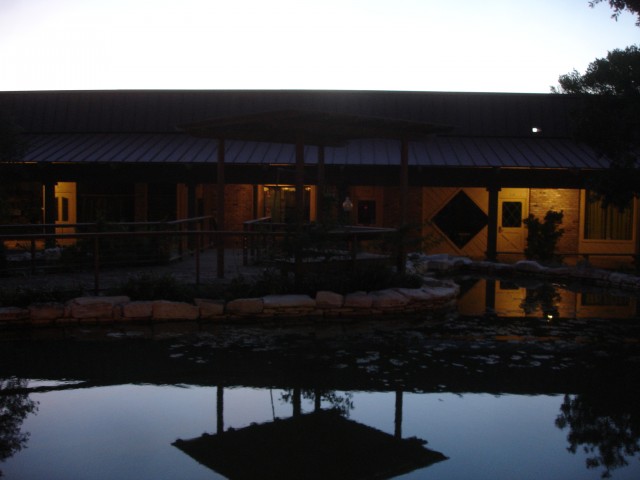 It is kinda hard to see, but you can see this whole garden outside looks really nice and Asian! There is even a gazebo… I don't know the Asian term for it,but yeah good enough.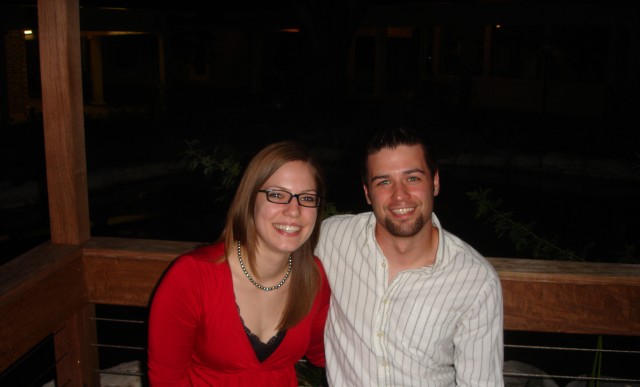 A nice couple walking by offered to take a picture for us which didn't turn out too bad. All in all very happy with this date night!
Then Sunday was our chill day. Since Grant and I had so much together time, it was time to do what we wanted. Grant played computer games, and got caught up with his "news", and I read books and just did nothing for a change. I think we also went to Dan's Hamburgers for Lunch which of course was glorious.
If in a year from now we are still working at the same company and seeing so much of each other, I don't know if we would do the unplugged time again,but if we are both working in different places and don't have a lot of time together, then I could see us trying this unplugged time again,but we will see what the future holds.
I know I haven't talked much about being married in this post, I am so happy to be married to Grant, our few first years haven't been easy,but I feel we have been taught to live on very little money, depend on each other and God, and just seen how much God has provided for us in so many ways we don't even realize now. We are so blessed!!!