Ever since Grant and I have been married, I have been having him rate recipes on a scale from 1-10.  This is important for us because a typical recipe that I would consider at 7 like Meatloaf , Grant considers a 3. This isn't because my recipe didn't taste good, it just isn't a dish that Grant wants to eat all the time and just helps communication. Now, homemade pizza on the other hand is a lot higher on the scale, in fact he would want it ever night for dinner if I didn't want more variety. I have been so blessed in the recipe department because I have so many talented cooks and bakers in Grant's and my family. But every once in a while, we like to try new recipe some of which are great, other not so much. This recipe is a copy cat of P.F. Chang's Spicy Chicken, which I would highly recommend if you eat there. I found the recipe here.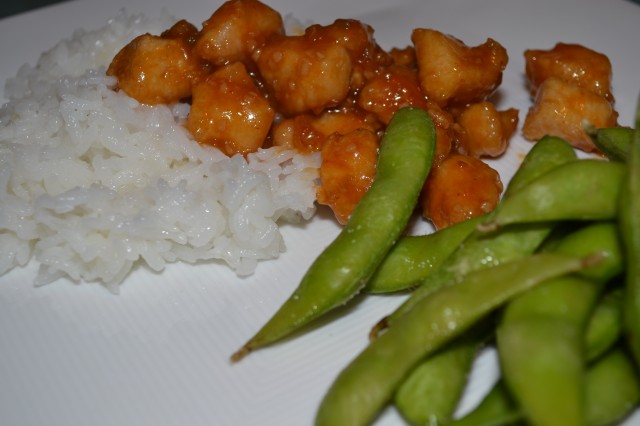 Here is the picture of the finished recipe. It was delicious and Grant gave it a score of a 8/9 which is HUGE!
Sauce Ingredients:
2 teaspoons vegetable oil
2 tablespoons chopped garlic (3 to 4 cloves)
3 tablespoons chopped green onions (about 3 onions)
1 cup pineapple juice (Next time I might add a tiny bit less because you could barley taste that it was pineapple juice if you were looking for the taste maybe do 3/4 of pineapple and 1/4 of water)( I also might freeze the excess pineapple juice since the huge cans are always the cheapest.
2 tablespoons chili sauce ( I used the sriracha chili sauce which is very spicy. If you can handle rotel, I would make it with 1 tablespoon. If you like NO spice, I think Heinz sells a non spicy chili sauce so you can still add the flavor. We did the 2 tablespoons and it was spicy for sure but with rice and edamame it was a good mix.)
2 tablespoons white distilled vinegar
4 teaspoons granulated sugar
1 teaspoon soy sauce
2 tablespoons water
1/2 teaspoon cornstarch
1 cup vegetable oil
2 chicken breast fillets
1/3 cup cornstarch
Directions:
1. Make the sauce by heating 2 teaspoons vegetable oil in medium saucepan. Saute the garlic and onion in the oil for just a few seconds, not allowing the ingredients to burn, then quickly add the pineapple juice, followed by chili sauce, vinegar, sugar, and soy sauce.
2. Dissolve cornstarch in 2 tablespoons water and add it to the other ingredients in the saucepan. Bring mixture to a boil and continue to simmer on medium/high heat for 3 to 5 minutes or until thick and syrupy.
3. Heat 1 cup vegetable oil in a wok or a medium saucepan over medium heat.
4. While oil heats up, chop chicken breast fillets into bite-size pieces. In a medium bowl, toss chicken pieces with cornstarch until well-dusted.
5. Saute coated chicken in the hot oil, stirring occasionally, until light brown. Remove chicken to a rack or paper towels to drain for a moment. Pour chicken into a medium bowl, add sauce and toss well to coat chicken. Serve immediately with rice on the side.
Read More http://www.epicurious.com/recipes/member/views/P-F-CHANGS-CHANGS-SPICY-CHICKEN-50004573#ixzz1z1jjWMS9
Needless to say, this was a pretty fast dish to make especially if you have a rice cooker, and we will really be making it again in the future. I hope you enjoy if you try it and ask any questions if you have them.