Our place is slowly coming together, and here are some updated pictures of what we have been up to. As I mentioned in the last post, we needed some things from Ikea, and unfortunately the closest one is now in Atlanta. We would have loved to visit Simon and Sarah since from the Ikea we were only 2 hours away,but we did this trip on Friday of our first week in the area, and we had too much to unpack before we both started work full time on the following Monday. Not to mention, it would have been short notice for them and they might have had plans. So Hi Ho Hi Ho its off to Atlanta we go…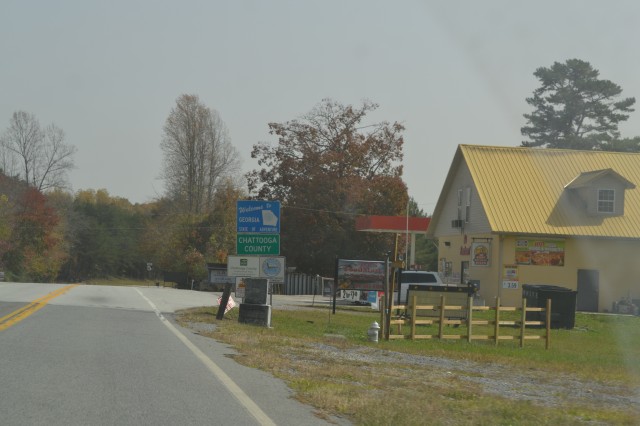 We drove the scenic and "shorter" route on the way there and the highway and "longer" trip on the way back. The all highway route was MUCH better and faster,but it was fun and so beautiful on the scenic route. Here is the sign entering Georgia.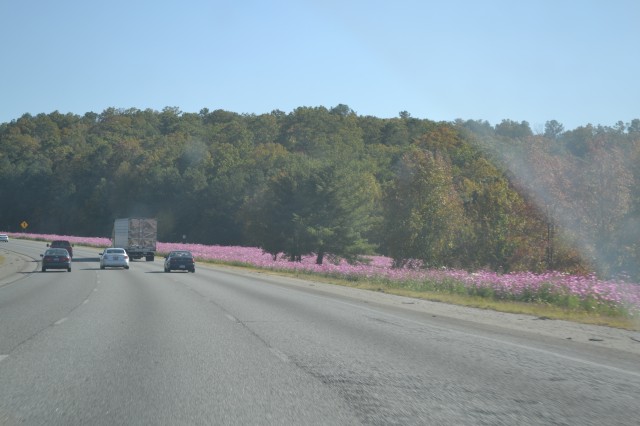 Once we got closer to Atlanta, a lot of the areas near the high way had these pretty purple flowers. They kinda reminded me of the blue bonnets from far away since we would see those in Texas.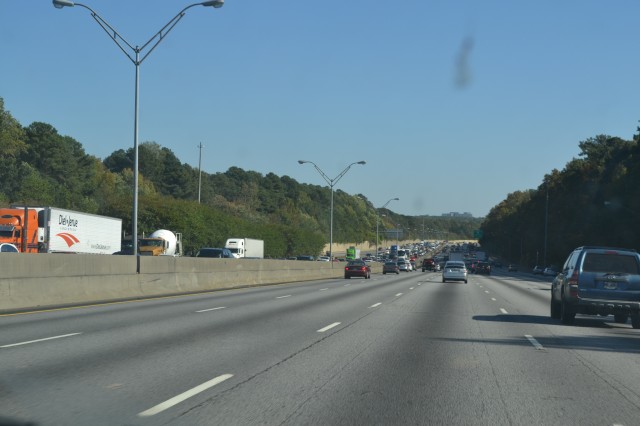 This was taken around 3pm on Friday about 12 miles outside of Atlanta… the traffic was crazy on the way there and back, and we left Atlanta around 8pm.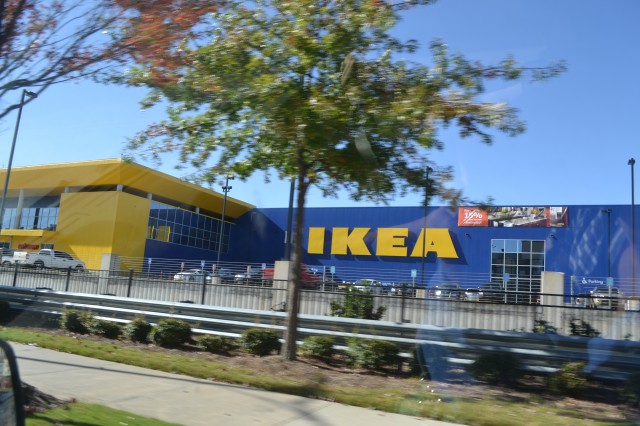 Ikea, we made it. This one was HUGE!! Dallas Ikea was the biggest one we had been to before,but Atlanta was even bigger.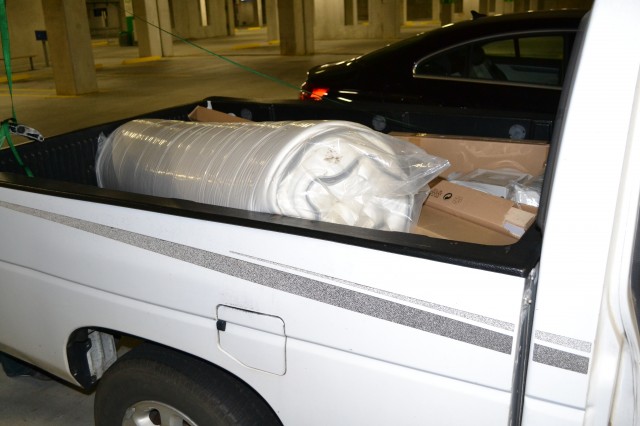 They were missing two things we were still wanting,but since we might see Simon and Sarah for Thanksgiving, we will pick up those items on the way home then.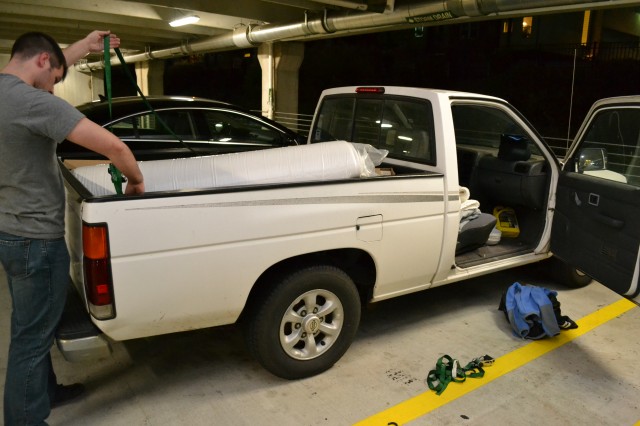 Grant being amazing and strapping everything into our trusty Tonka Truck.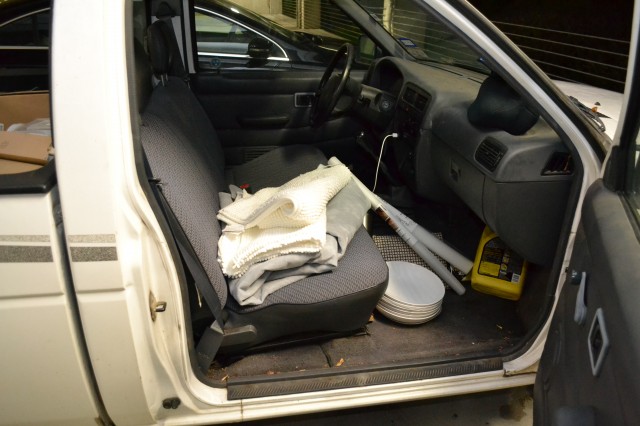 All the things I got to have on my lap during the drive,but since I am normally cold it was kinda nice. The Gray thing is the backside of our new cow hide rug. It kinda felt like I was at the dentist's office with those lead covers on because of the weight.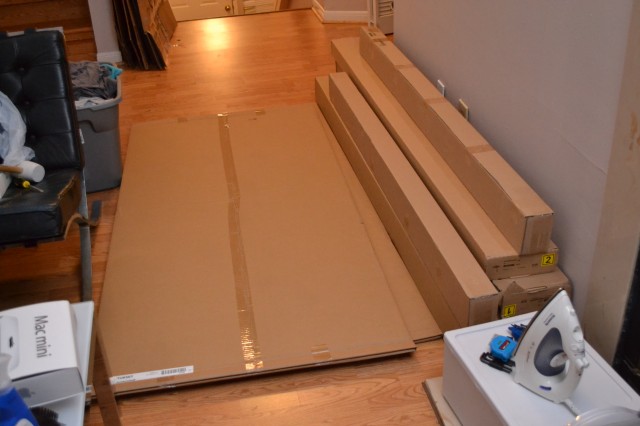 More boxes to carry in. I think we have made so many trips of things into the uhaul, into this condo, to the trash area… first world problem I know,but we will be glad when we are done completely moving things.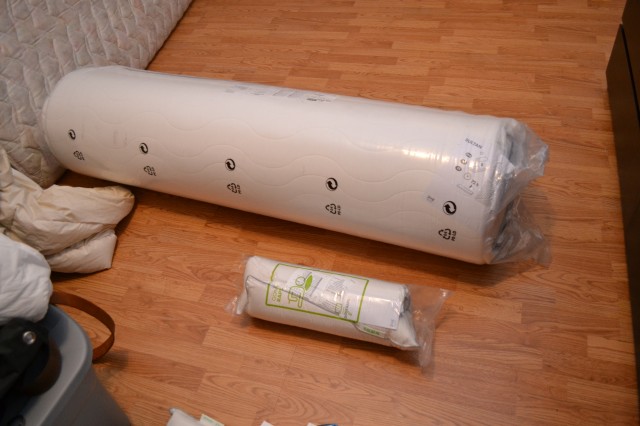 Grant and I had been talking about getting a new mattress for a while and using our previous mattress for guests so they don't have to sleep on blankets anymore. Grant always liked sleeping on a futon mattress when he was younger, and so after doing research and trying them out at Ikea, we decided on the latex Sultan mattress which is only 5 1/2″ thick so it doesn't have any springs inside.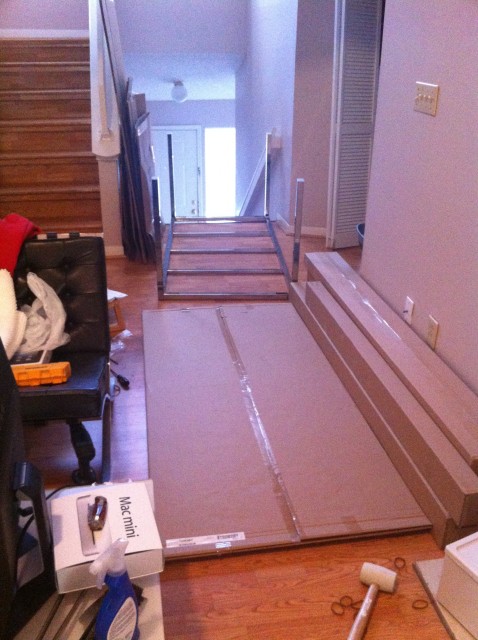 One of our desks getting put together; we would have bought these in Austin before we left,but the store was out of them. 🙁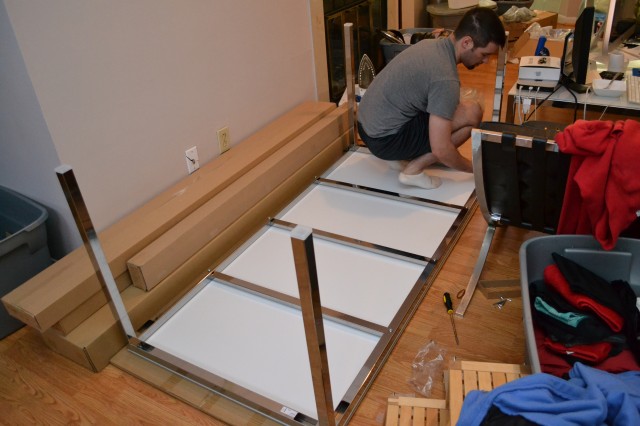 The other one set up.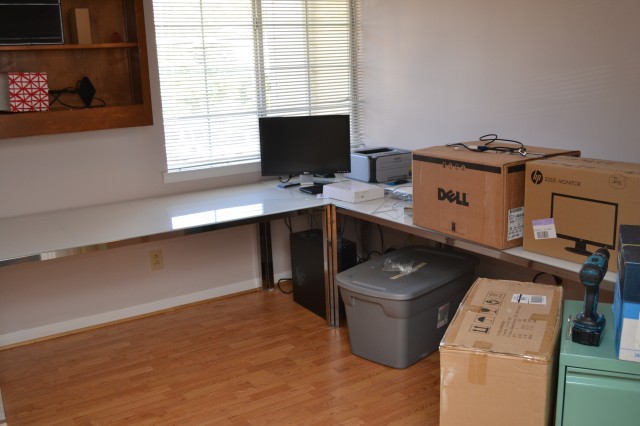 Our office without anything unpacked but at least desks.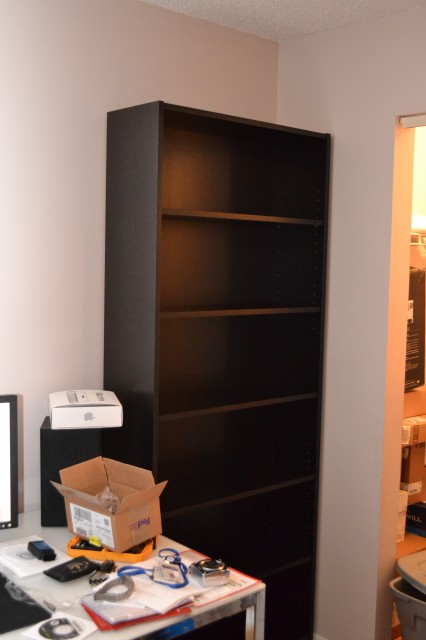 We definitely kept our floating shelves that we used in our apartment,but we don't want to put holes in the walls here because of the cost. We got a billy book shelf for most of our (AKA MY) books.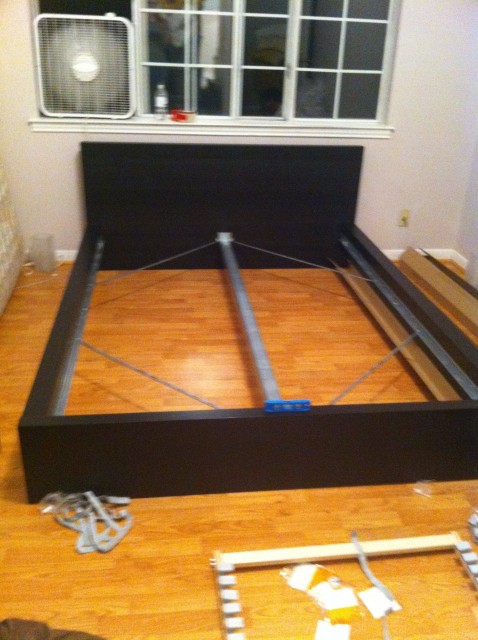 After over a week we finally put our bed together.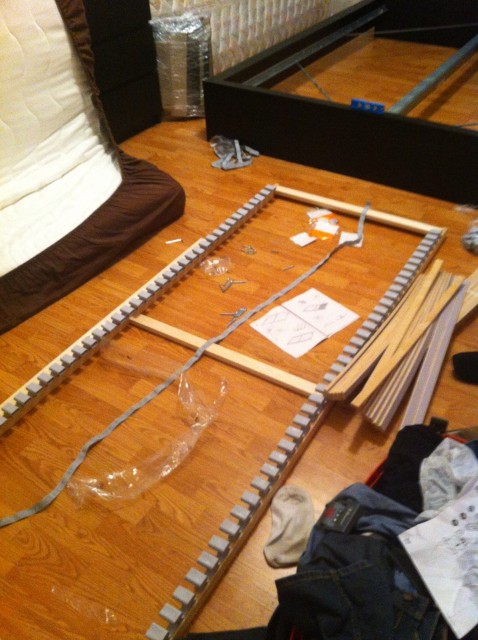 We also bought a new slat system. We had the typical ones that came with the bed frame,but with our new mattress got two of these.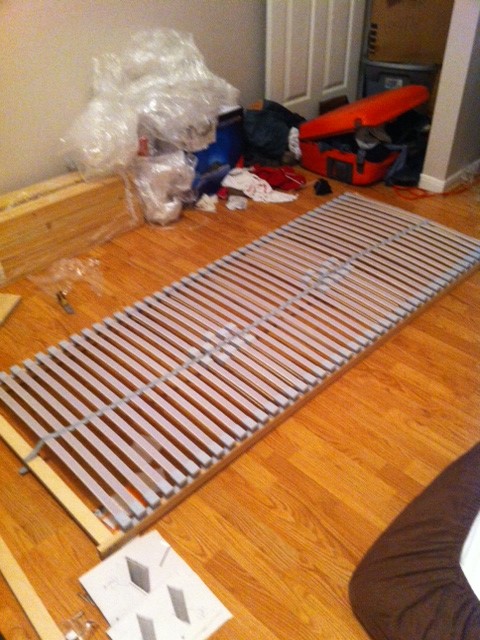 The smaller plastic/rubber pieces near the center can be slid either to the center like shown above for a softer feel or pushed to the edges for a firmer feel under the mattress. I grew up with slat systems like this on our beds, and they are super nice.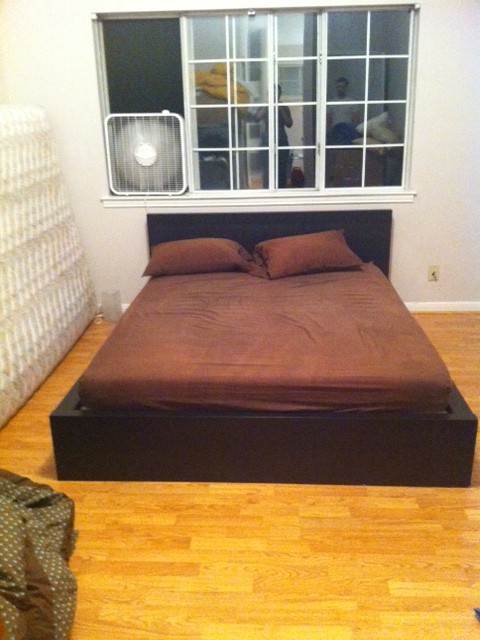 We have a bed with our new mattress and pillows. WE LOVE THEM!!!!!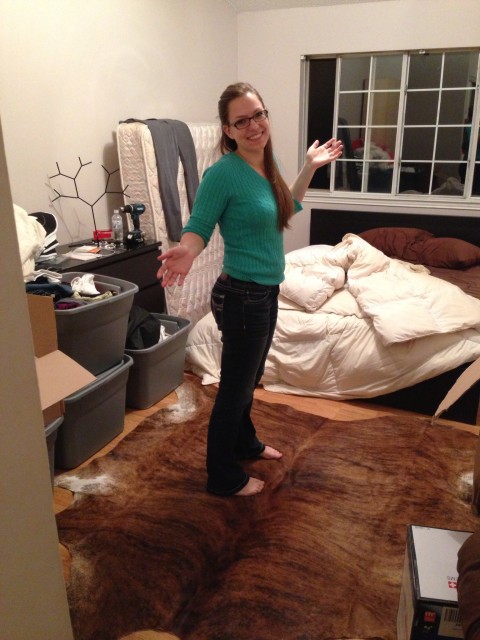 Also, I walked on a cow. We have been wanting a cow hide for a while,but we either weren't impressed by the patterns or didn't have anywhere to put it. Â This brindle rug was beautiful…sorry Chez if you are reading this. Also, with our previous apartment having carpet, we were afraid it would ruin the hide with divets.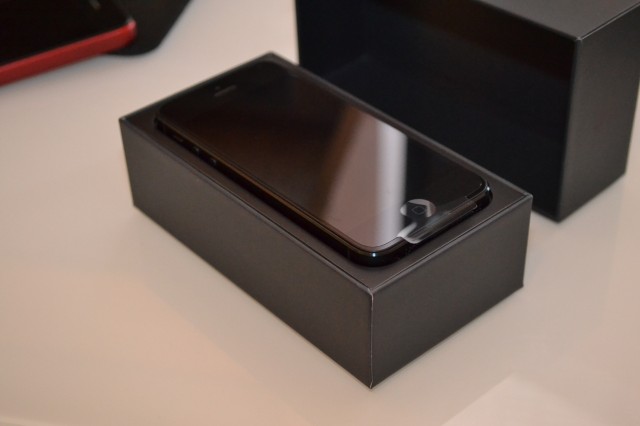 There were a lot of things we had been putting off once there was a chance we might move. Our phones and contracts through AT&T were over, but we didn't renew because we didn't know how coverage would be. We were able to transfer our internet through AT&T to avoid the start up fees and paper work, but our cell phone coverage was pretty bad with AT&T. So, we ordred our new phones through Verizon and tested coverage to make sure it was worth the switch, and it definitely was.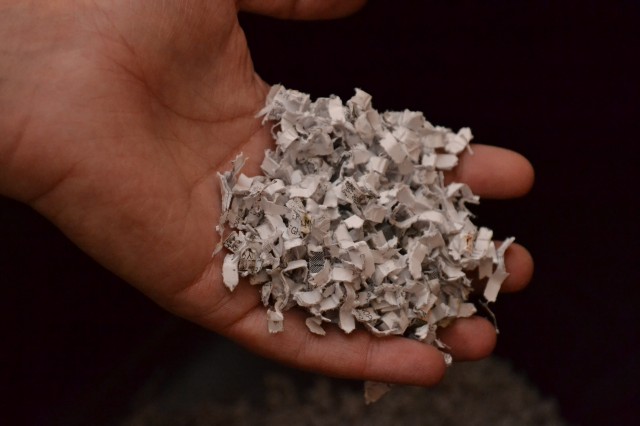 Another purchase we had been putting off was buying a shredder. We both are weird about privacy so I would hand shred everything with our names or addresses on it while living in Austin cause we are weird. So we finally got a really nice micro-cut shredder.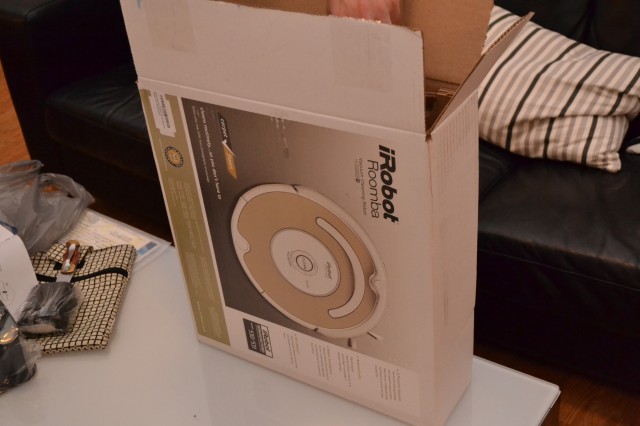 Right before we left Austin, we ordered a refurbished iRobot Roomba Pet Series 532 Vacuum Cleaning Robot
… we have no excuse, we didn't need this at all,but registered for one at our wedding and no one saw it as a need ;p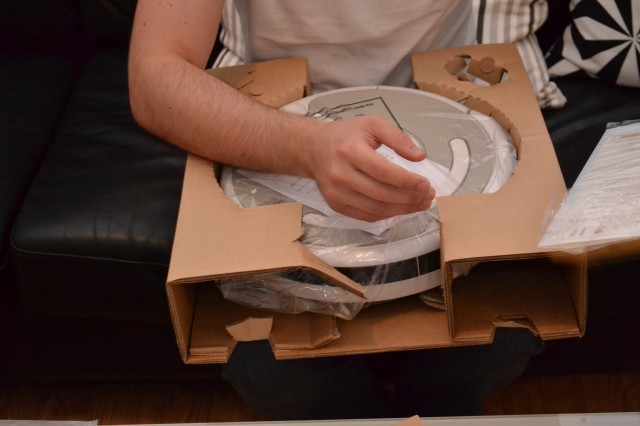 We got a great deal on it, and were hoping to not regret this purchase!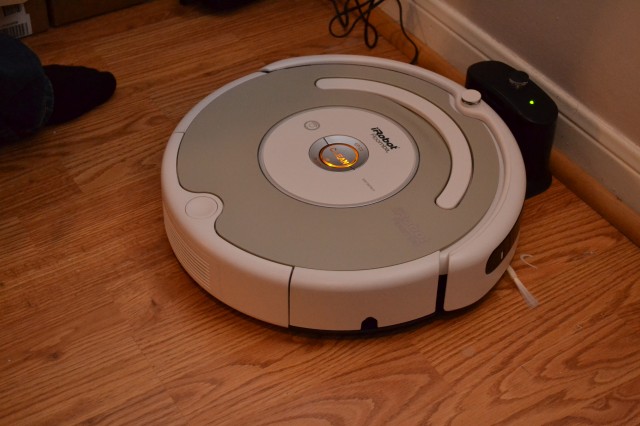 It has a dock where it charges itself, you hit the center Clean button when it is green(meaning it is charged and ready) and it will vacuum all of the areas and will redock itself when it is done. Since we had moved in we decided to sweep up as much as we could so there was nothing harmful to mess with it,and we wanted to see how good of a job it did compared to us.
Here is a video about the roomba going over some of the thresholds one of my friends was wondering how easily it would get stuck or if it was able to go over a rug,etc.
Here is Grant's revelation…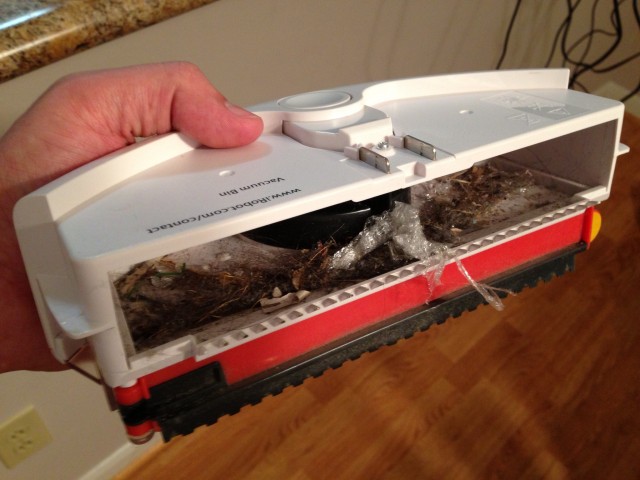 The larger items go here so I say it got a TON more than us.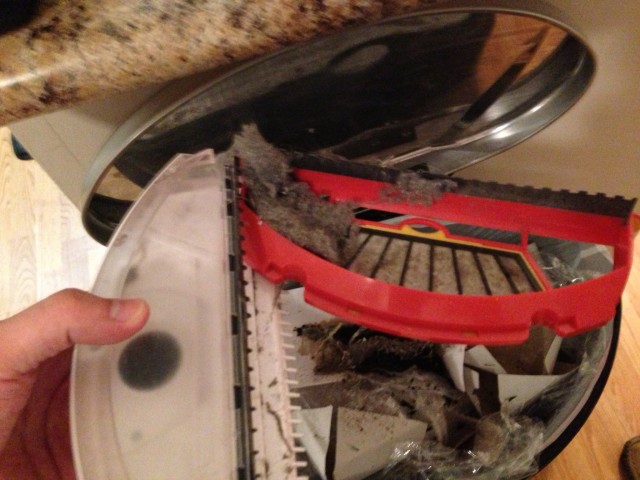 Then all the dust and lint it picked up is incredible, we hope it lasts a long time so that it was worth the money. It is awesome not having to vacuum anymore, and we made sure before buying it that all of the filters and brushes were affordable encase we needed to replace them with wear and tear.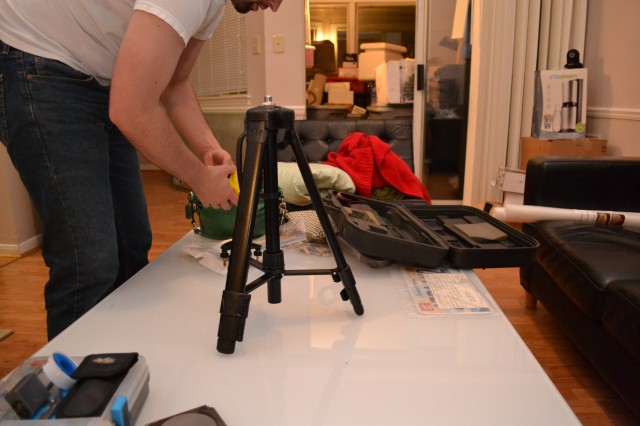 Next we got out the amazing laser level that Grant got from his Grandpa which we have used a TON.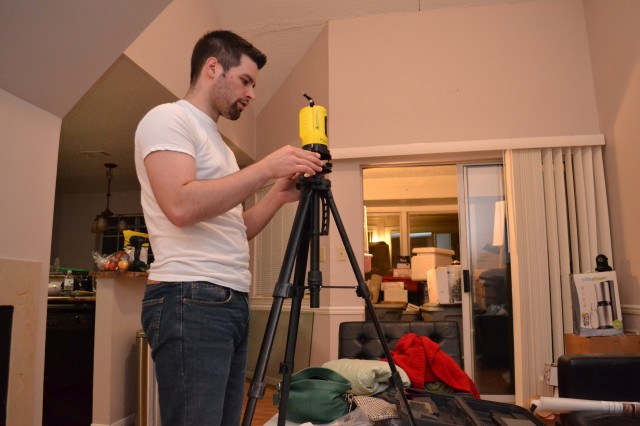 Grant setting it up.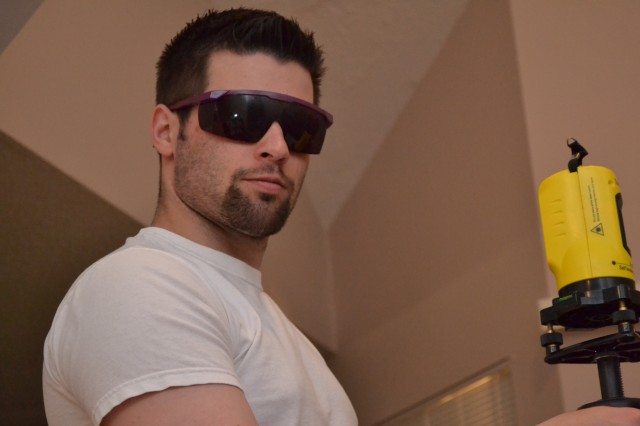 The awesome glasses that come with it so that you can see the laser lines better.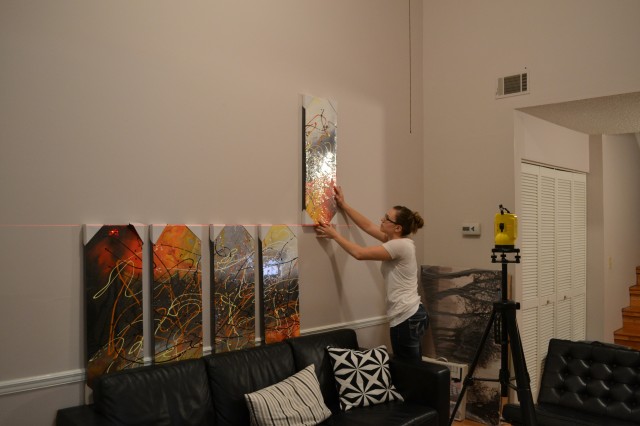 Here is the Art that I won in a giveaway!!!! We got to pick custom art, and we are SUPER excited about it. We got it delivered in Austin,but never opened it since it was packaged so well, and we knew we were moving. I would say $400 dollar Art that we like for free is pretty awesome.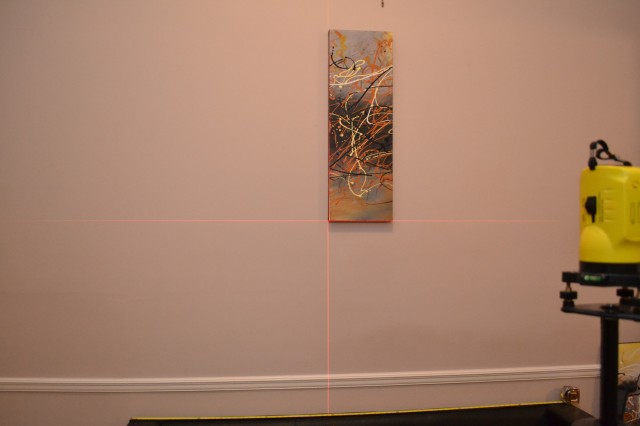 Using the laser level.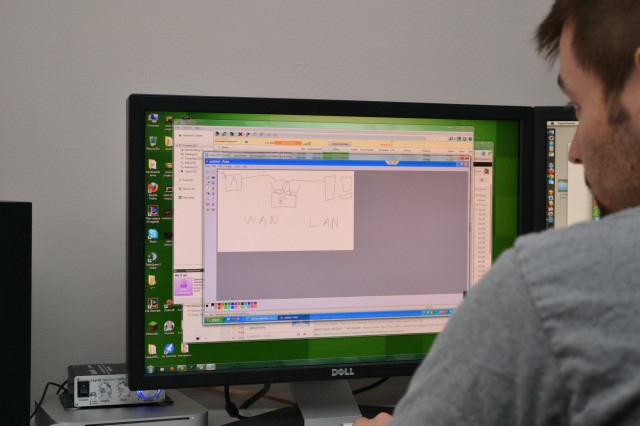 Grant only thought that he would be done with tech support once we left Austin,but boy was he wrong! 😉 Here is Grant's drawing explaining to his Aunt and Mom over the phone (while sharing a computer screen so they can see what he is doing) explaining how to connect the computer to the router so she could have wireless internet.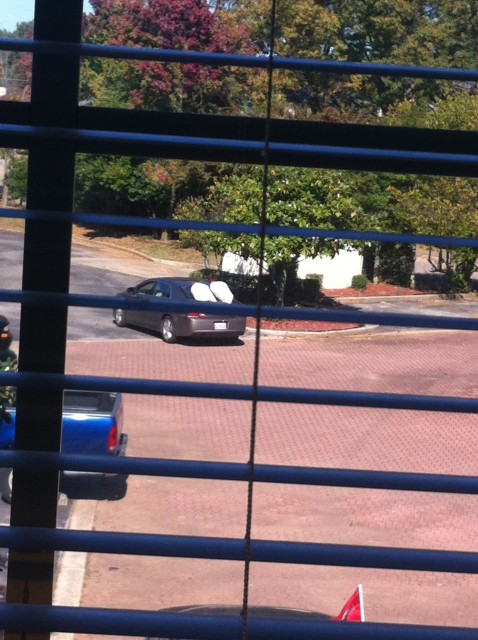 Here you can see our neighbors… not just this one,but I have seen multiple people doing this. They put their trash on their car and drive it to the dumpster which is in the white shed thing on the right of the car. Some of them drive their trash like that and are on their way out so it isn't quiet so sad,but some drive their trash like that and then drive back to their place and park….sad but entertaining.
So far it has been pretty cold here in Huntsville because of a cold front from Sandy. It has been in the 30s in the mornings with the highs in the 50s. Even though we got a lot of the important things done like getting license plates and drivers licenses, we still need to find a good insurance agent to transfer our coverage to etc. It still doesn't feel like we are here to stay,but it is nice getting more and more unpacked so things get less stressful. I have taken "after" pictures of most of the areas in our place so that will be the next post.