This year we were blessed enough to be able to go to Houston for Christmas to be with my Family. Every year we switch off for Christmas, so last year we were in Ohio and all of my siblings that are married were with their in-Laws, and this year we all got together with my parents. Whenever this happens there is always mass chaos which just happens when you have around 22 people trying to coordinate food, gifts, sleeping arrangements, and activities. Â Grant and I were sad not to be able to see Bryan, Amanda, and Gail as well as the snow they had. It randomly got cold in Houston while we were there so that made it feel a little bit more like Christmas.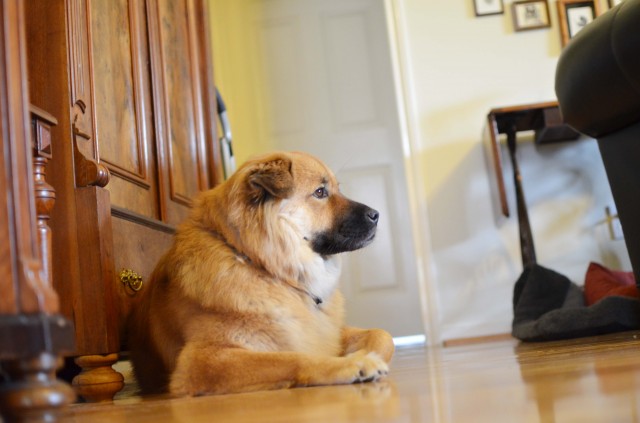 This is Xena one of my parent's dogs, she is very calm,but is a little nervous around kids and men. Grant diligently bribed her as well as took her on walks so she warmed up to him.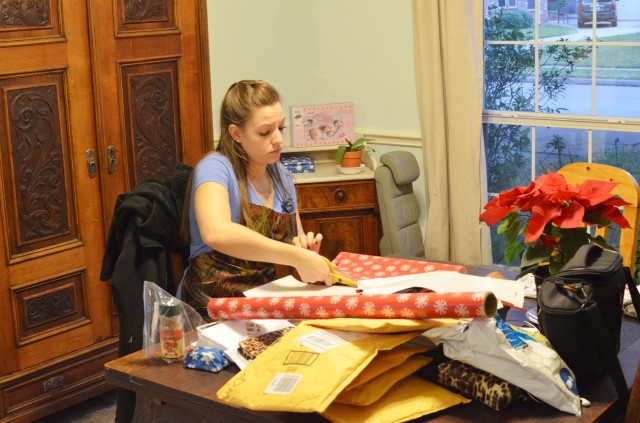 Since I don't have children, and didn't arrive sick like some of our family, I helped wrap gifts. Lisa was amazing and did a lot more than I did gift wrapping wise for others though.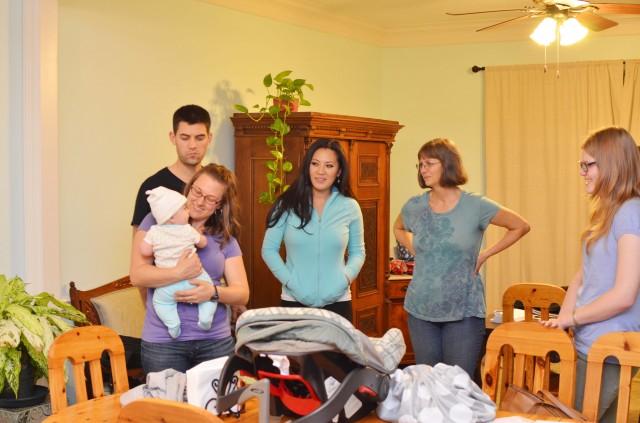 We arrived on Thursday, and were surprised to find the first ones there. Kira and Andrew arrived on Friday evening, and so all of the family who hadn't seen Alana slowly got their fill.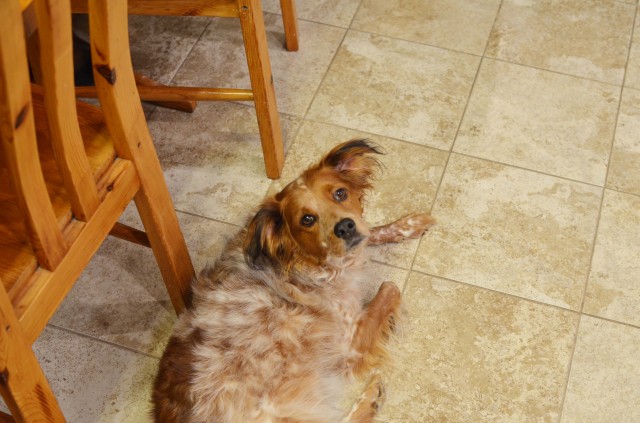 This is Jumper, my parent's other dog who likes everyone a little bit too much, but was great with all of the kids.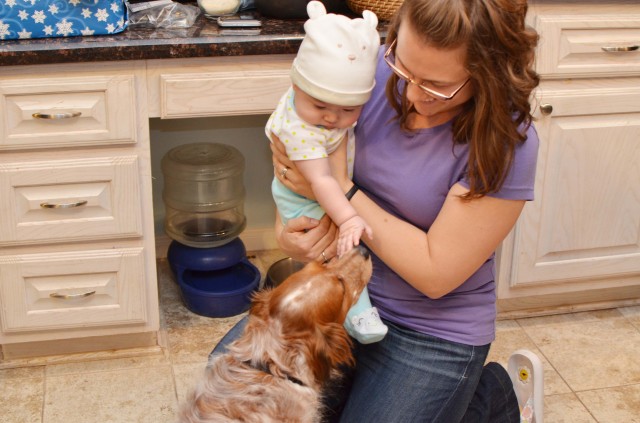 I don't know if Alana had met a dog yet.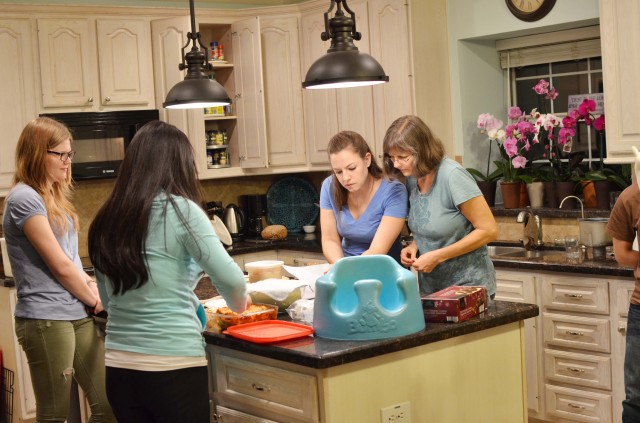 This picture made me laugh because of how you can really tell Mama and I are related.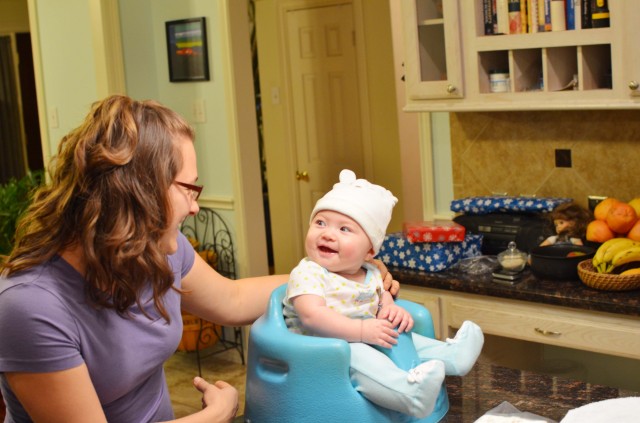 A really cute picture of Sarina with Alana.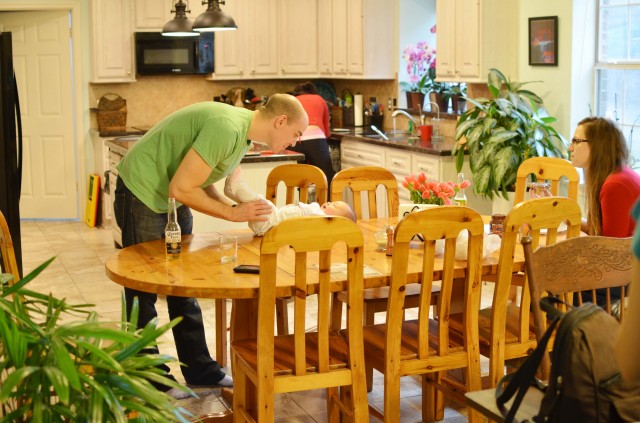 On Saturday Morning, Andrew, Grant, Kira, Alana, and I all hung out while eating breakfast. Alana managed to roll over for the first time, and Grant went all crazy copying her cooing noises which Alana LOVED.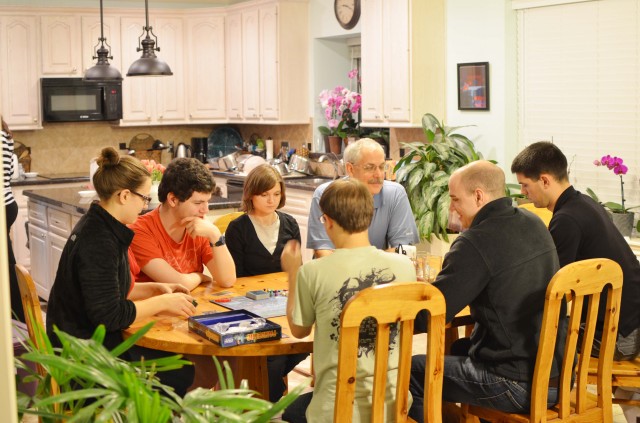 The Fleshmans and the Warfields recommended the game Pandemic
 since we had played it on vacation. So, Papa had us buy it.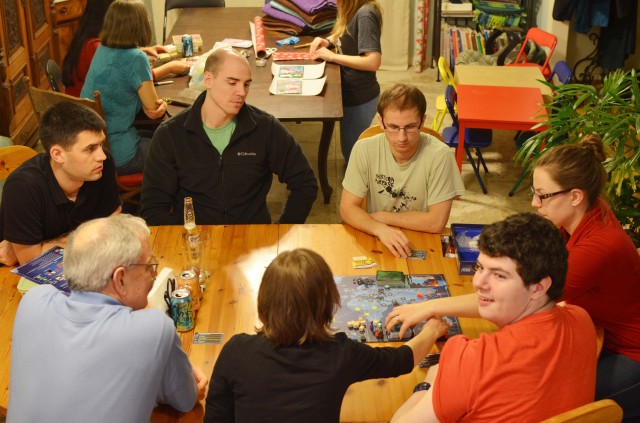 We played it a lot, and a few even played this instead of Hand and Foot.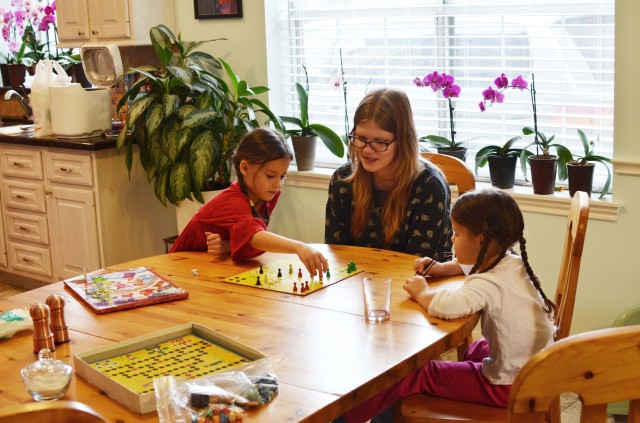 Whenever there was a good time, we all took turns playing Mensch Argere Dich Nicht
 or other games. Emi beat me at Kinder Memory
, Sequence for Kids
, and Mensch Argere Dich Nicht
!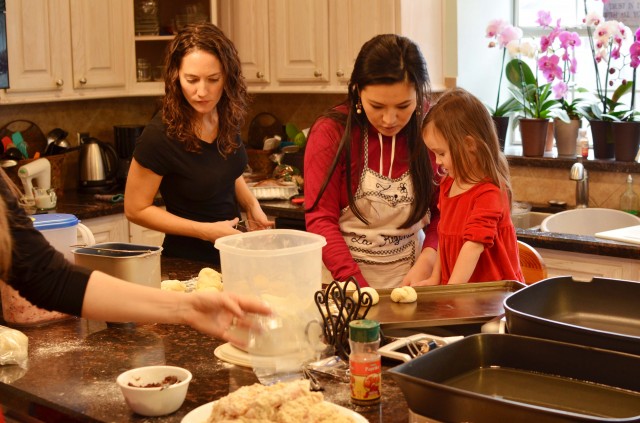 Like normal, all of the females sign up for different meals throughout the whole visit, so that my parents don't have to cook since they are already hosting.One of the meals Kira and I did was Sunday Lunch which was an Americana Meal.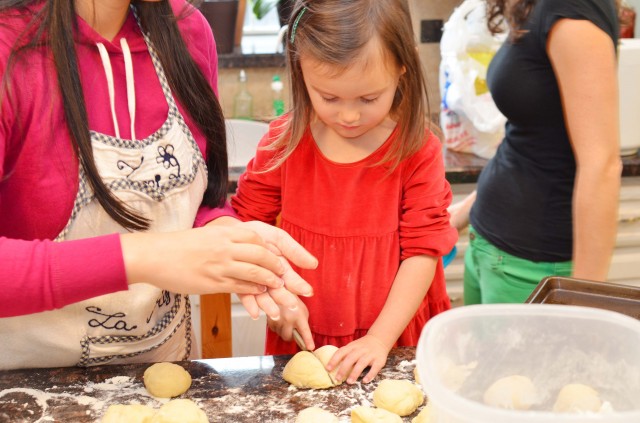 Emi is helping Kira cut the Dinner Rolls while I was frying Chicken.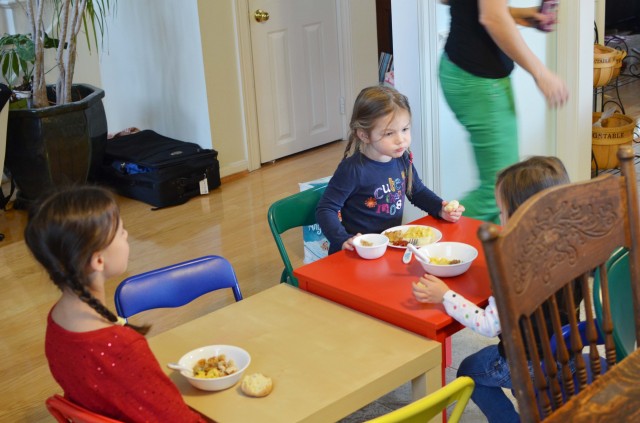 The kids had their own tables.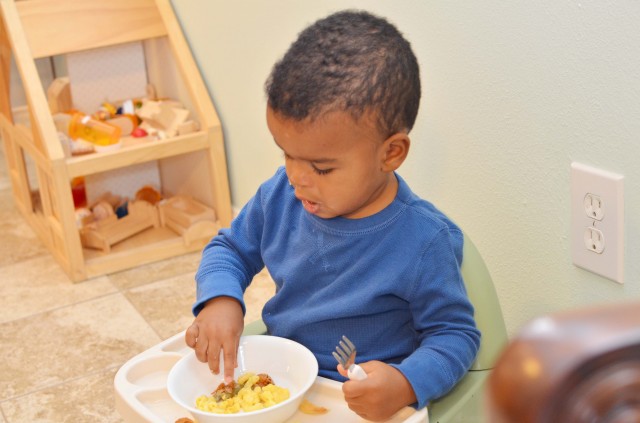 Jonas is such a great eater, and the only issue with him sitting there was keeping him from feeding the dogs.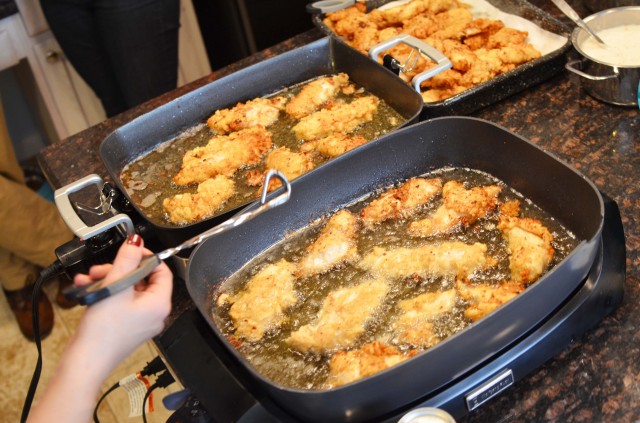 Using some serious hardware to cook for over 22 people.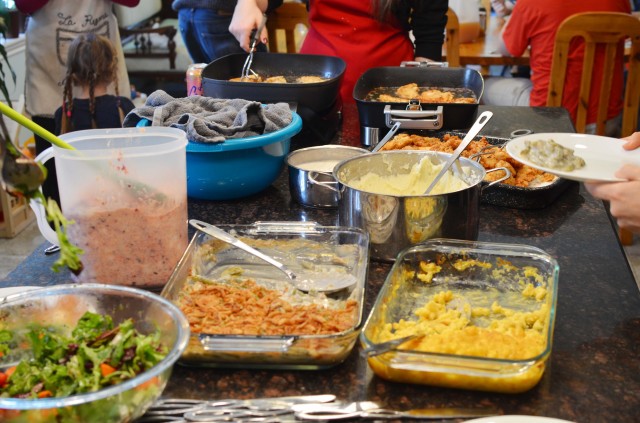 Kira made amazing mac and cheese, and we both agreed on green bean casserole since our husband's aren't huge fans.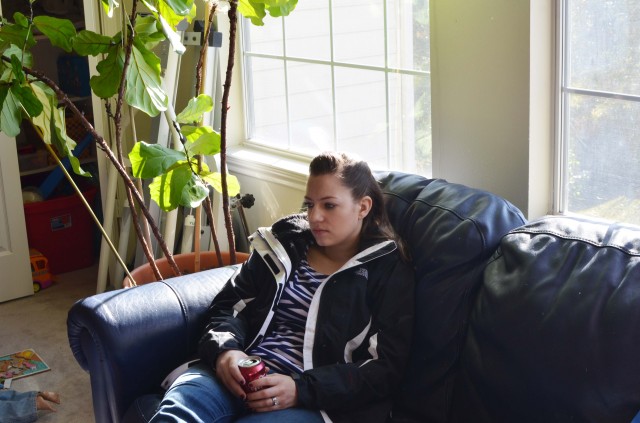 Most of our time on this visit was spent hanging out. Most everyone was sick, or getting over being sick, or fighting getting sick.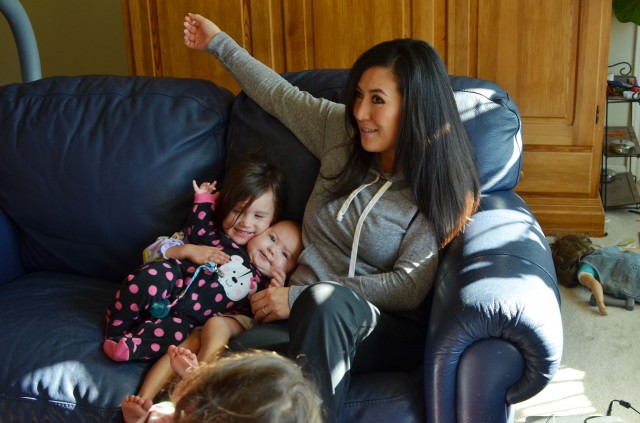 This Picture was just so hilarious because Emi is so tiny and insisted on holding Alana.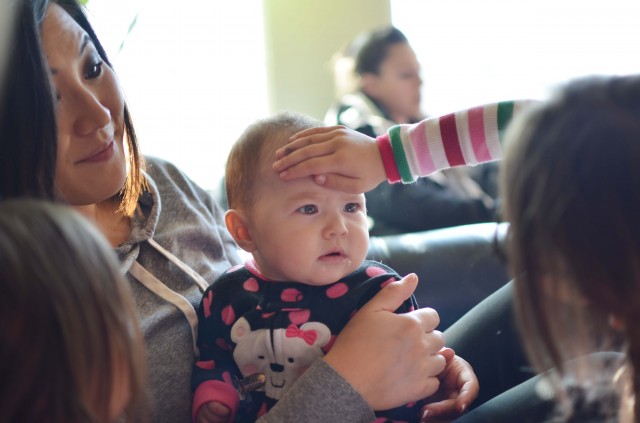 Alana made some of the funniest expressions.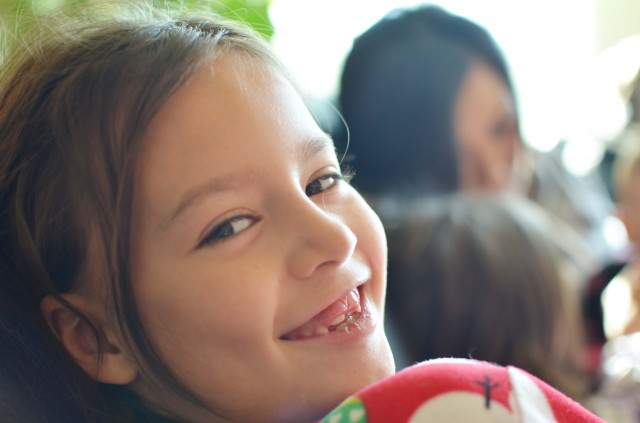 Mia is so grown up already!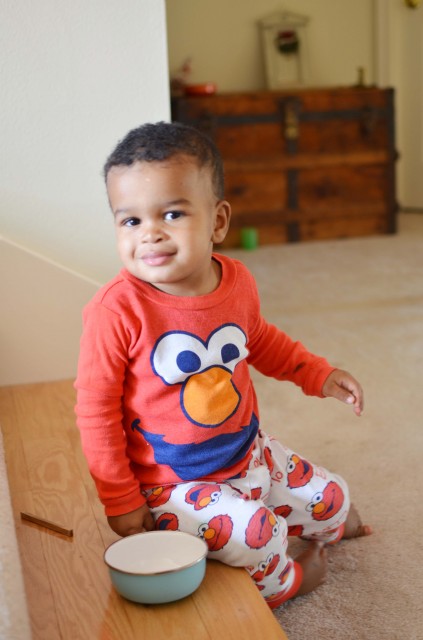 Jonas is such a boy, and it was so funny to watch him play in comparison to the girls.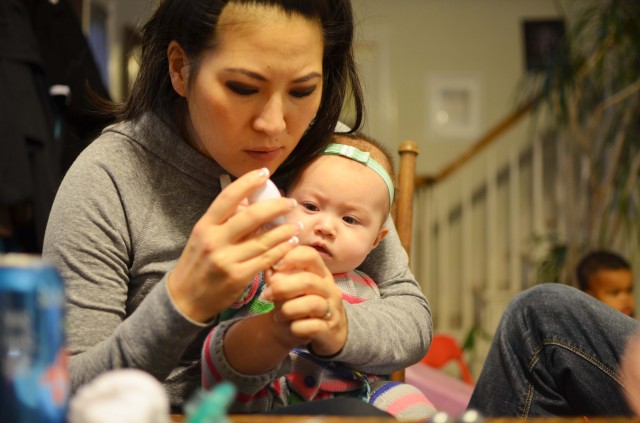 This was so cute Alana was just really interested in what Kira was doing while cutting her nails.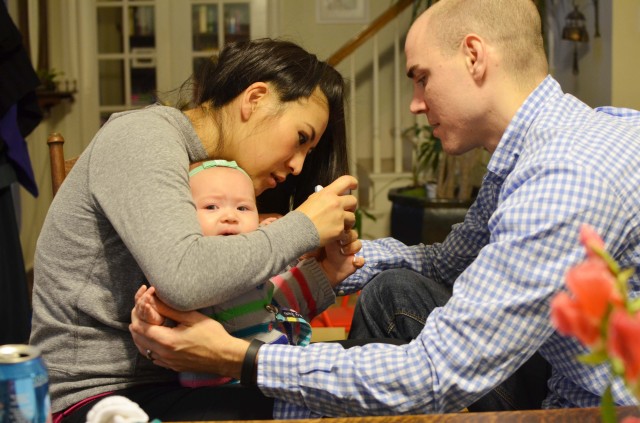 Then she kept trying to take away the clippers and her dad had to get involved. The help me face had us all laughing.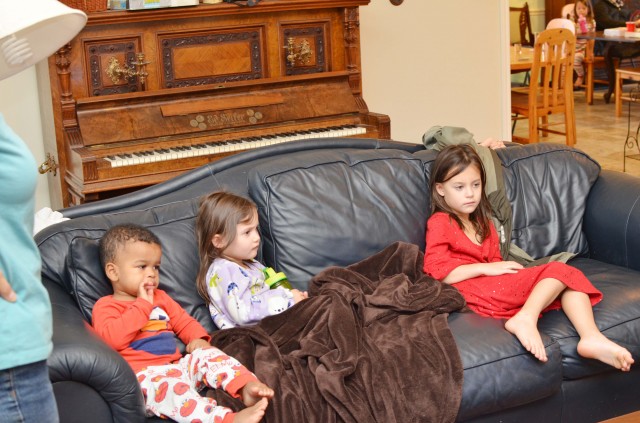 I think the Kids were watching Mary Poppins which I think was watched over 3 times during this break, but they were also sick part of the time.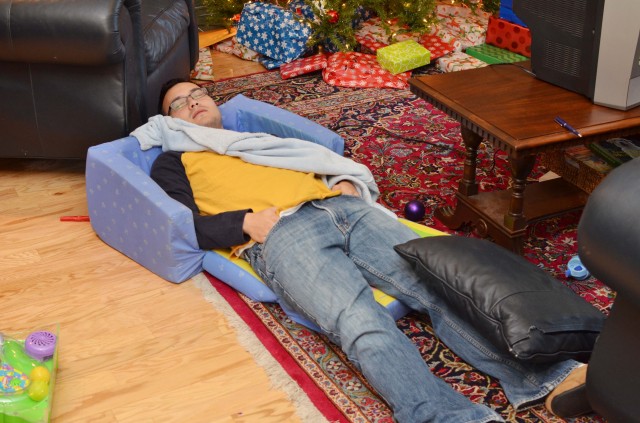 Wilson taking a break where he could.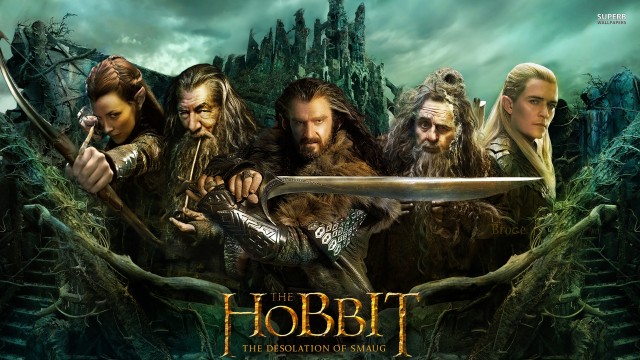 Via
My family really likes fantasy books and movies, so as a child we would go see a movie(if there was a good one showing) once a year around Christmas or Thanksgiving. This year, The Hobbit The Desolation of Smaug, was out so those of us who were well went on Monday while my parents watched Hannah and Tanya and Wilson's(Who were both still sick) Kids. I liked it a lot, I know it wasn't 100% true to the book,but it was still entertaining.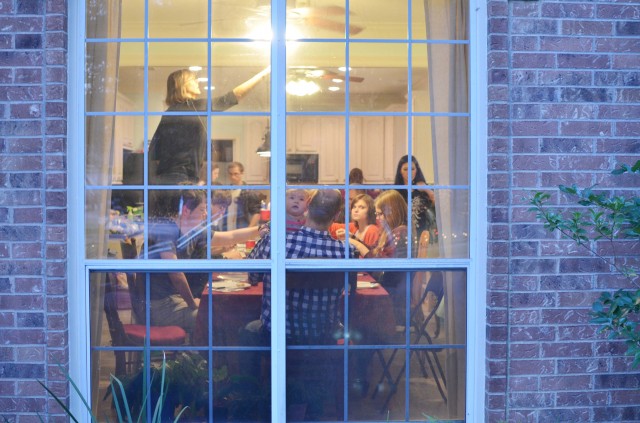 My family celebrates Christmas on the 24th, so this year we had Fondu as the main meal for Christmas Eve. Some of the people who were sick or under the weather ate other random foods.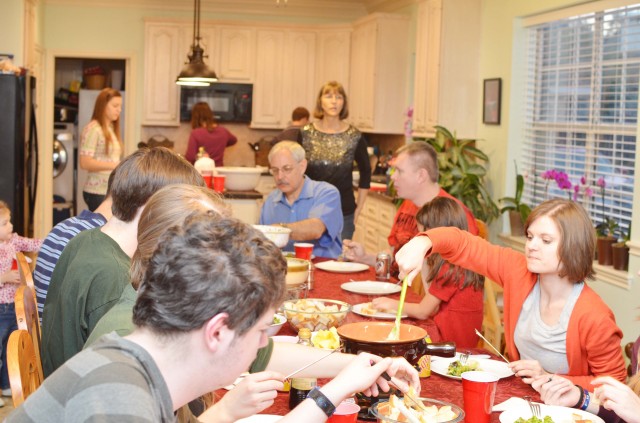 Another Group shot.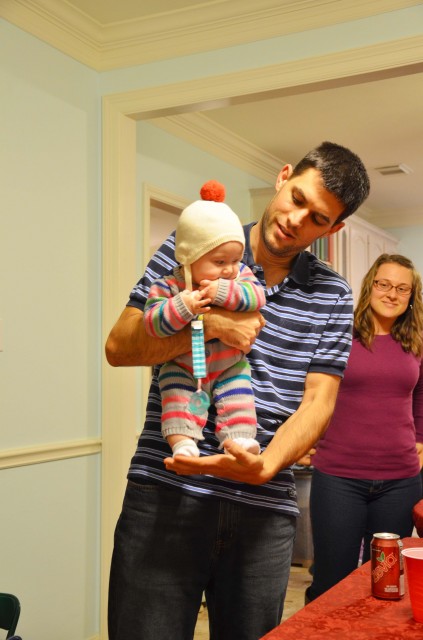 During dinner, Daniel entertained Alana while Kira and Andrew ate.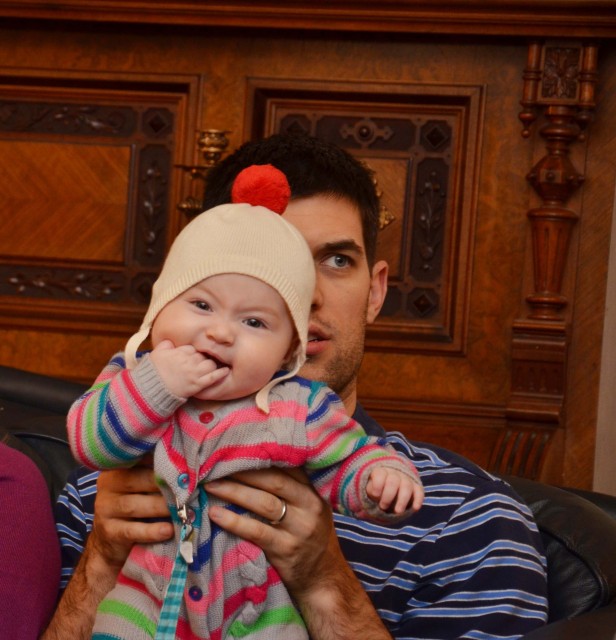 I love this expression that Alana had, she is obsessed with chewing on things, even her fingers.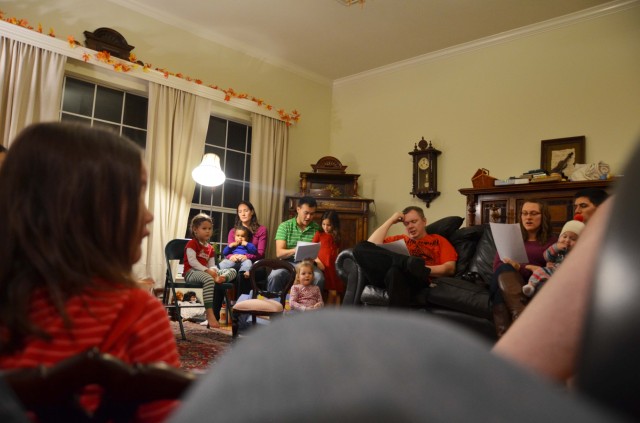 All of us singing after our devotional before opening our gifts.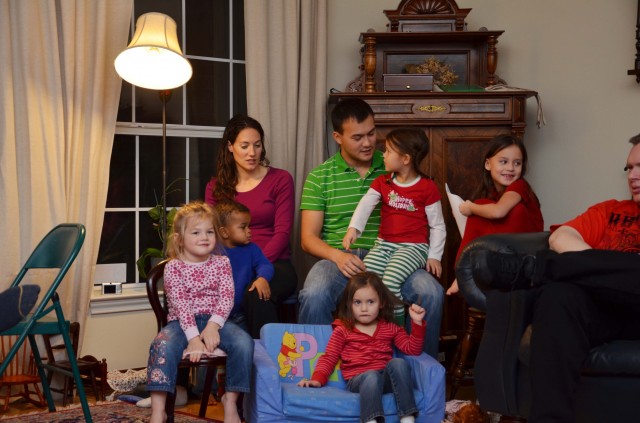 The kids were super excited about opening gifts, even Emi even though she didn't look it here.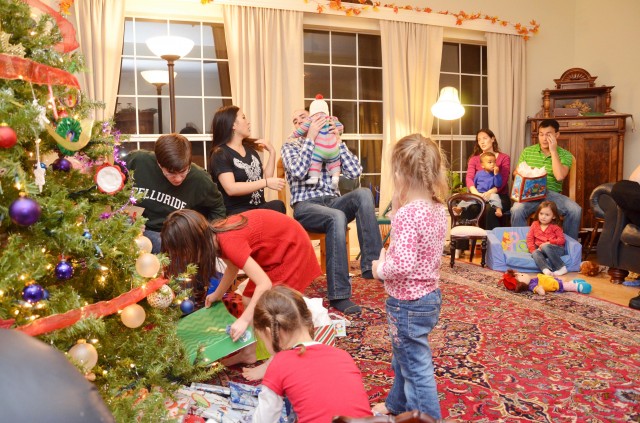 The girls handing out gifts to everyone.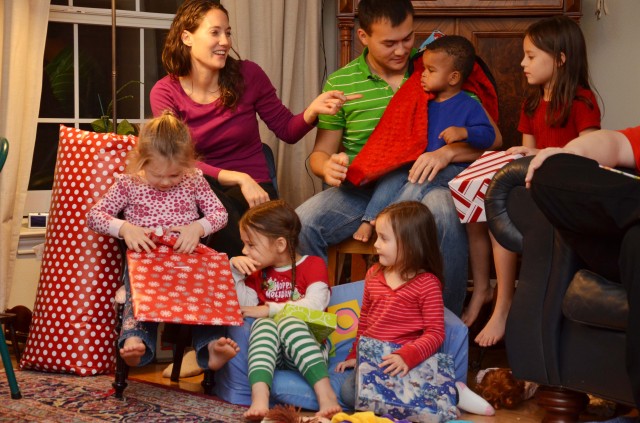 Jonas got a beautiful handmade blanket from Aunt Sarina.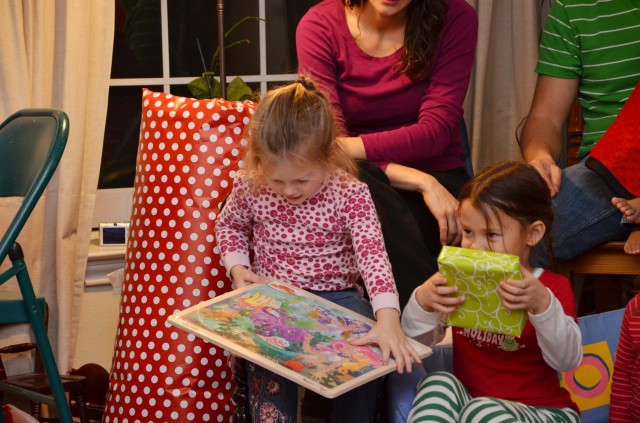 Hannah opening a puzzle we got her.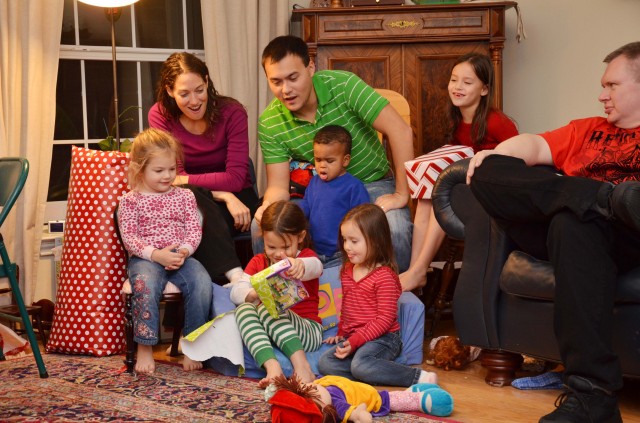 Ally opening a Lego Friends which I think all of the girls wanted this year.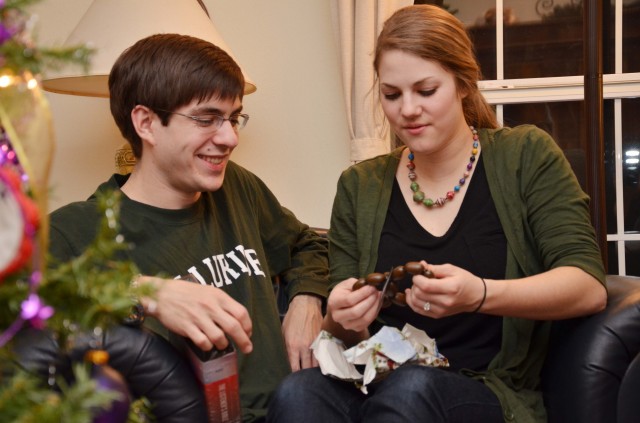 Raya and Jonathan.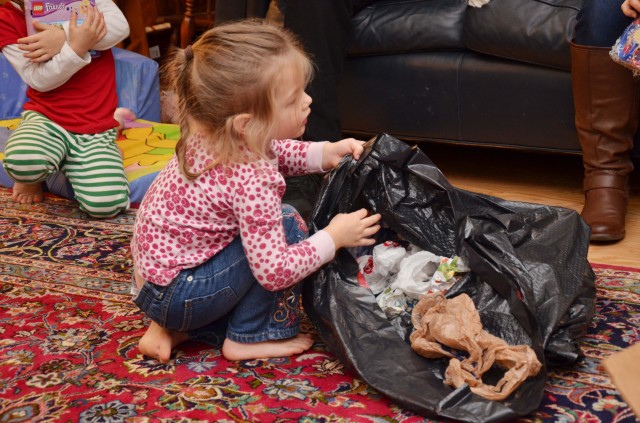 Hannah was a great helper with putting trash into the trash bag.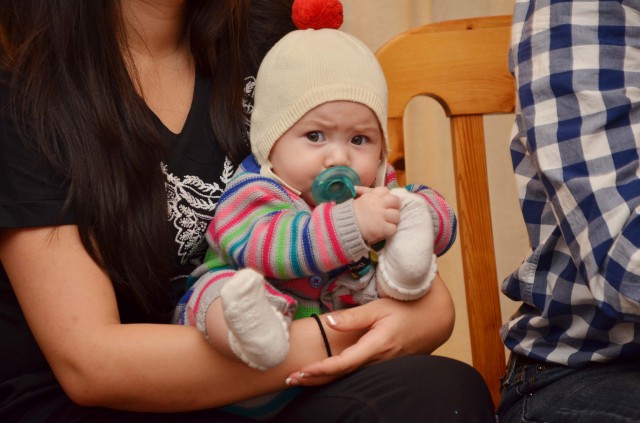 Alana only opened a few gifts before it was time for her to go to bed.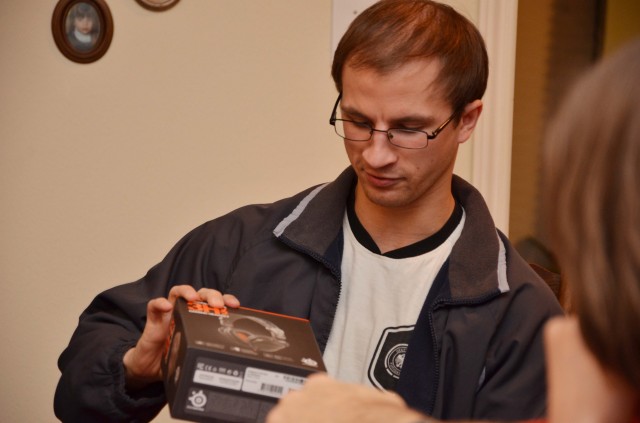 Nik opening his gift from Jonathan.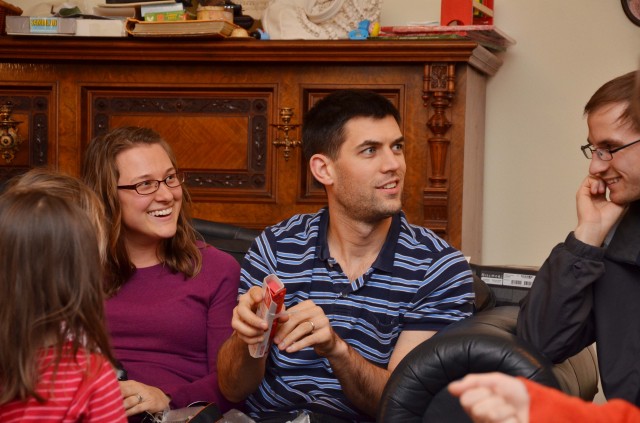 Daniel got a joke gift, I want to say from Sarina, not sure,but it was the base to a screwdriver set without the screwdrivers.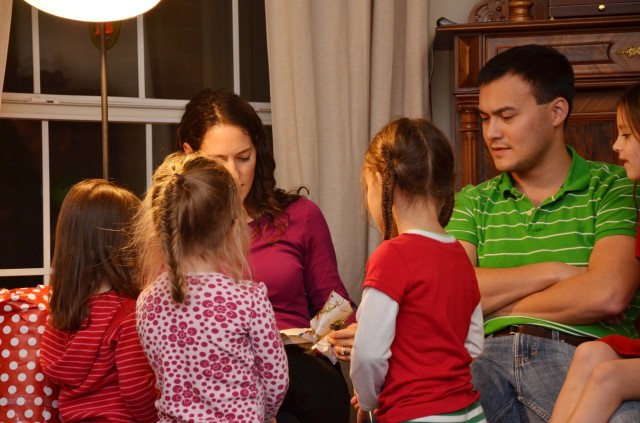 IÂ love how excited all of the kids get hovering around everyone to see what they got.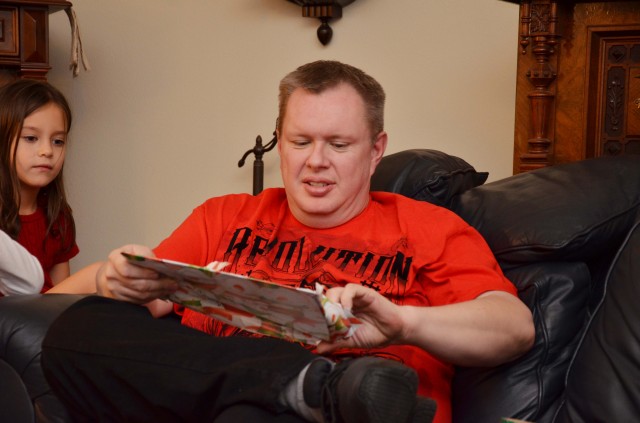 Carl, my parent's friend from church, also came and had Christmas with us. My mom found him a gift, and it happened to be something he collected, and she had no clue.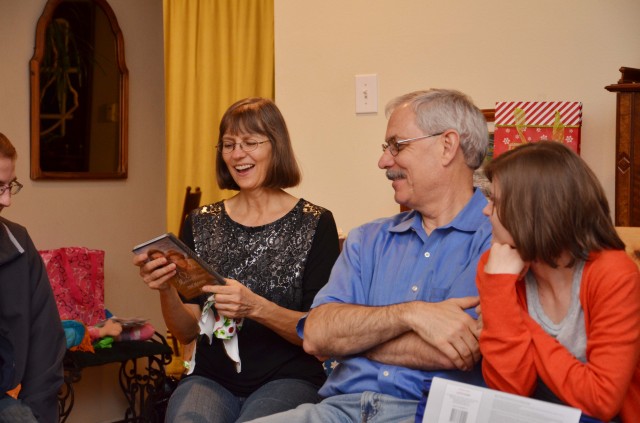 My mom got a bunch of movies/tv shows from different people. I guess Grant and I missed the memo that she wanted stuff like that.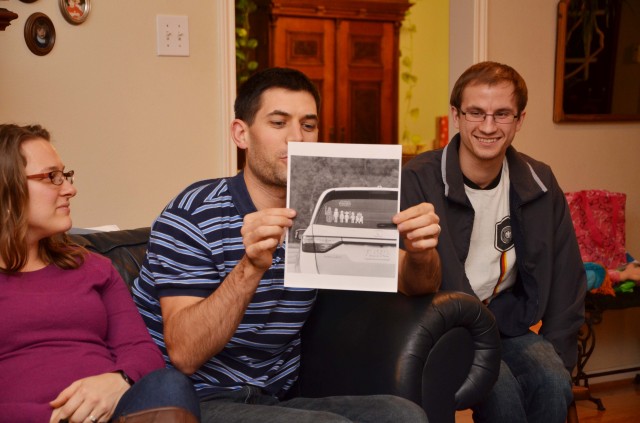 Daniel and Sarina got my dad some of those "stickers" that you put on your rear windshield that has one sticker per person and even some for pets. We all thought it would be hilarious to see the ten figures on the back, but just to fit Papa, these were all Star Wars Themed.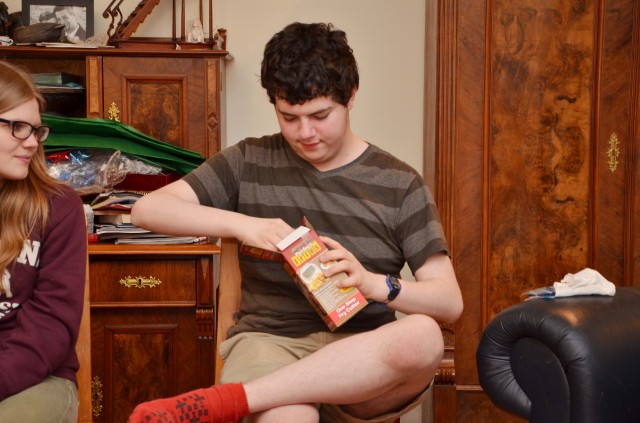 Jason got a Fries making kit which he was really excited about, maybe this way he will learn to cook?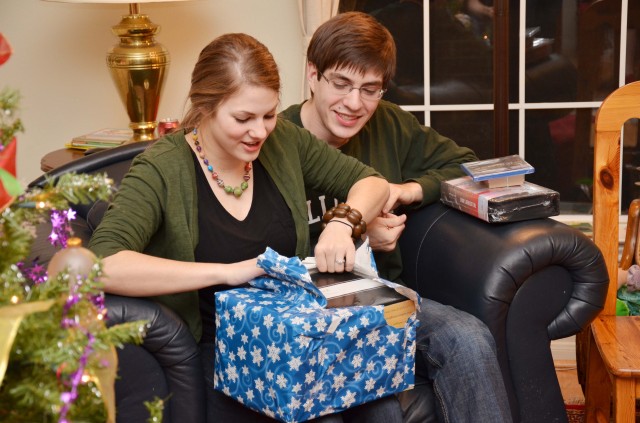 Raya and Jonathan opening one of their gifts.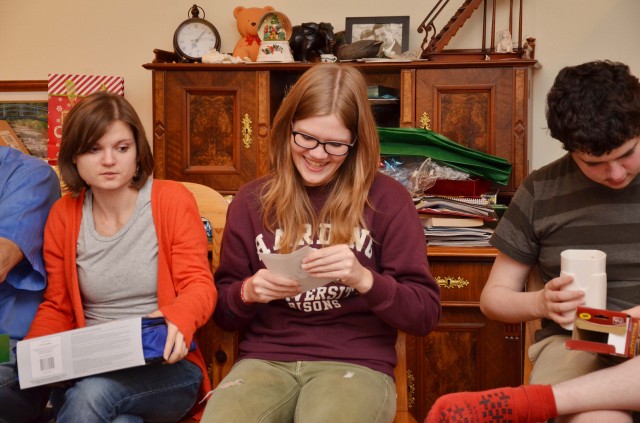 Lisa was here this Christmas with us, and I assume that she missed being with her family, but we loved having her there. She was always SO helpful, always wanted to play with the kids, and just fun to be around.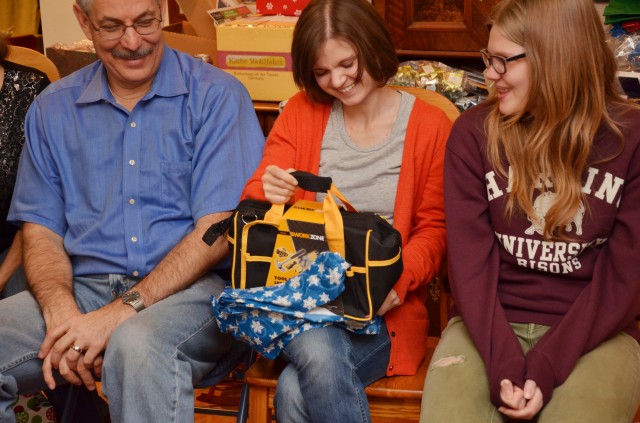 Julia loves different kits, so my parents got her a car safety kit as well as a tool kit.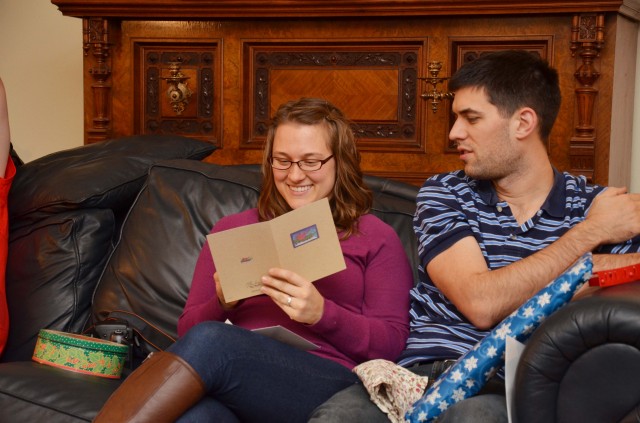 My mom always cracks us all up because she tends to find something cool and practical, and give one to all of us girls. We aren't complaining because we normally love the gifts, but this year she even used the same cards to each of us so we all had a good laugh about that.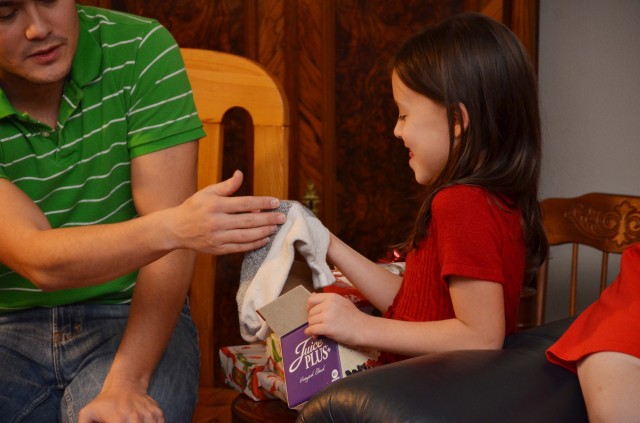 Two years ago, Mia got a white sock as a joke Christmas gift. She didn't know how to react because she didn't want the sock, and didn't like that attention. So she kept telling her parents that she DIDN'T want a white sock for Christmas. So my mom got her a white sock with a gray strip on the bottom which Wilson is pointing out in this picture. Mia took it with grace and laughed with the rest of us, and went on to opening her real presents.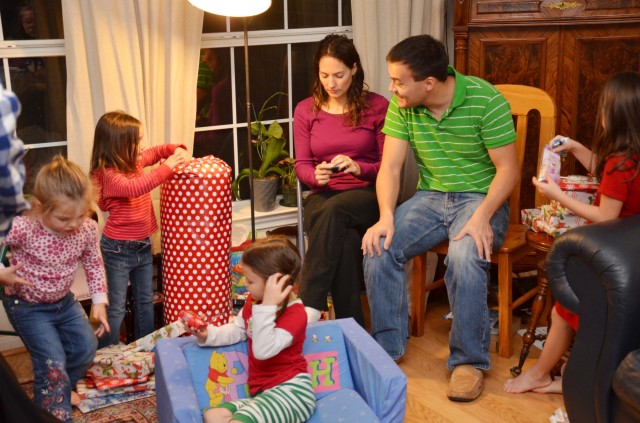 Emi opening her gift from Daniel and Sarina. My dad always jokes around guessing what gifts are with no clue what is really inside. This time he guessed right and then was scolded for giving it away! 🙂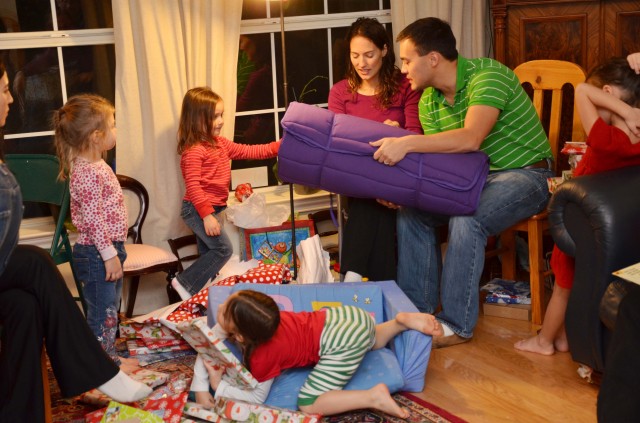 Sarina made this beautiful Nap Mat which I think Emi will take with her once she goes to school. It was made out of a soft minky on the part you can't see.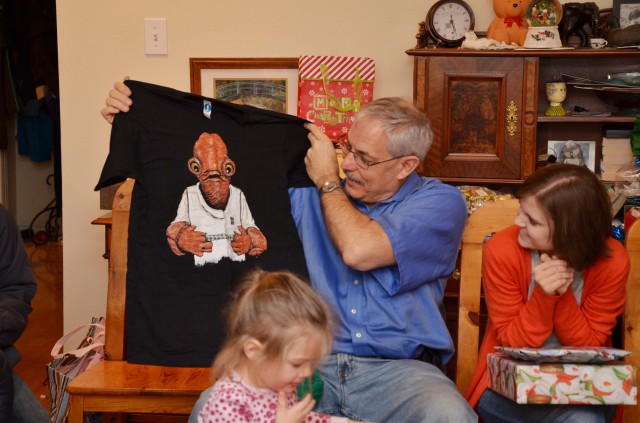 One of the shirts Grant and I got for Papa, more on that in a later post.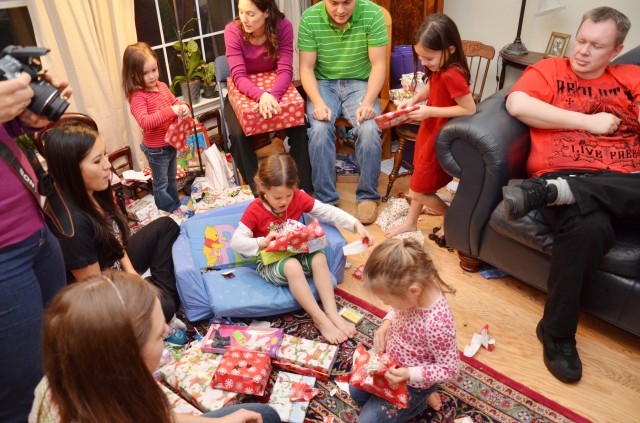 IÂ made matching shirts for all of the girls and Jonas because I had extra fabric left over from Grant and my shirts. So here you can see them opening them.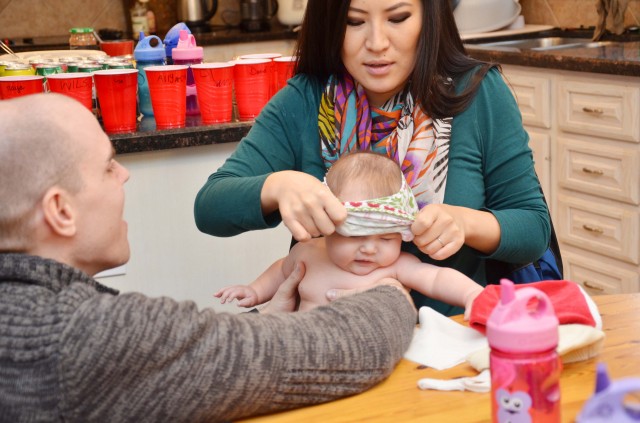 IÂ didn't make the head opening big enough for Alana.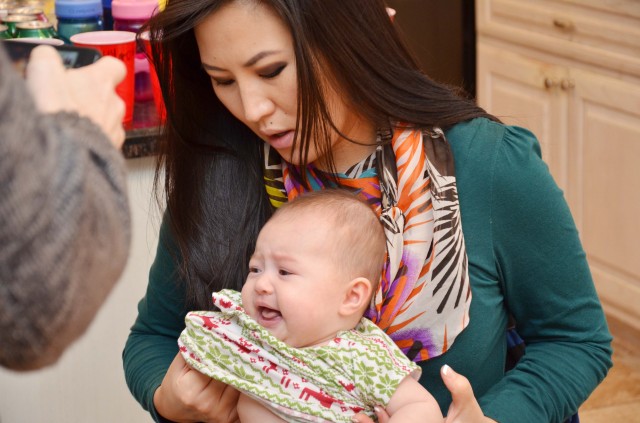 She LOVED my gift sooo much,but after some seam ripping, we got it on for the group pictures which we took on Christmas Day.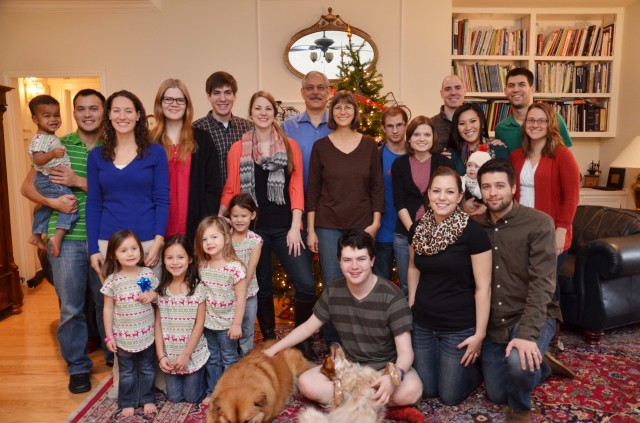 This was the best picture we had of everyone, and believe it or not but the second we started lining up the dogs just took their places and were included.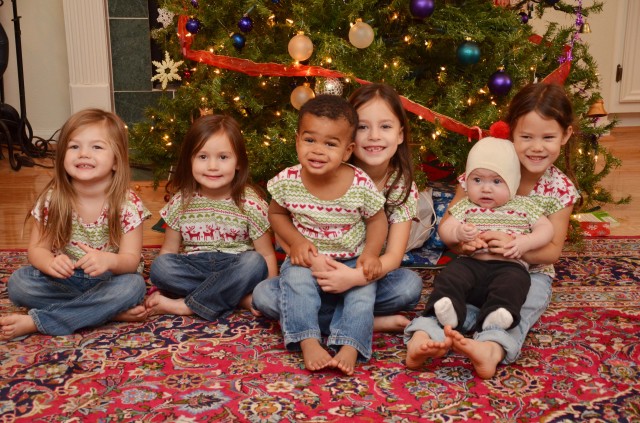 All of the kids in the shirts I made, fabric was purchased Here.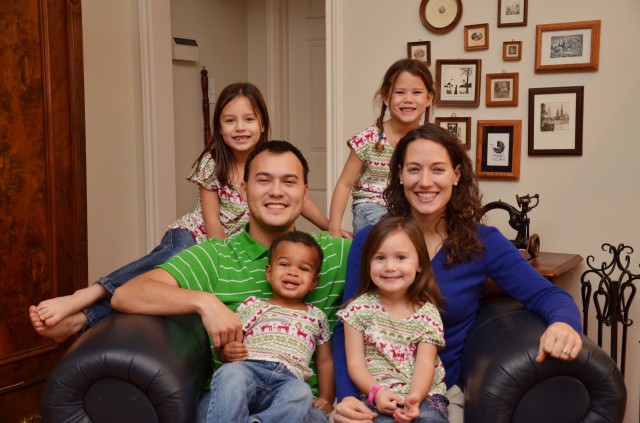 The Robertson Family.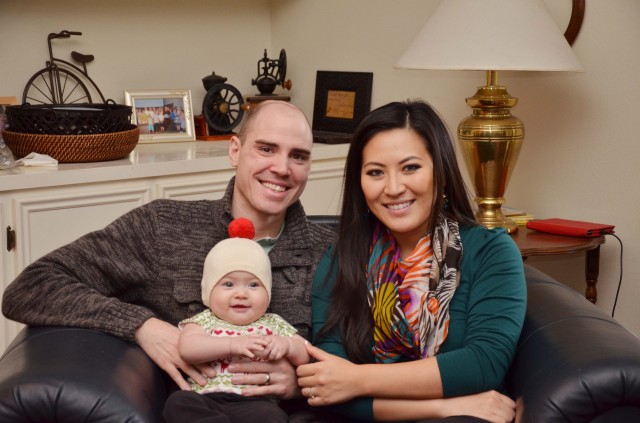 The Fleshman Family.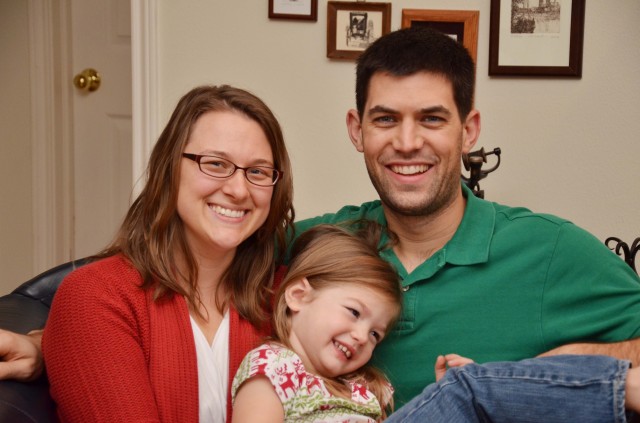 The Grasham Family.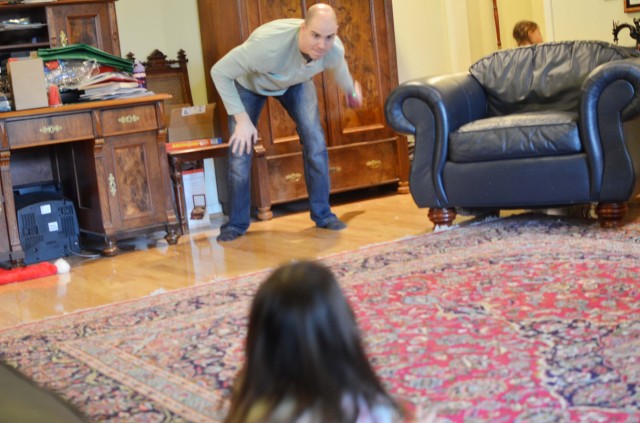 After all of the pictures were taken on Christmas Day, The Fleshmans and the Warfields were due to fly back to their respective States. So to pass the few hours Andrew played catch with all of the kids.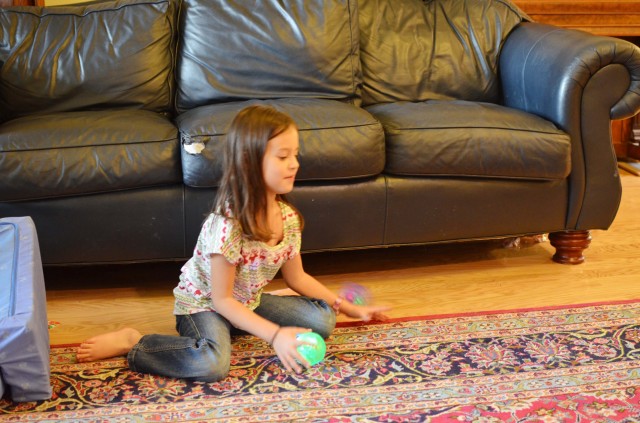 The girls had gotten these LED balls that were a huge hit.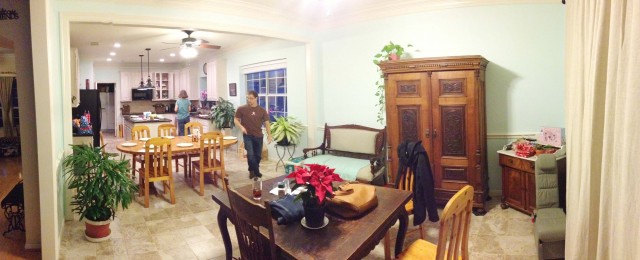 On a random note, my parents had the wall between their formal dining room and kitchen taken down which made a HUGE difference in how open it felt. It was nicer now because we could all eat a one large table like we did during Christmas Eve dinner or separate ones,but not be completely separated.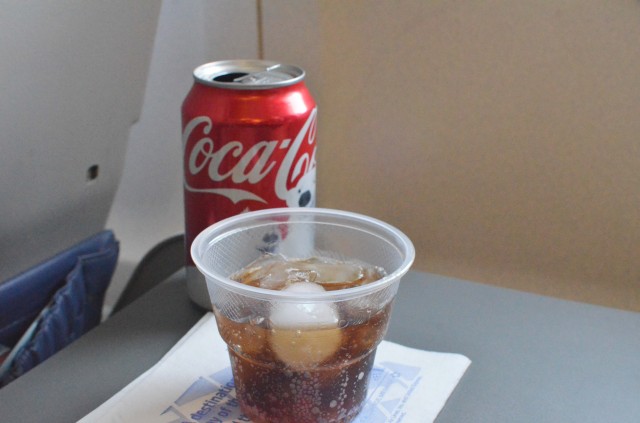 On the way home, Grant showed me that you can ask for a whole can of whatever drink you want on the airplane, and they normally always give it to you. I normally get tomato juice,but I always spill when wearing lighter colors, so I went with Coke this time.
We had a nonstop flight each way which was very nice, even though we did have a kid scream his poor little lungs out the whole flight back. The day we got back, I got sick, I wasn't planning on going to the doctor, but once Tanya told us that they had all had the flu and bronchitis, I went in on the 26th of December. I didn't have the flu or bronchitis,but my 103 Fever and cough were enough to get me a Z Pack. Grant got sick later the next week for only two days which wasn't fun for him since he NEVER gets sick. Since we were both still getting healthy, we had a boring New Years at home even though we had been invited to Nashville. Even though there was sickness and chaos in Houston, it was still nice to get to see all of my siblings and nieces and nephew, and of course my parents!