Wow, I know this post is late, but I want to catch up on some of these later posts so I can get going on the house blog posts. 🙂 We drove to Ohio this year for Christmas, but were lucky to be able to stay the night at Kira and Andrew's which meant on Monday night, after work, we could drive the first 2 hour portion to Nashville, and then crash. Then Tuesday morning, the 23rd, we left Nashville for the remaining 8 hour drive to Ohio. We had a pretty uneventful drive which is always a blessing. We made it to Bryan and Amanda's house around 6pm, and then had some awesome burritos. They knew that I have been craving mexican food non stop, so we ate some homemade pico de gallo, homemade guacamole, and of course the shredded chicken and cilantro lime burritos. We then talked way too much, and went to bed way too late,but that is life sometimes.
On the 24th, Amanda had to work, so Grant and I slept in, and then went with Bryan to the new Giant Eagle to see the new snazzy layout and get some yummy sushi for lunch. After our late lunch it was time to get ready to do to Christmas Eve service with Gail. It was so much fun to see a lot of the people that I grew up knowing and getting to talk to them. After that, Grant and I went back to Bryan and Amanda's house and watched some Jim Gaffigan before heading to bed. Bryan and Amanda were having their Christmas with Byran's Family. (Also, this was the day we put an offer on our house, we had seen it right before leaving town which was a HUGE advantage to us as most people didn't have a chance to see it due to the holidays. So no bidding war ensued.)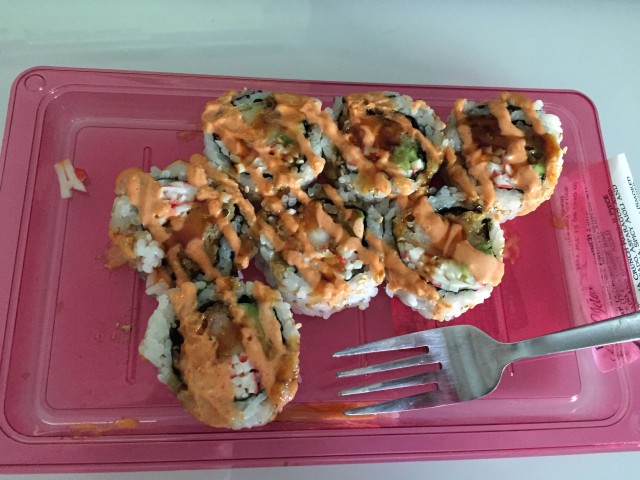 On the 25th, Gail got the Bryan and Amanda's house around 10am. We then ate breakfast and snacked on other goodies that were brought to eat.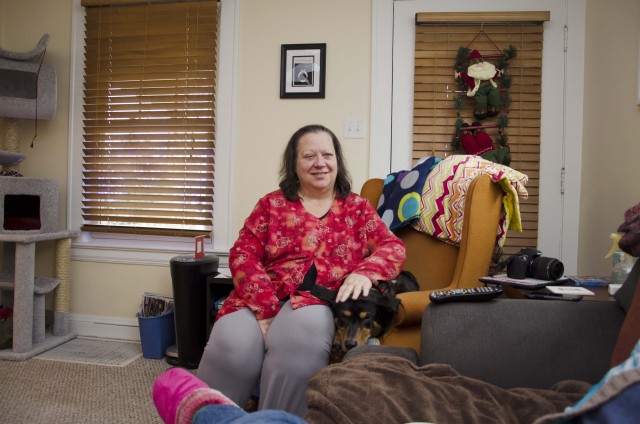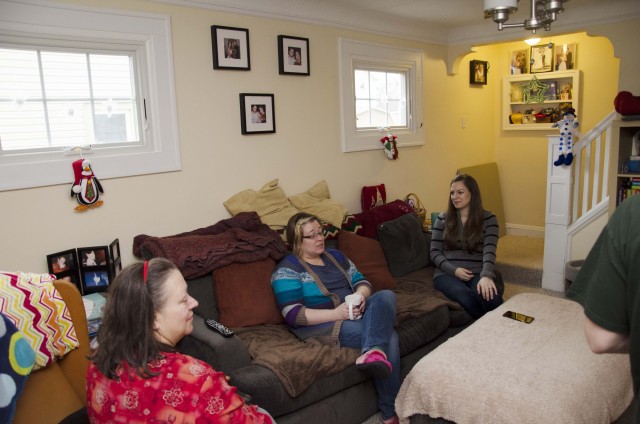 Just talking before opening gifts.
We opened gifts which was a lot of fun. I think my favorite part was seeing the onesies that Gail made for our little girl as well as seeing Francie(Bryan and Amanda's Dog) get to open her stocking. She knew it was hers and waited patiently while Grant showed her item after item – it was hilarious!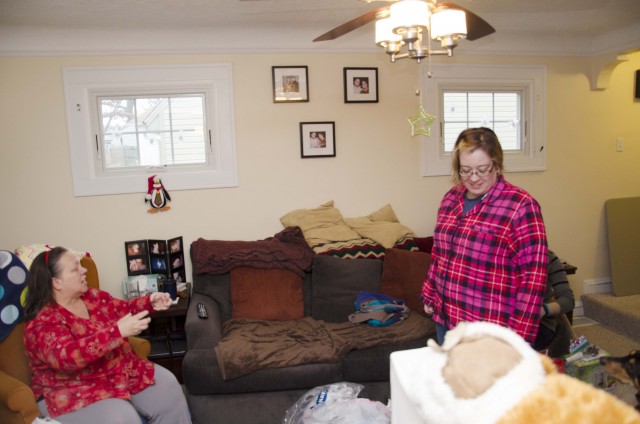 Amanda trying on her new PJs from Bryan.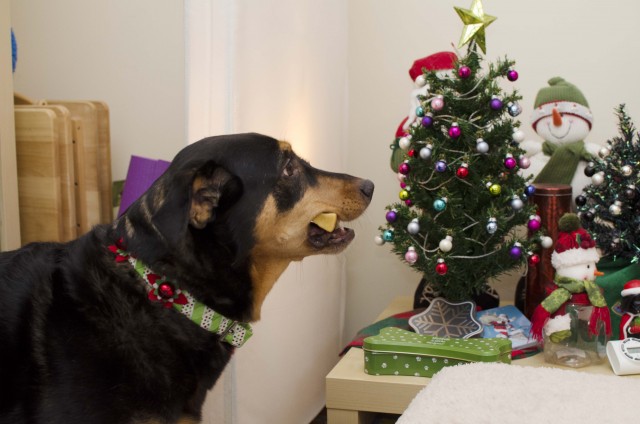 Francie looking festive and holding tight to one of her Christmas gifts.
Bryan got a Nikon D7000 Camera, so here he is look at all of his lenses.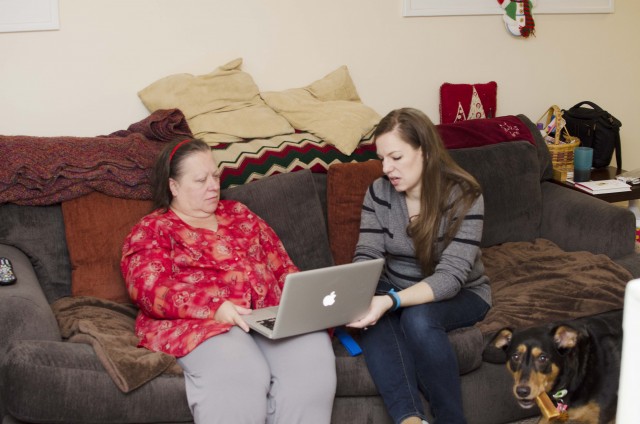 I was showing Gail pictures and floor plans of the house we had just put an offer on. Don't know about my face,but I was excited, I promise.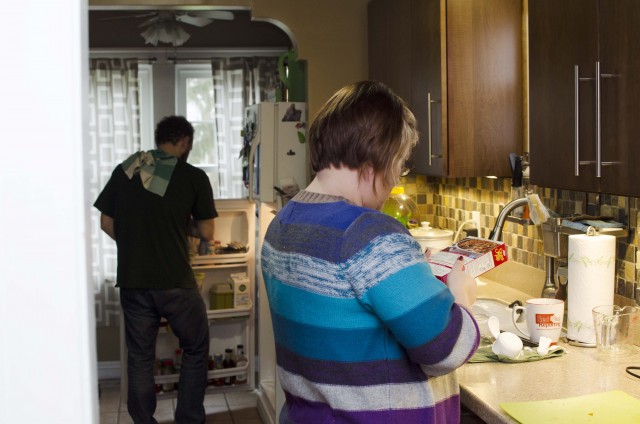 After opening gifts, we ended up eating our late lunch/dinner. Which was amazing, here you can see Bryan and Amanda working on the food. We offered to help,but they had their own rhythm going.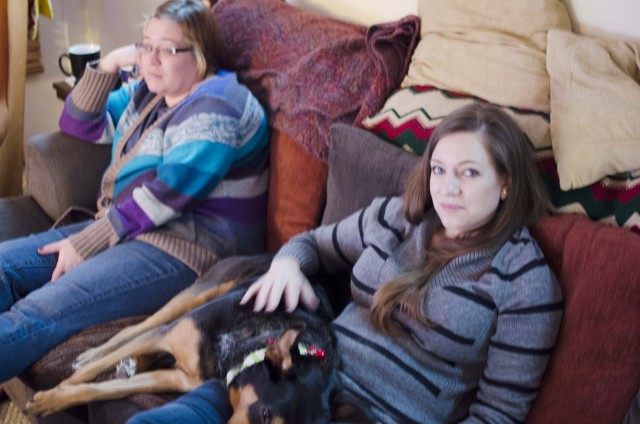 Francie and I are BFFs.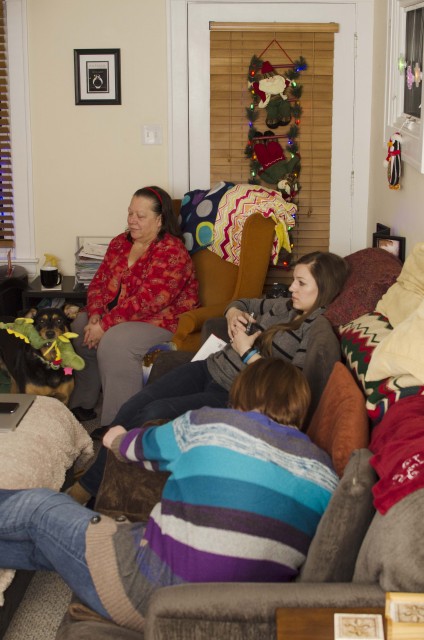 Then we watched the movie how to train your dragon 2, then we snacked on more of the food that was left over as well as the pies that Gail made. Then we played some Rummikub, and then I think it was time to go to bed.
On the 26th, We tried to sleep in a little bit, then were able to visit our friends Matt and Megan and see their daughter Maria as well as their very new daughter Emma. It wasn't a long visit, but it was so nice to catch up with some old friends. After leaving their house, we grabbed lunch, rand some errands, and we headed over to Gail's house to look at a few things that she wanted Grant to look at. Some of the things we brought back to Huntsville, since we drove in a car. After that, I dropped Grant off at our friend's Rob's house so they could hang out while I headed back to see Amanda. Amanda, Gail, and I then went to Lock 3 in hopes of seeing the Christkindle Markt. Unfortunately, their hours online were for the ice ring, and slides not the actual times that the artisans would be there. So, we missed them. However, there was a historic museum display that showed all kinds of things from a marble company and lots about the good year blimp. So that was still fun to see and learn about. Also, Gail and Amanda got some pretzels that they said were really good. On the way back to the car, we saw a Journey to Bethlehem set up in a display window that was very intricate and had different things in each that you needed to find. After that, we headed back to Amanda's house to talk and hang out. Around 10, Gail left to go home, and I headed to Rob's house to pick up Grant. We ended up hanging out a little more, getting back late and crashing.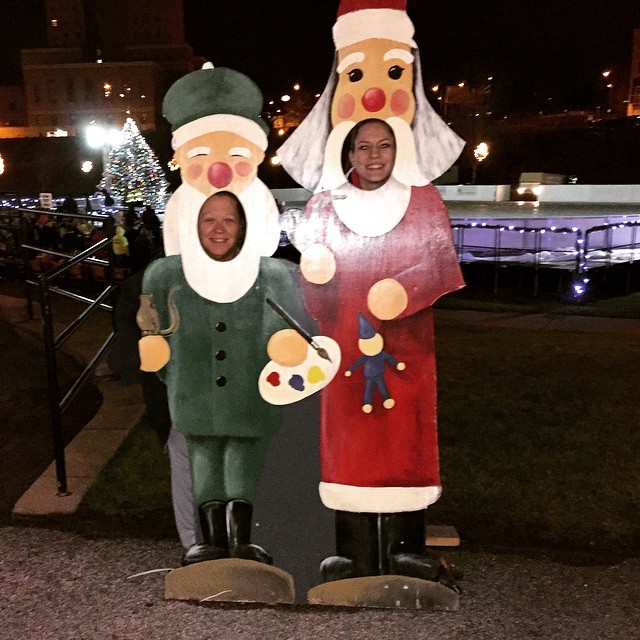 On the 27th, We woke up, and Grant made himself breakfast while I got ready. We started to pack our stuff, and then I headed to Panera to have a late breakfast with Jessica Hakes. So far, each time I have come and visited, we have both been able to meet and catch up. It is always so nice to get to see her, and it always makes me feel loved that she takes the time to meet with me. 🙂 Thanks Jessica! Then after that I grabbed some yummies for Amanda and Grant from Panera to bring home to them. We finished packing our car, and headed out of town. We wanted to stop at Ikea in Southern Ohio on the way home to grab a few items since we don't have an Ikea close. One of those items was a sheep skin for our nursery. After the Ikea stop, we ended up driving the rest of the way home. We could have stopped in Nashville, but we were so close to home we just wanted to get there. The one nice thing is that, there was a chance Kira might have stayed at our place while we were gone so I did an awesome job of cleaning everything more than usual. So, it was wonderful coming home to a very clean condo.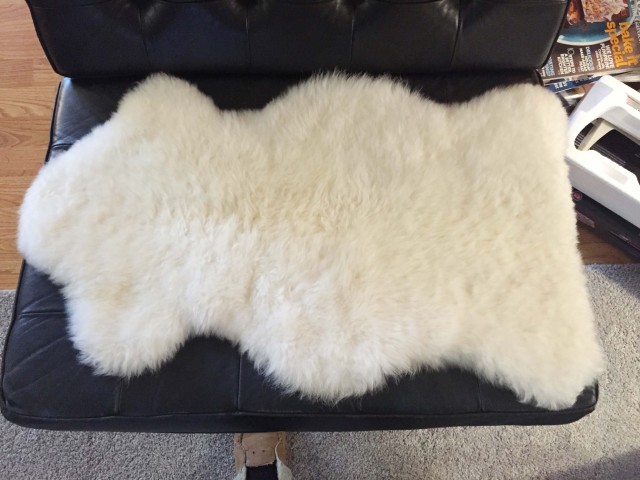 The sheep skin for the nursery.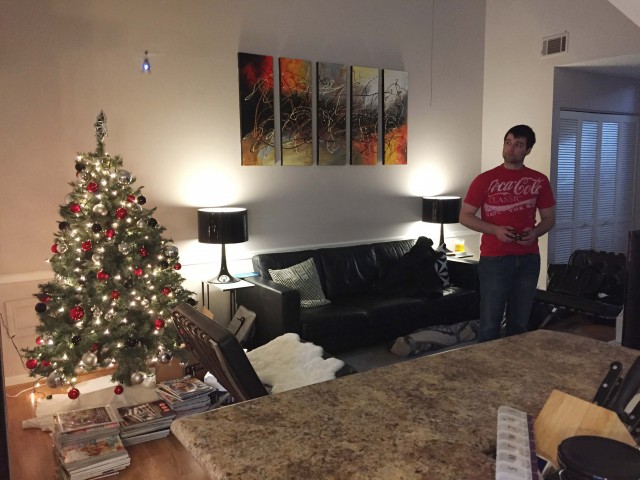 Grant playing with one of the random, fun Christmas gifts that I got him – a helicopter.
Grant had to work on the 29th, so we had to get our stuff unpacked as much as we could and ready for the next week. Also, our offer was accepted on the 28th/29th so we then had to start setting up our inspection, send in ernest money,etc. so that we could get everything moving on the house.  We had such a great time in Ohio, the weather was wonderful even if it wasn't white, and getting to see family is always so much fun. Gail wrote about our time there in this blog post where she also included some more pictures. 🙂