After getting back from Ohio for Christmas, we had a low key New Years where we just met some friends for dinner and played games until about 10pm when we decided to get home and avoid any crazies that might be out. We then had 7 days to get an inspector out to look at our house. We got one scheduled who was very highly recommended, and he did a great thorough job in most inside areas of our house. We didn't feel like he did a good job in the crawl space or in the attic/roof. We suspect he didn't really inspect those areas well. We would verbally and physically point out things, and he would agree with us,but then write contradicting statements in his reports that he printed out for us. For instance, he kept claiming we had a new or 1-2 year old roof when we had been specifically told by the seller that it was at least 10-12 years old. There were spots in the attic that had insulation that was wet to the touch, where we could blot up water with a piece of paper. He would see it, verbally confirm, and then in his report write dry to the touch, and would claim that he saw some newer plywood there, so that meant any issues had been fixed previously.
We knew this wasn't true as the sellers had told us that no fixes or changes had been made to the roof. So, we decided that we would rather pay our stupid tax now, and get a roofing expert out to look at our roof, and pay for a different inspector to give us a second opinion. We had to get an extension from the sellers as we couldn't get both of these people out in remaining 2 days of the allotted 7 days. Once we had the extension approved, we were told that our roof needed a lot of fixes which when totaled up almost equaled the cost of a new roof. The second inspector agreed, and found an area in the crawl space that needed to be reinforced until we are ready to redo the flooring in that specific area due to water damage from a previous washer leaking. Once we had all of our paperwork and ducks in a row came time for negotiations. We asked the sellers to pay for a new roof, and showed the cost difference of fixing the current damage, a 3 tab (20-25 year) roof, and a 30 year architectural roof, we asked them to update all of the outlets to GFCI in all wet areas that haven't been updated yet since for todays code they should be GFCI even if not having them was to code when the house was built, and to reinforce under the laundry area. We expected them to either refuse to fix all of these issues or maybe just offer to pay for the repairs for the roof. Well, Grant and I were floored and elated to hear that they agreed to fix all of the three items that we had listed. Talk about a huge blessing. During these negotiations, I was in Austin, so that made things kinda hairy with phone calls back and forth and Grant having to take off work to meet people at the house. The realtor who listed and was selling the house had underpriced it for the area, had listed it the week of Christmas, and had only posted a picture of the outside of the house. With all of the homes we have looked at in the past 6-7 months, if a house had only one picture, it meant the house was in terrible shape in the inside. This house was not, and I have no idea why their relator didn't do a good job,but it honestly worked out in our favor. Grant and I do not think we would have been able to get this house if all of those things hadn't been the way they were. Even after we were under contract, we saw people coming and looking at the house even while we were getting it inspected just to make sure that if the deal fell through that they could have a chance to put in a bid,etc. It was very strange seeing others go through the house, because once we were under contract we started viewing the house as ours already. 🙂 Anyway, once all those things were done, we had lots of paperwork to fill out and turn in. Our realtor that we worked with was simply amazing. She went so far above and beyond what she had to do, and I would recommend her to ANYONE in the area. We had warned her before working with us that we wanted to buy a house, but that we were very specific on price, picky on certain aspects of the house, and won't be buying a house just to get one. This is our first, and we wanted to make as few compromises as possible. I'm pretty sure there were a few times where she wanted to smack us when we said no to certain homes that were very close to what we were asking, but in the end Grant and I feel so blessed and happy with the house that we got. We had to make very few compromises and love having our own place as we slowly make it our home. After getting all of our loan stuff in order and making sure that our 20% down would  be processed and received on time by the title company, and all of the necessary inspections we were ready for the final walk through on the day of closing. We found that the floor in the crawlspace had been reinforced,but not done very well, so it is on our list just to beef it up just a tad. We also found that the GFCI outlets had been done incorrectly so that half the appliances in our kitchen didn't work as well as all of the outlets. We knew that the check for the 3 tab roof would be given to us at closing made out to the roofing company of our choice, but the outlets made it to where anything plugged in blew the breaker and made half the kitchen unusable. We decided to still close on the house as we didn't want to lose the great interest rate that we had locked in at(3.5%.) At closing we specifically asked about the outlets, and found out that the person who had fixed the flooring in the crawlspace, had also fixed the outlets and wasn't a licensed electrician, go figure. The seller's realtor had arranged everything, and so the sellers had no idea that he had used someone who wasn't licensed. He said he would get someone out there that day to get it fixed which was Friday, the 30th. We closed on the house, and honestly didn't feel like it was real. We went home, and kept packing as much as we could as Kira, Andrew, and Alana were going to help us move the next morning. We never heard from the realtor, so we decided we would call him Saturday to ask about the electrician.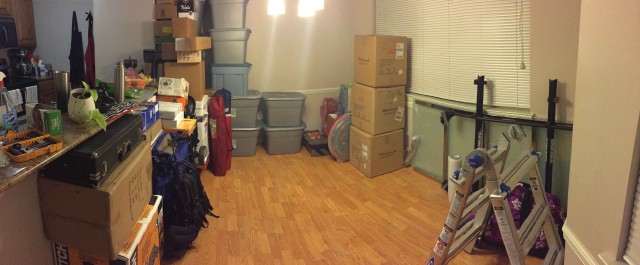 The start of packing before I left for Austin.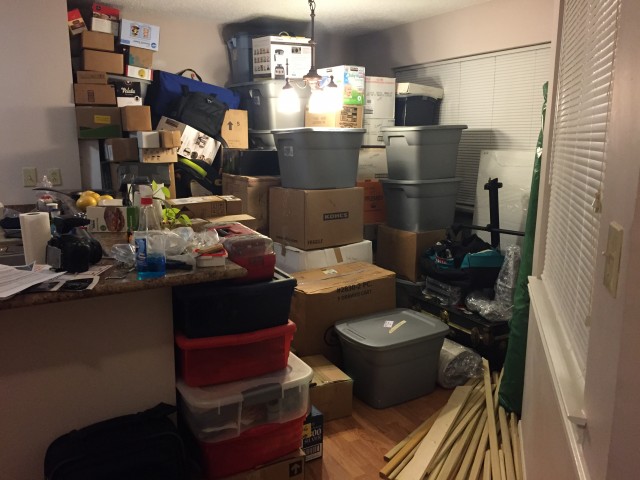 More packing after I was back.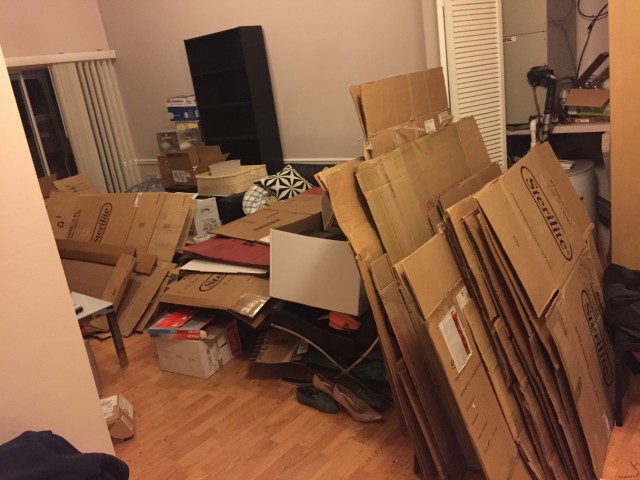 After we finally found some more boxes for free. Then right after closing this is what it looked like, and luckily we got a ton packed before that next morning.
Grant and I woke up super early on Saturday and got breakfast at the waffle house.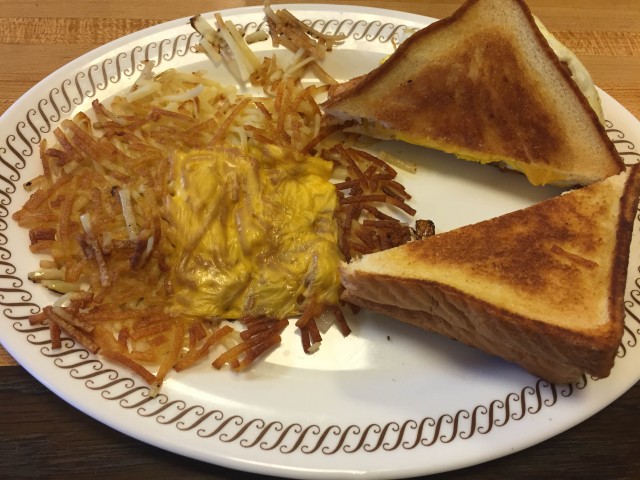 Grant was wanting something good but hardy. Well, he was very disappointed because our food ended up being not very good and WAY more expensive than we anticipated. We would have just gone somewhere nicer had we know,but hey it was an experience to remember. After that, Grant and I loaded up my car and his truck with the first load of awkward items like house plants, chairs, and things that we didn't want to or couldn't take apart but took up a lot of room. We drove them to the house unloaded, and headed right back to the condo to keep packing. Kira, Andrew, and Alana arrived not too long after that, and they started loading up my car, Grant's truck, Andrew's truck, and a trailer that Andrew's truck was pulling that Grant's coworker let us borrow. Kira strapped Alana to her in an ergo carrier and helped carry out boxes and things like that while I packed as many more things as I could. We had all the big stuff and about 90% of our stuff packed before this morning, but I needed to pack up the rest of the areas that we either needed before, I couldn't get to because of boxes and packing material, or we needed help taking apart.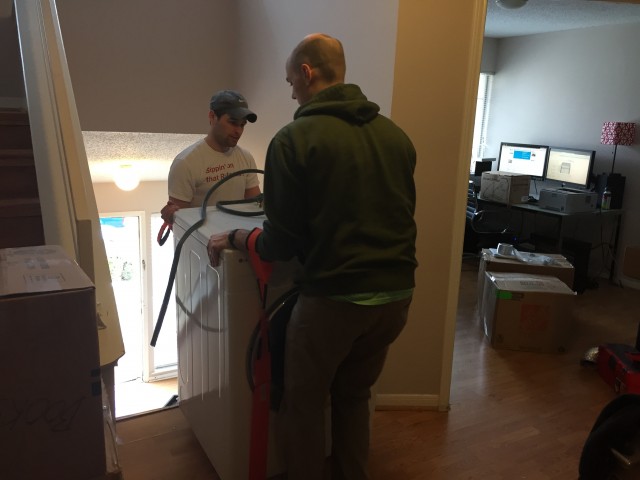 As we have mentioned from our previous moves, the industrial saran wrap was again a life saver, and I would recommend to anyone moving, but these carrying straps that Andrew brought were AMAZING! Our condo has three flights of stairs, and it made a lot of the bigger items easier to move for Andrew and Grant. We have since bought a set for ourselves. Once we had all of the vehicles packed up, we made our first trip to the house. We unloaded everything, and decided it was time for lunch. We headed to a Moe's BBQ which is close to where we live and filled up on good food.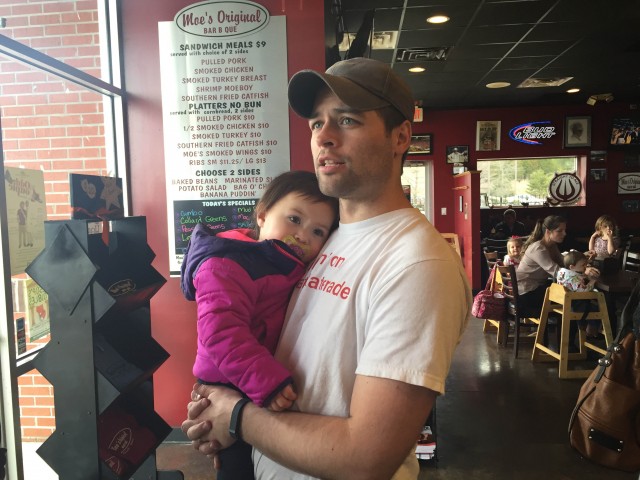 Alana LOVES her uncle Grant and so here is a cute picture of us in line waiting to order our food.
After that it was time to go back to the condo for a second load. It took a long time, and Andrew also started feeling under the weather, but we got a second huge load in all three vehicles ready. We locked up the condo for the day, and headed to the house. We unloaded the vehicles, and set up as much as we could in the two rooms we would be sleeping in. Kira and Andrew worked on getting Alana ready for bed and showering while Grant ran back to the condo to get his cell phone since he had left it there, and also pick up some Vietnamese food for Kira since there is a really good place by the condo, and Kira had been craving it. I meanwhile ran to Walmart to make sure we had all of the necessities for that night since I did too good of a job packing everything away and eating most of our food before the move. I also ran to Jet's pizza to get dinner for the guys, and to Jimmy Johns because a veggie sandwich was something I was craving. We finally got a call from the realtor saying the electrician would meet us at our place Sunday morning. We all made it back to the house, ate dinner while Alana slept(She had left overs from her lunch at Moe's), then showered, and all crashed. I'm pretty sure that it was only 9pm when we all went to bed,but we were all SO exhausted.
It honestly felt like we were just moving into another place we were renting, rather than our house that we had bought. So over time hopefully it will feel like we own it since we have rented for so long,but we already love living here! Of course during the time of our move it was in the 20-30s temperature wise so very cold, and on Sunday morning we all got up super early and it was raining as well. Grant and Andrew took both trucks and the trailer back to the condo while Kira and I worked on unpacking a few things, I ran and got breakfast for us, and then waited on the guys to come back with the last load so that we could help unload it. They arrived back, and we unloaded it all, and then helped Kira and Andrew pack up their stuff so they could head back to Nashville. They were such an amazing help, and I don't know how we would have moved everything without them. Then around 9am on Sunday, the electrician came and fixed most of the GFCI outlets. At first they were told they were only replacing a few by the relator,but according the the contract signed, there were a lot more areas that they had agreed to fix. So after putting our foot(feet) down, they fixed 9 out of the 10 outlets that they said they would do. So, we still have one outlet in the garage to fix, and a breaker in the sunroom to replace, but neither of these are broken, just not updated. We decided not to hound the relator/sellers on these issues since they were already paying for a new roof, and had fixed most of the items that they said they would fix. We also found a great electrician out of this whole process, who we will ask to come back and fix the two items listed above as well as some other cosmetics things that we are wanting changed. The electrician was at our place from 9am until about 4pm. I'm pretty sure he was glad to be be done around then because this was super bowl Sunday, and I'm sure he didn't want to miss it. During the time he was working, Grant and I unpacked a few things, and got the washer and dryer set up so at least we could do laundry as well as moving boxes and trying to get somethings organized. We also missed our young married's super bowl party,but we were honestly just too busy and needed to start getting the necessities unpacked before work the next day. Grant and I went back to the condo to get another load of stuff, and then came home to start unpacking. We also ran out and grabbed dinner from Five Guys and another veggie sandwich for me.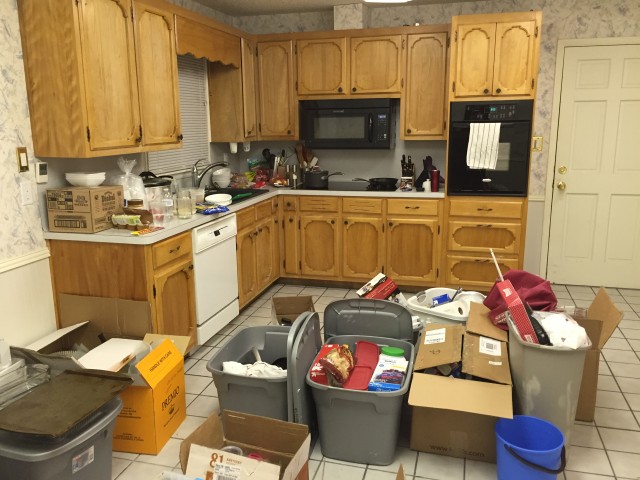 The kitchen when we had it partially unpacked/ digging through boxes for way too long to always find stuff.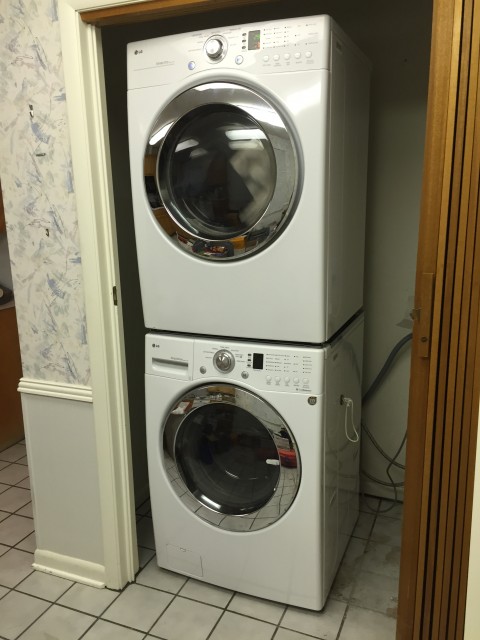 The washer and dryer set up so we could have some clean clothes.
Monday, Tuesday, and Wednesday, I had to commute to the condo because it still had internet. We had tried to set up the transfer super early,but of course, they wouldn't be able to hook up our internet until Thursday of that week for the house.  So, I worked at the condo, and then after work, Grant would come to the condo, we would load up the car and truck, and take another load back to the house, then spent our evenings unpacking, eating a quick dinner, and crashing.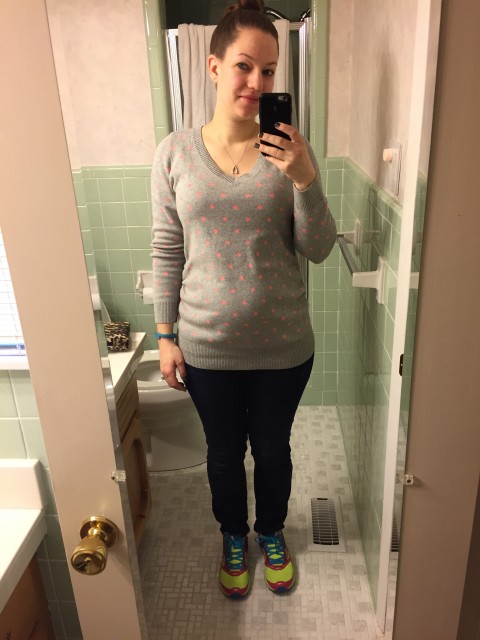 It is funny the types of outfits you wear when you can only find a very small amount of your clothes.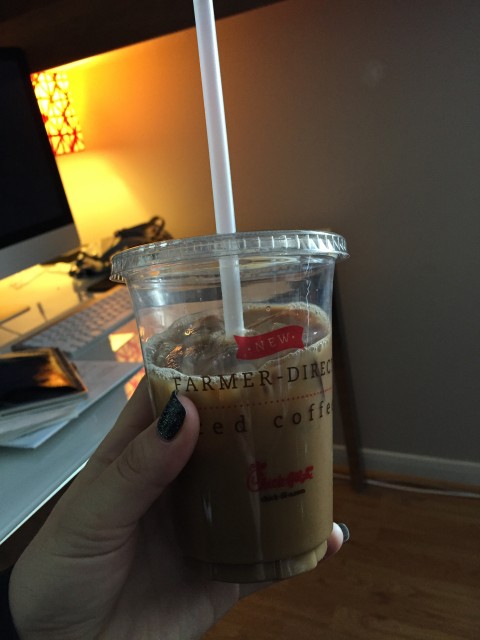 I'm normally too cheap to buy iced coffee or other drinks from restaurants especially since I work from home, and I can't justify driving to just get a beverage especially when I can make something at home for cheaper.  But during the whole month of February Chick Fil A was giving away their iced coffees for free. So, on my morning commute, I would get a vanilla iced coffee for free since it wasn't too far out of the way.  I prefer Dunkin Donuts Iced Decaf Coffees if I do buy a coffee, but hey it is free so I wasn't being choosy.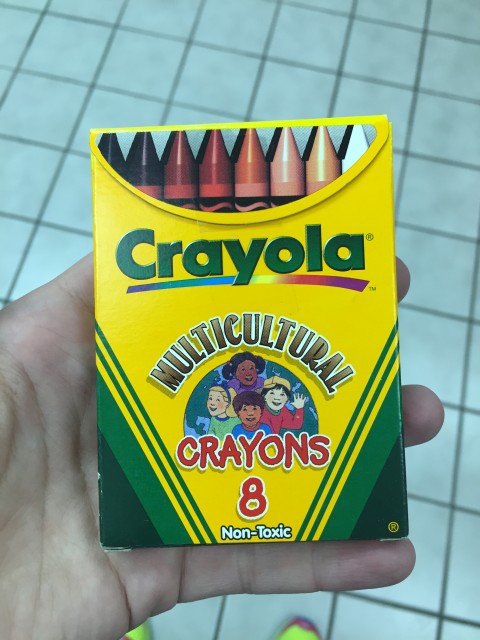 The previous owners left a lot of things behind including a huge junk drawer. We set to work cleaning it out, and found these in a drawer…
Then on Wednesday after work we got the last load of stuff and completely cleaned the condo top to bottom. We wanted to turn in our keys then,but our landlord was out of town, and he wouldn't be able to meet us until Monday. So, we turned off the utilities to the condo early, and got cracking on our house to at least set up the some of the areas and get ready for the internet to be turned on.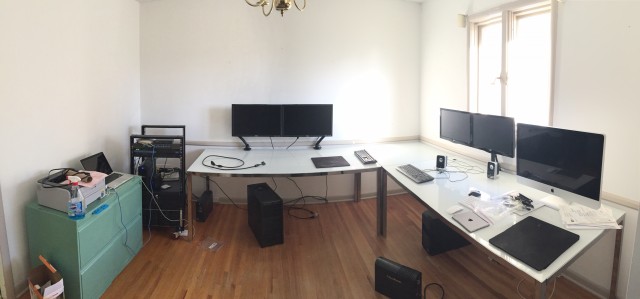 Thursday morning, the internet got turned on and my work office got set up so I could get cracking.
Then Monday after work, Grant met with our landlord and turned in the keys for the condo so we were completely done with it which was very exciting.  Since then we have been unpacking, coordinating getting a new roof on the house since it keeps raining/snowing, doing small DIY fixes here and there, and working on painting our kitchen cabinets. So more updated to come later. We can already tell that our house is a lot more efficient than our condo which is sad because our house is 20 years older than the condo was. We don't keep thinking the windows are open like at the condo, we can't feel a draft when you walk by a window, we can set the thermostat to a temperature and it actually gets to said temperature, and it doesn't run constantly. In the condo we could set our heat to say 72, and it would run the whole day and night, and then only ever get up to 69 if we were lucky. So, we don't know how much more expensive it will be to heat and cool our house since it is a larger space, but boy is it nice to just be comfortable for once.  There are a lot of things we want to update to make our house more efficient,but we are taking all of these fixes in baby steps trying to prioritize as best we can.
Again, THANK YOU Kira, Andrew, and Alana for helping us move our stuff. It was so nice to have the help and we couldn't have done it without you guys. We are sooo blessed to have you guys so close by!!