Grant and I have felt so loved and blessed by how supportive and loving our families have been toward us and our baby. We have already been thrown one shower in Austin, TX that was wonderful and a lot of my family got to come attend that one.  So this last weekend, was my Huntsville shower. My Mother-in-Law Gail flew in from Ohio, my Cousin-in-Law Sarah drove from South Carolina, and my Sister Kira, Brother-in-Law Andrew, and Niece Alana drove down from Tennessee. It was so wonderful to have family at this shower, and I really just wanted them to know how much I appreciated them making the effort to come and not to mention that they got us gifts too which is crazy in a good way. We also had lots of family send us gifts since they couldn't attend the shower since it is so far away for most people. Thank you to everyone who has blessed us in forms of gifts, prayers, and kind advice! We need all the help we can get. ;p
Gail was the first to arrive on Friday afternoon. Grant ended up working from home so we were both able to pick her up from the airport. Then we ran last minute errands to get remaining food, things Gail didn't want to travel with, and then we went out to Connors Steak and Seafood. Gail had her birthday last month, and so we decided to take her out to one of our favorite places here when she was with us. Hopefully the memories and yummy food were worth the wait. Then we came back to the house, gave her a tour since this was her first time seeing it, helped her settle in and watched Interstellar.  (GREAT movie by the way!) During that time, Sarah was driving from South Carolina so I kept randomly stalking her on my app to see where she was. She ended up arriving I think around 11:30 or 12:00… I can't remember exactly. So we all started talking when she arrived. I'm so glad she made it safely even though driving so long on a Friday night didn't sound very fun to me. She and I ended up talking until about 3am that night. It was super nice to catch up,but probably not the best decision since I know we were both tired the next day. Simon and Sarah bought a house, and they have been doing a TON of amazing renovations to it. So it was awesome being able to ask advice from them on a few things we haven't started yet. See how things went for them since we did some of the same DIYs, and showing a few things we had figured out.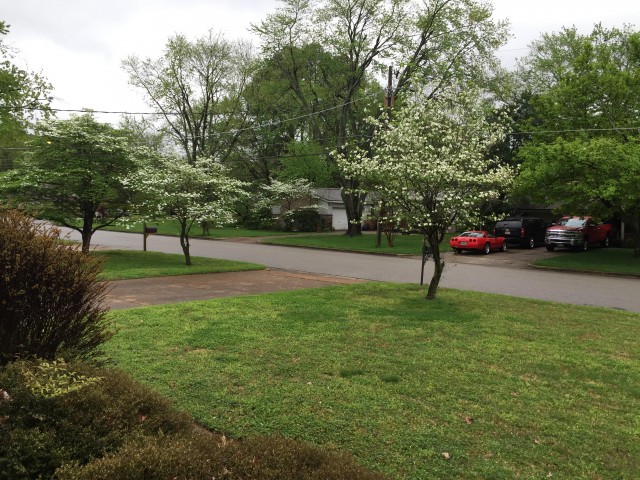 I was all excited that our dogwoods were blooming.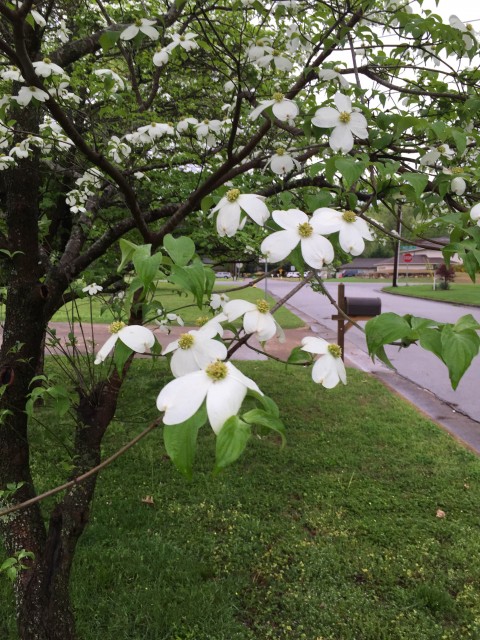 Grant hates their locations in the yard since they don't offer shade, and one is under a power line,but until he decides to trim or remove them I can enjoy them. 🙂
Saturday morning, we had a slow and low key breakfast and all slept in a little bit. Sarah and Gail helped make lunch in advance, and then we all took showers and got ready for the day and just hung out. Kira, Andrew, and Alana arrived right around lunch time. We all greeted each other, ate lunch, and then the guys flew their drones outside for literally hours. Alana napped somewhere in there, and then we ladies starting prepping dinner. The weather was so beautiful that weekend in Huntsville that we spent a lot of the day in the sunroom, outside watching the guys, and even enjoying the sunshine on the deck. I felt bad that I didn't have more planned during the weekend,but I was grateful for all of the help with food prep and cleaning. Half the time, I felt like there wasn't much for me to do. So thank you everyone for pitching in. It really made hosting very easy.
This time, we remembered to take some family pictures!! Thanks Sarah for reminding us! Sunday, we got up, ate breakfast, and went to the worship service at our church. After that we came back to the house, ate a lunch of leftovers since we had so many, and then got ready for the shower. Sarah also had to pack her car so that she could leave straight from there since she had the longest trek back home.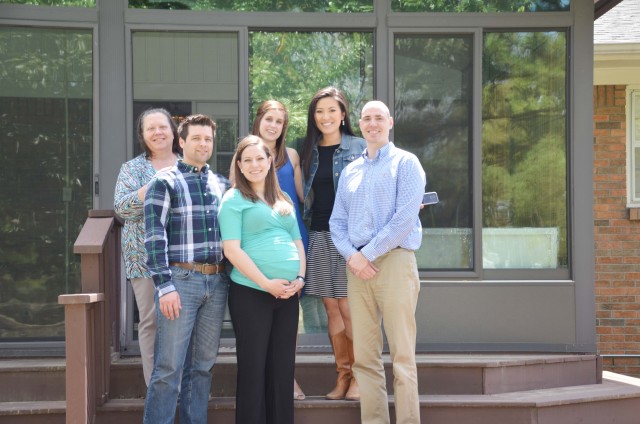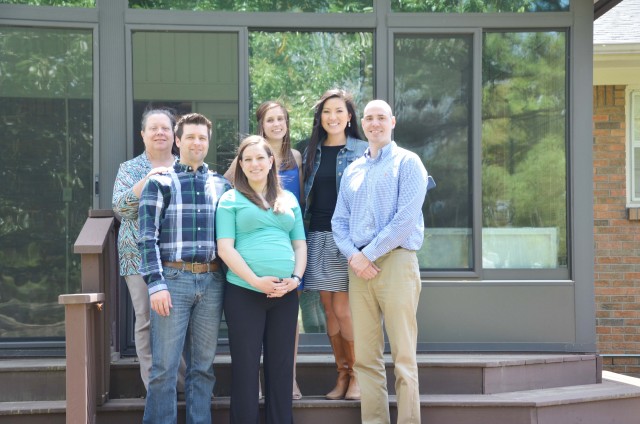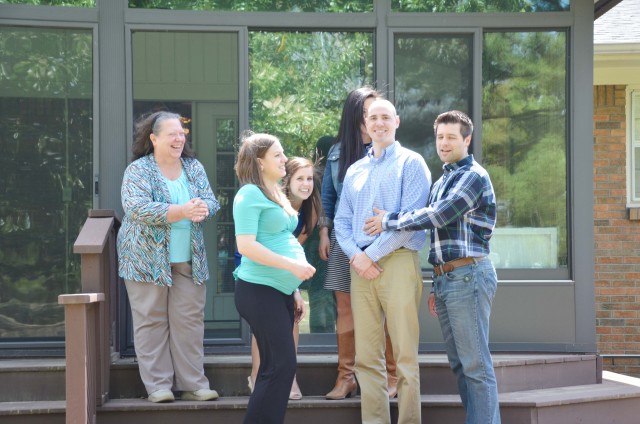 Grant decided to be goofy.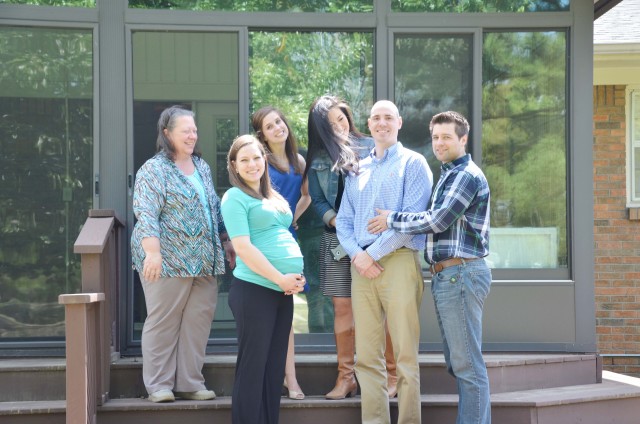 Andrew tried his best to not move at all in the pictures.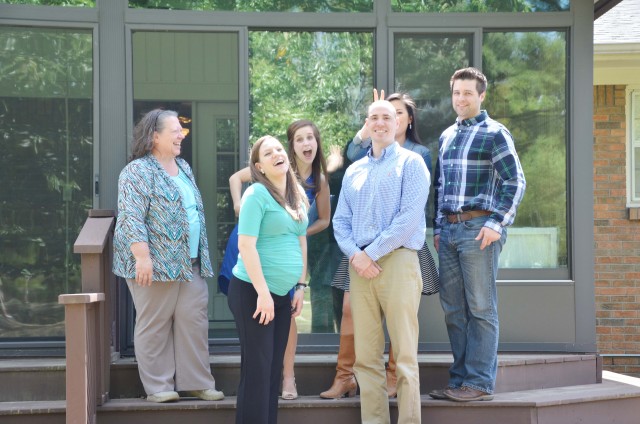 So Grant decided moving around all over the time was the only way to balance out Andrew.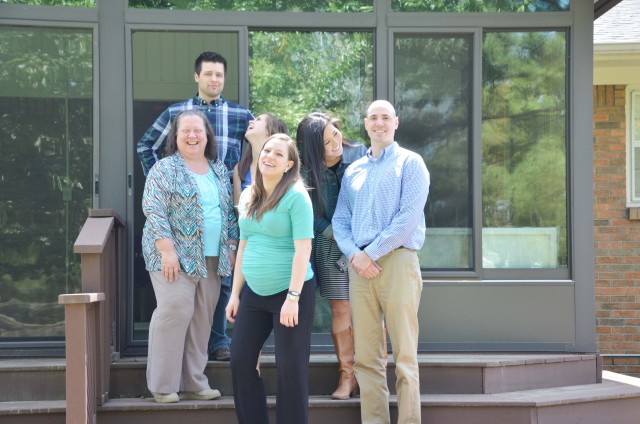 I have to say it is strange seeing myself in pictures with the belly. I feel I look totally different in pictures and videos than in person, but I can't see myself from different angles.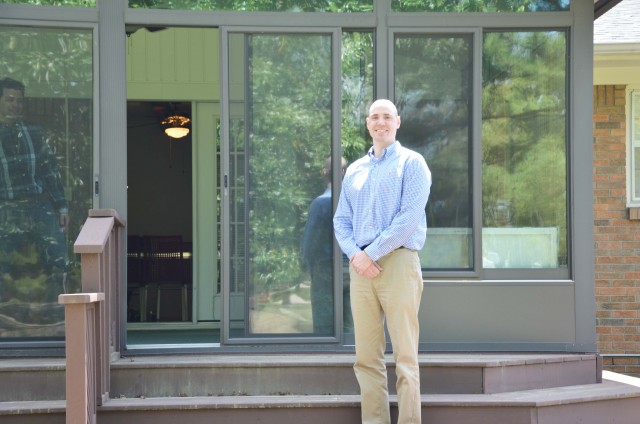 Andrew still not moving.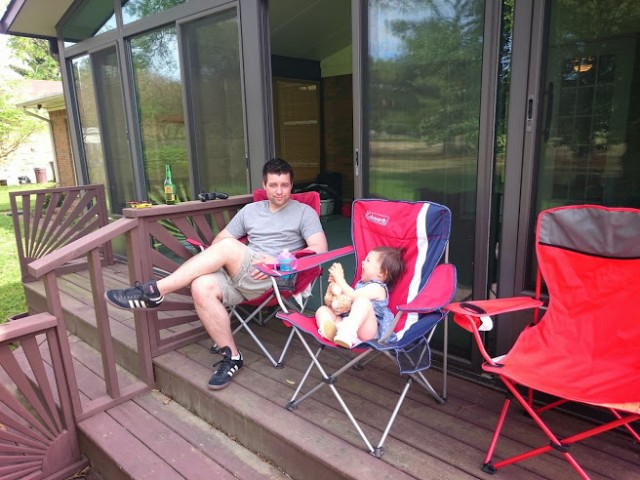 When we were chilling outside on the deck. Alana loves her Uncle Grant.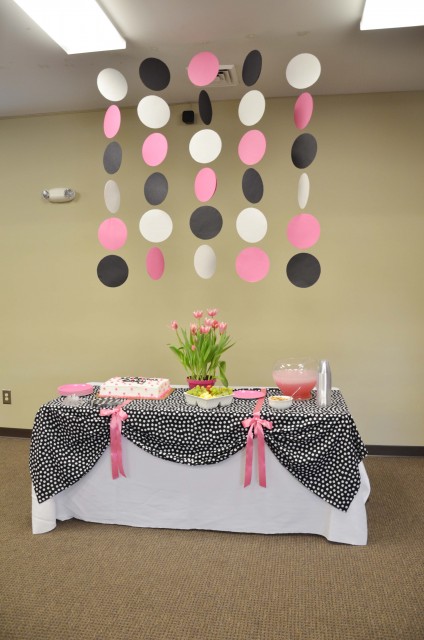 At 1:30 was when my shower took place at our church.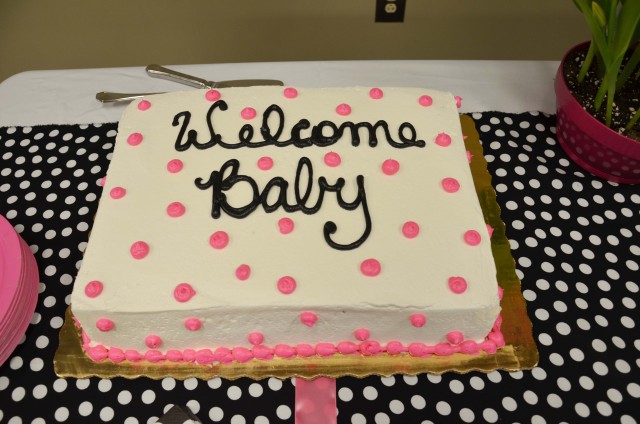 The ladies did such a beautiful job of decorating. It was all so perfect.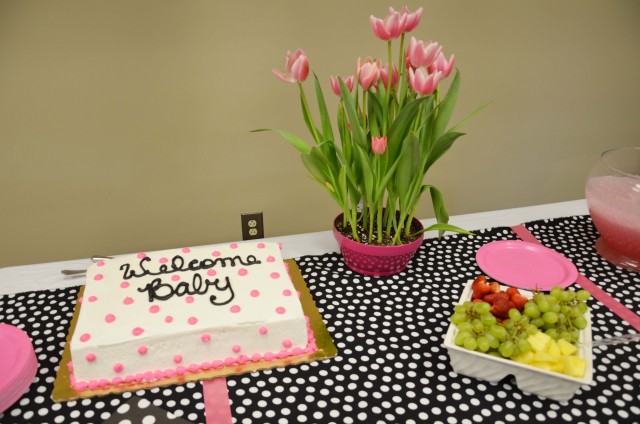 They didn't ask me,but Tulips are my favorite flowers, so I loved that they were incorporated on the table, and I even got to take them home!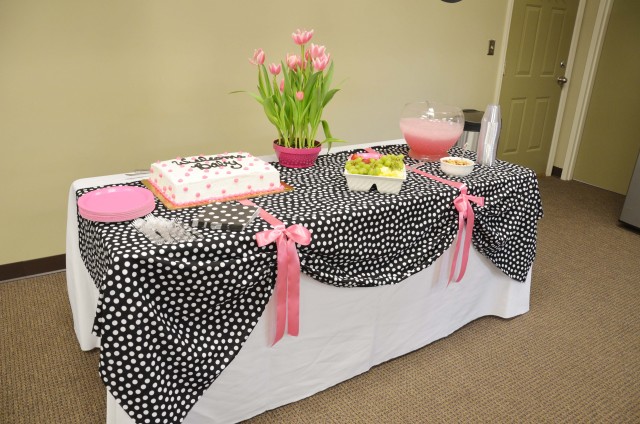 All the yummy food.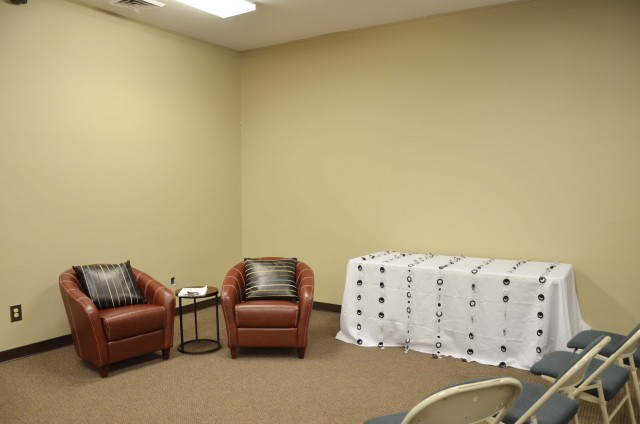 Where the opened presents will go.
Presents.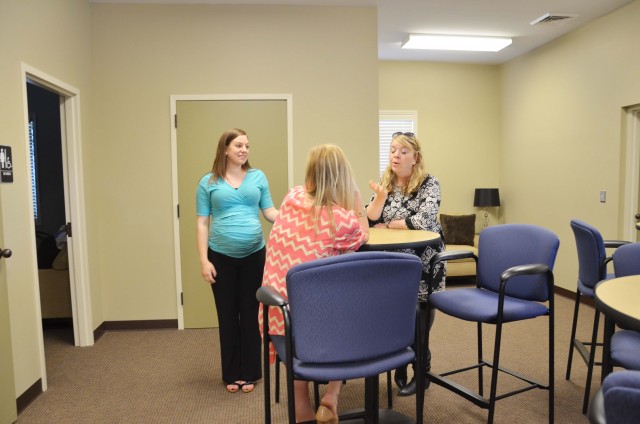 Starting to talk as guest start arriving.
A family picture.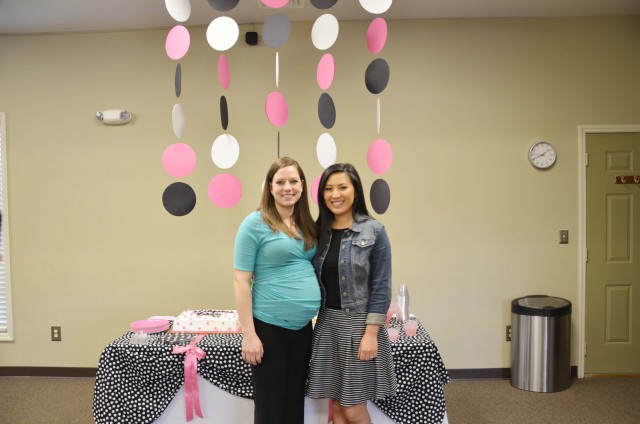 Kira and I.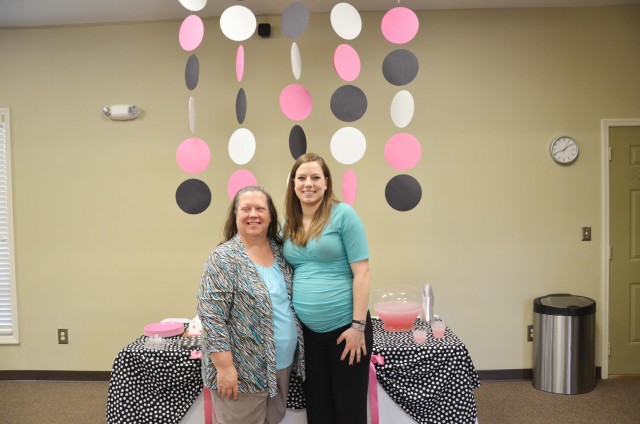 This and the next picture were the best of Gail and I could find. We both liked blinking a lot. 🙂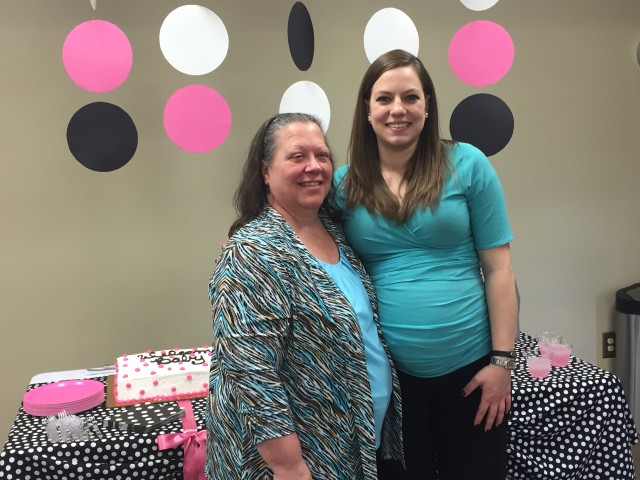 I guess we will just have to get more once she is back in Huntsville, but then we can have our little lady in them too.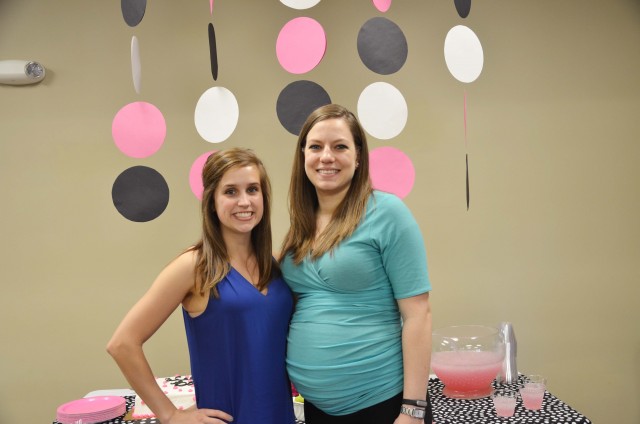 Sarah and I.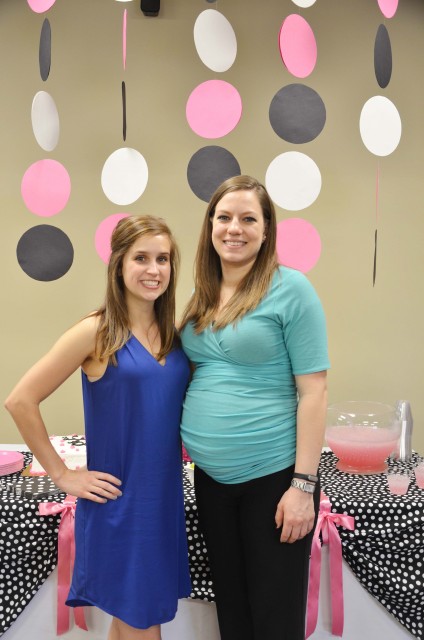 I think people kept thinking that she was one of my sisters too since they all know that I have a huge family, and we do have a similar hair color.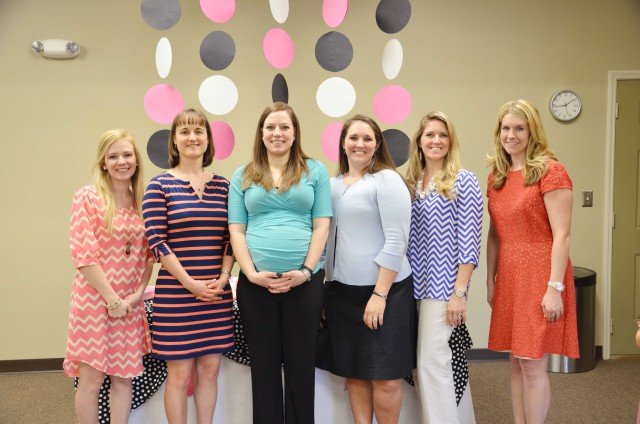 Me and my wonderful hostesses!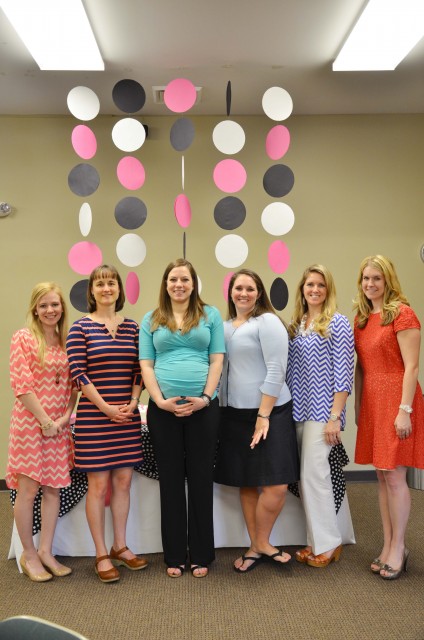 Another group shot.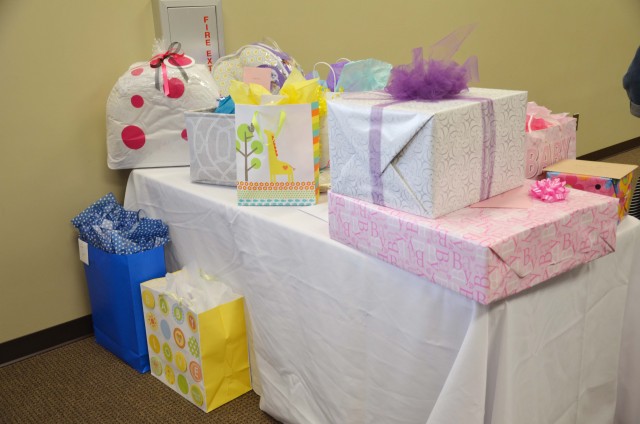 More Gifts.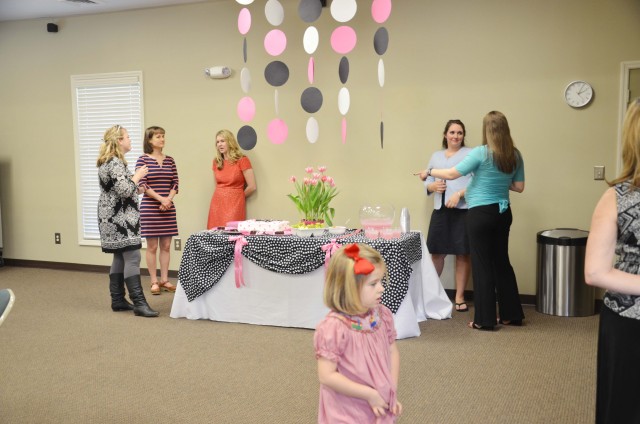 Doing what we all do best at showers… talk and eat!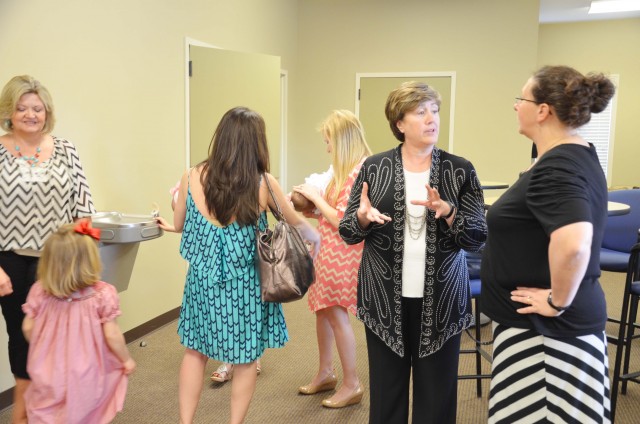 Thank you Sarah for taking all of these pictures!!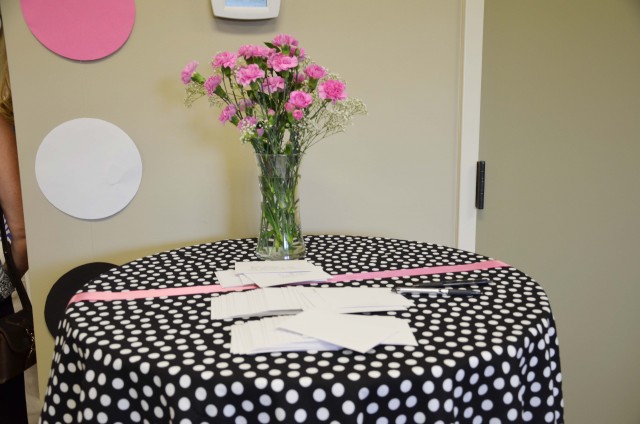 The sign in station so that I could have everyone's addresses which is super helpful!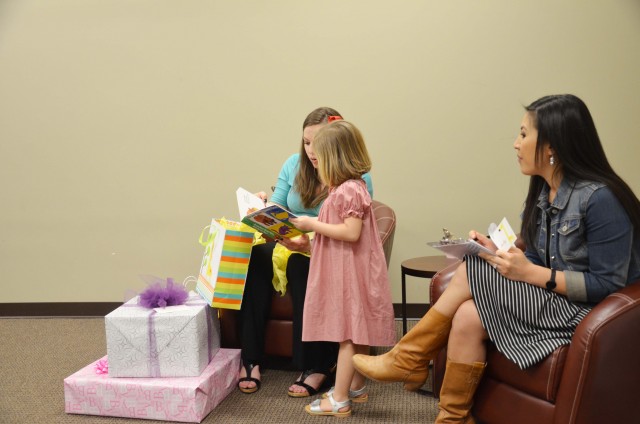 Opening the gifts.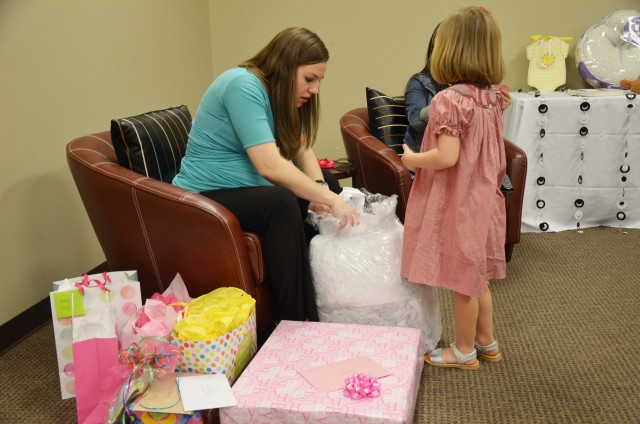 We got so many beautiful, practical, and much needed things.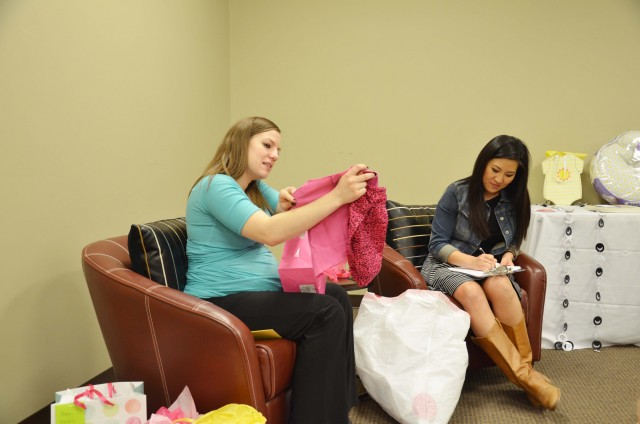 The outfit that Leah June sent along with Gail. You can't ever go wrong with leopard print.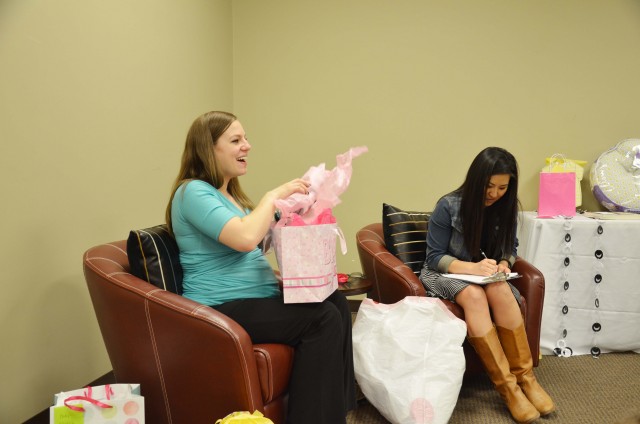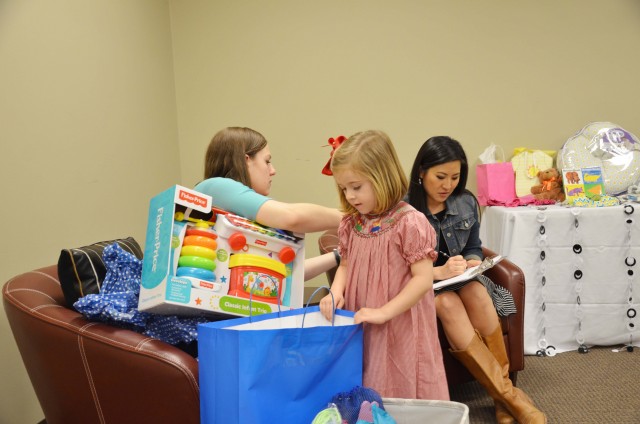 Some fun, classic toys that I was super excited about getting.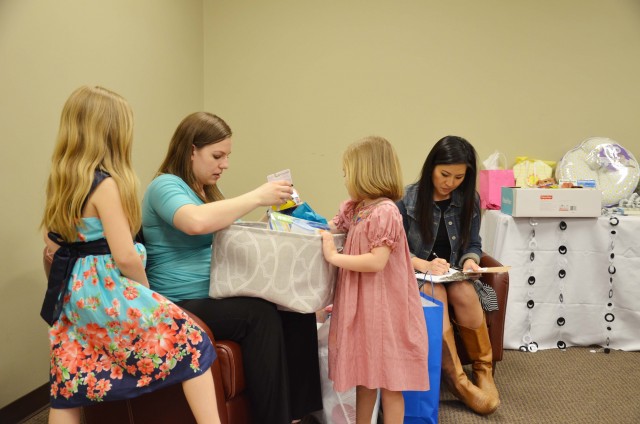 Simon and Sarah gave us this beautiful basket as well as lots of great bath toys, hooded towels, wash cloths, rubber duckie, and I think even more than that! Thank you so much for coming, giving us gifts, and just being awesome.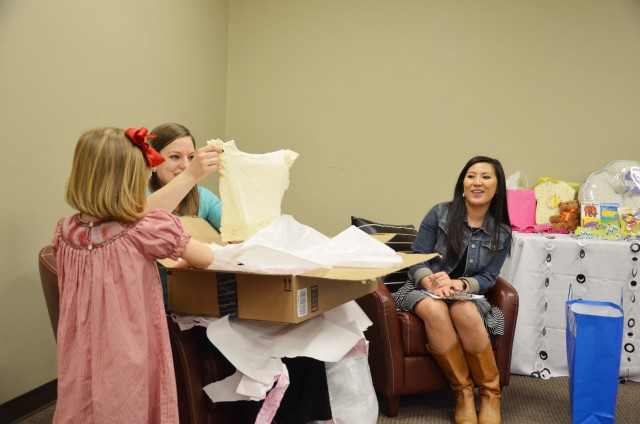 Gail gave us this outfit which also has some cute bottoms as well that aren't in the picture.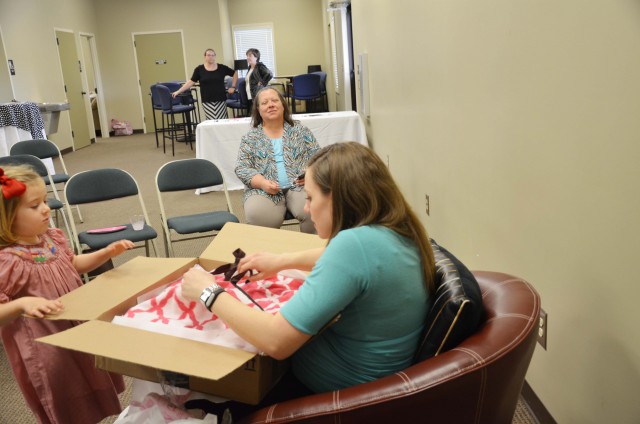 Gail made this really cute apron.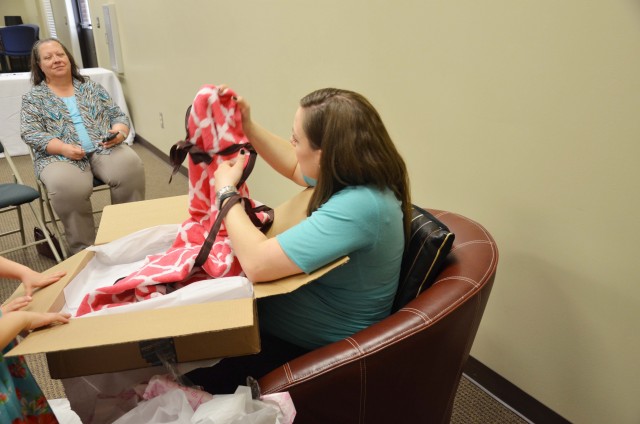 It is made of terry cloth, so while I'm giving our little miss a bath, it will hopefully keep me dry.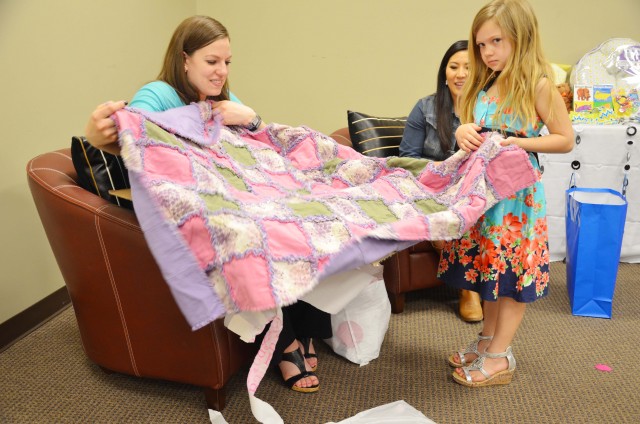 Then a beautiful rag quilt that she sewed.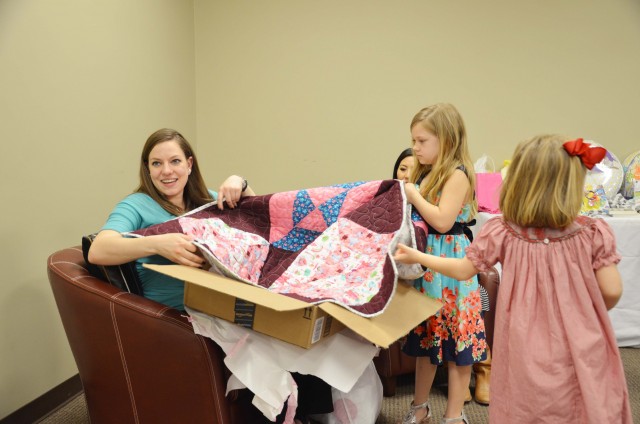 THEN another quilt. Gail, thank you so much for attending the shower, making/giving us all of these gifts, and for just being excited about your granddaughter!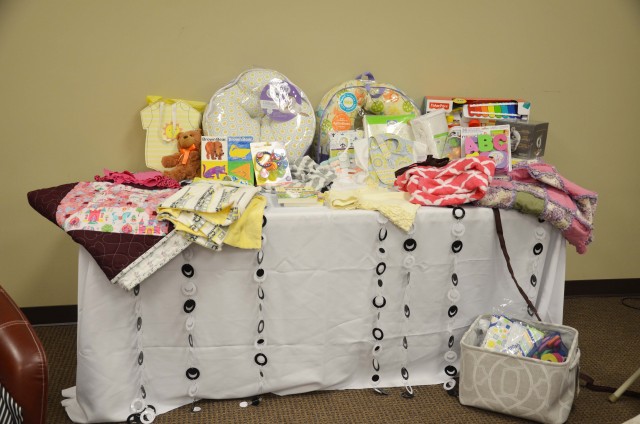 The gifts afterwards.

Sarah had to leave straight from the shower since she had a long drive. Kira, Andrew, and Alana came back to our house, loaded up their stuff and then headed back to Tennessee. Gail stayed the night, and then flew out around 4 in the evening on Monday so I took her to the airport since Grant was already at work. 


Thank you to all of our friends, family, and hostesses for all of the showers, prayers, gifts, advice, and love that you have given us. I know I'm doing a poor job of expressing how touched and loved we feel, so please excuse my in-eloquence.
Thank you, we love you all!