I totally understand if people aren't that interested in pregnancy posts, so I try to label them as plainly as possible. So, if your interested read on, if not skip and have a great day.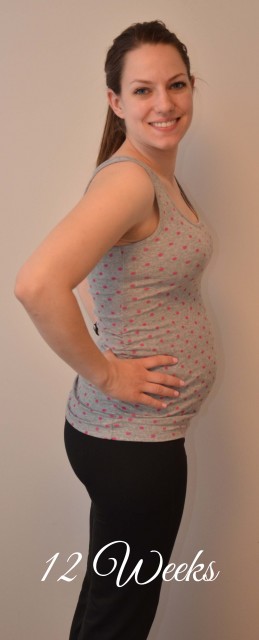 Here is my post from when I was 12 weeks pregnant with Reese.
How far along: 12 weeks
How big is baby: 1/2 ounce and the size of a large plum.
Weight gain: None, I lost some while I fought the virus I got from Reese and still hovering below my prepregnancy weight.
Sleep: I am a stomach sleeper now that I nurse Reese a lot less often, and I can still comfortably sleep on my stomach right now.
Diet/Cravings/Aversions: I haven't had any aversions or huge cravings yet.
Movement: None that I can feel, but this time I don't have an anterior placenta so I should feel kicks earlier than with Reese.
What I'm loving: It was so fun to let people know we are expecting, even if they do think we are crazy for having them so close together.
Symptoms: With Reese early on I had a few weeks of nausea, and I threw up once and took a few naps. This pregnancy thus far I had no constant nausea,but I had to always have food in my stomach. If I got too hungry, I would get nauseated and vomit within a 10 minute time frame. So I have thrown up at least 15 times which isn't fun at all,but so worth it for the eventual baby. 🙂 Since hitting 12 weeks, it has been a lot less frequent. Not sure if this is because I'm paying attention more, or I'm getting used to the hormones.
What I'm looking forward to: Getting to feel kicks, sewing a few small things for this baby, and getting our guest room painted.
Thoughts: I'm so glad that I don't need much stuff for this baby. I have made a list, and it is pretty small. I'm so glad we kept things as simple as possible with Reese it gives you perspective when trying to wrap your head around having a second.
Let me know if you have any questions!
View our Amazon Baby Registry HERE!