This year, is our "off" year as my parents refer to it meaning that all of their children are at their in-law's houses. So, off to Ohio we went. Grant and I found out that our brother in law Bryan wasn't getting time around Christmas off. His family has so many people to plan around and so we all decided we would have it early this year. Also, the flights are 50% cheaper if you fly before the 15th of December. We got a great deal on tickets, and Bryan and Amanda covered some of the tickets as our Christmas gift from them.
We got to Ohio and got to see Amanda(Grant's Sister) and her husband Bryan, Matt and Megan(two of our really good friends), Gail (Grant's Mom), Jessica(Childhood Friend & her Baby), and that about sums it up. We had a blast seeing everyone, and it was sooo weird and nice being back in the north I am not going to lie! We drove all over the place and Grant wasn't annoyed at any of the drivers….because the majority could drive pretty well. We went into a grocery store and everyone knew manners and Grant wasn't having any anger issues with dumb cart drivers in the super markets like we do in Austin.
Bryan & Amanda have an amazingly cute dog who snuggled with me most of the time I saw her and made all my clothes fur covered… it was warm bliss ;p They also had cats who we played with, gave LOADS of cat nip, and just had a great time playing with.
We were considering driving because we had found Amanda's dish set that isn't manufactured anymore, and brought the whole set. A few plates broke, but since they were in suitcases, I think overall it worked out pretty well. Amanda had no clue she was getting these dishes, and was totally making fun of us for having 3 suitcase… two of which were full of dishes which weighed a ton ,and blankets and other packing material.
Grant got a nice peacoat from express for Christmas because he had no warm coat to wear while in Ohio. I got a cute dress from express… WOOT! Gail gave us a nice book that I need to read, and more gift cards than I think I can spend in a year!
Matt and Megan took us to this great restaurant where Matt and Grant had HUGE 20 oz. "Cowboy" steaks that they ate in one sitting… they were 35 a piece…. but Grant said it was one of the best steaks that he has had. Megan and I each got Ravioli that had mushrooms, goat cheese, and one other filling with a cream vodka sauce … amazing too! We got to stay in their new town house with them, watched Sherlock homes, and we even made cookies! Needless to say it was so much fun!
Toward the end of the trip, I was really starting to feel sick, and it was hitting Grant right as we were leaving. We were afraid we wouldn't be able to fly out due to all of the snow. I remember that it was in the 20s on the day we left. Gail was nice enough to drive us on Tuesday morning, but the roads were terrible! It took us much longer to get there than expected, and it took Gail around the same amount for her to get home. We made it to Austin safely where it was around 75 outside… crazy change, but it was very very very very nice being back in the warmth. We bought a few things we needed to have, we vegged the rest of the day and weren't feeling much better. I took Wednesday off of work where we slept for over 15 hours, and then drank lots of orange juice(this is Grant's cure all of any sickness.) BUT I did feel much better after that. It took Grant on the other hand a few more days to shake being sick. We were both very glad to be over all of that sickness. It was strange seeing everyone do their last minute Christmas shopping when we were already done. We planned to spend "Christmas Time" with ourselves in our apartment just chilling… this didn't happen but it was a nice plan to have.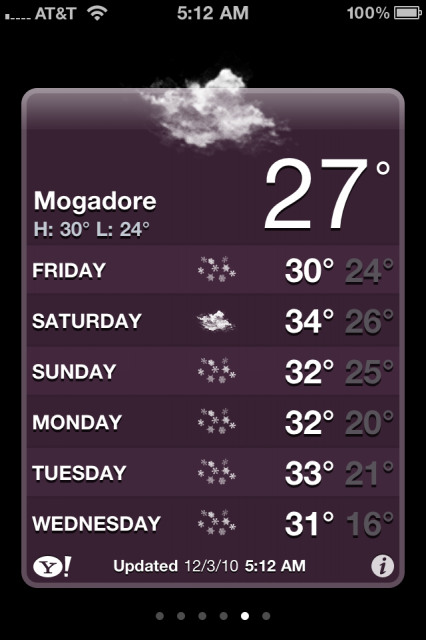 This was on our way to Ohio, and the weather go colder than this says during the time we were there.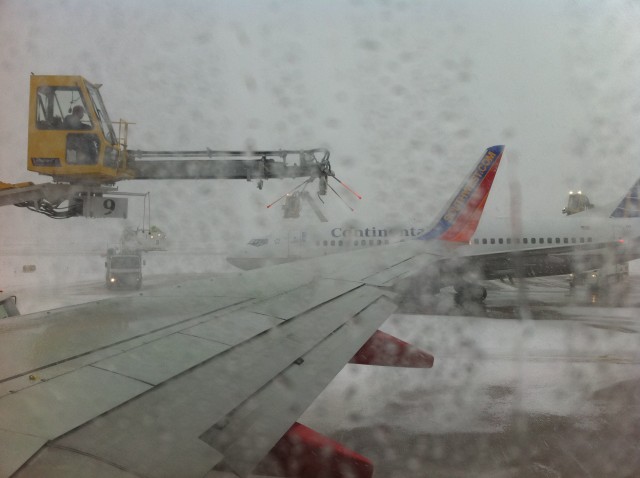 Our plane getting De-Iced.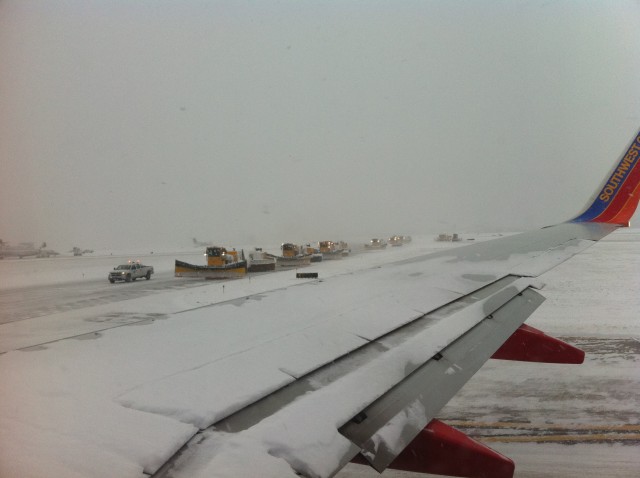 The airport waging war on the snow.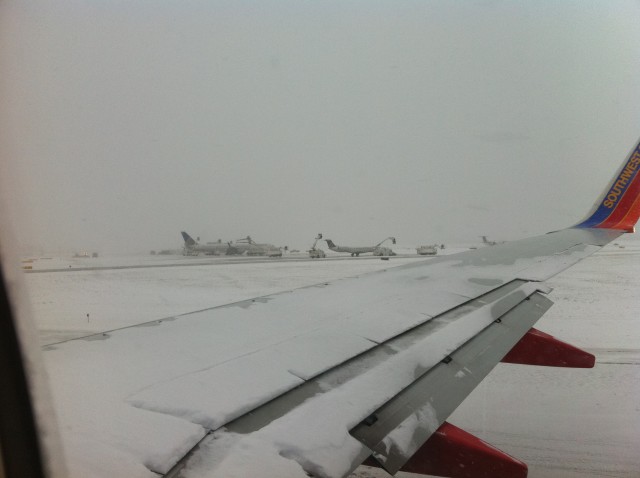 Other Planes Getting De-Iced.
I have to confess, I really didn't take any pictures other than the one below because I honestly was loving just vegging, and it didn't even cross my mind. This picture shows how this really felt like Christmas because of all of the snow! This is Gail's Backyard… so pretty!