I am now 29 weeks, so here is my 28 week update.
Check out the week 27 update Here: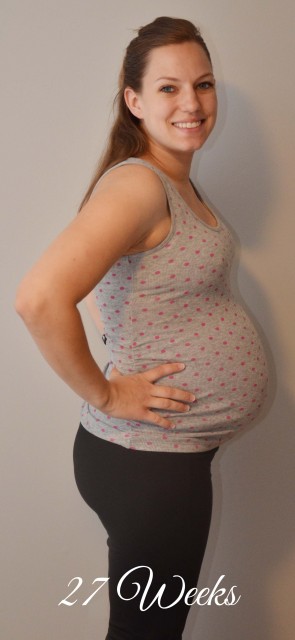 How far along: 28 weeks
How big is baby:  Two pounds 6 ounces and the size of a head of cauliflower. (All of the different apps use different veggies so it could also be the size of a large eggplant.)
Weight gain:  20 Pounds
Sleep: This week sleep has been better even though I can tell my stomach is getting in the way more. I have been trying to use a pregnancy pillow,but I just sleep better without anything.
Diet/Cravings/Aversions: Mexican food, fruit, Decaf Iced Coffee, and chocolate sorry for sounding like a broken record.
Movement: So much movement, and finally felt my first hiccups from him.
What I'm loving: I can't believe that I'm in the third trimester already, but it just reminds me how much we still need to get done before he comes.
Symptoms: I have just been more sore at nights, and my tail bone really starts hurting when I sit too long like when working at home or sitting at Church. I'm measuring one week ahead at my last gyno appointment this week.
What I'm NOT looking forward to: This last Friday, I was supposed to have my glucose test, and Grant took off work early so that I wouldn't have to take Reese with me to the appointment. She normally comes to all of my appointments since we don't have family in town that can watch her. I get to the office only to be told the tech is leaving so I can't do the test, and because I can't do the test, I can't do the Rhogam shot, and if I wasn't getting that I decided to wait on the tdap shot too. I was VERY annoyed. So I had my normal appointment, and then had to come back Monday morning with Reese. So I still had to wait for 30 minutes before they saw me, took the glucose test which at least this time I got to have orange rather than fruit punch flavor. Then I had to entertain Reese for an hour which she did really well, but still not fun. Then had my blood drawn which was the worst time ever. Most of the time at this office, they do a great job, but this chick was just fishing for my vein. Then I got the Rhogam and TDAP shot which aren't fun either. So I guess I'm glad this is all over as the other appointments are normally not as stressful.
Thoughts: A few of my friends are pregnant, and I can't help but get excited for them. I also hope to meet their kids as time progresses, but it also reminds me about all of the hard newborn stages and hoping our transition to a family of four isn't too hard.
Let me know if you have any questions!
To see our Amazon Baby Registry