I am now 28 weeks, so here is my 27 week update.
Check out the week 26 update Here: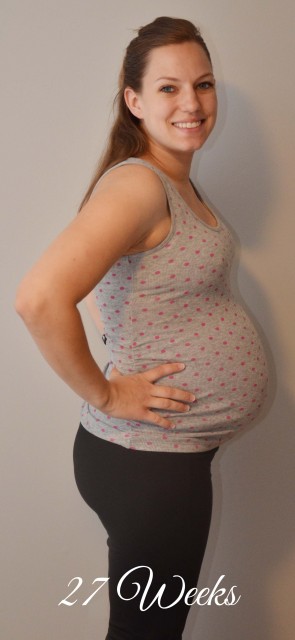 How far along: 27 weeks
How big is baby:  Two pounds 1-2 ounces and the size of a head of cauliflower.
Weight gain:  18 Pounds
Sleep: I'm sleep better this week,but having lots of random dreams. Reese and I were at the Fleshman's this week so she has been waking up more than normal due to being able to see me in her room,but it is so worth time with family.
Diet/Cravings/Aversions: Loving carbonated water, chocolate, fruit, Asian food, and Mexican food.
Movement: Tons of movement especially poking out the limbs here and there.
What I'm loving: How much time we got to spend with family this week. Reese loved being around her older cousins even if she watched most things from the outskirts.
Symptoms: I have a totally flat belly button and think it will actually pop out this pregnancy,but we will see. My stomach is big, and I have started bumping against things and people because I have been misjudging big it is. This week is the biggest growth spurt for the baby, I guess he grows around an inch in length, and I could tell. My stomach has felt tighter this week.
What I'm looking forward to: Meeting our little man, and picking a name…so far we have very few names we can agree on. Having all of the paperwork and house projects done before he comes.
Thoughts: Reese has been a lot more clingy with just me, and it makes me wonder if she realizes that changes are coming up soon.
Let me know if you have any questions!
To see our Amazon Baby Registry