I am now 27 weeks, so here is my 26 week update.
Check out the week 25 update Here: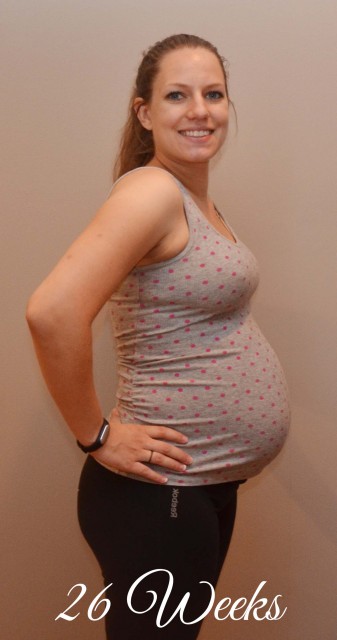 How far along: 26 weeks
How big is baby:  Two pounds and the size of an eggplant.
Weight gain: 16 Pounds
Sleep: I'm sleeping completely on my side because if I'm on my back I get out of breath so I can tell it is cutting off my and probably baby's air supply.
Diet/Cravings/Aversions: Food sounds good in general especially gummies.
Movement: He is super active all throughout the day,but especially in the early morning, middle of the day, and at night before I fall asleep.
What I'm loving: How close we are getting to having him! Two couples we know have had their babies, and I'm next/last on the list.
Symptoms: As you can see my stomach is a lot bigger, but I have been having leg cramps here and there. I also managed to twist my ankle of a single stair at Kira and Andrew's house. It is fine, and I just had to ice it a bit,but it did look pretty gross. I can really tell this pregnancy that the hormones that relax your joints are really really working.
What I'm looking forward to: Being out of the summer and into fall; I'm really not a fan of being pregnant during this heat, not gonna lie.
Thoughts: We were in Nashville this weekend for the Holiday,and it is so nice to spend time with family. I also love seeing Reese with Jackson and how interested she is in him.
Let me know if you have any questions!
To see our Amazon Baby Registry