Reese's Twelve Month Update – The stats for these posts are taken on the day Reese turned 12 months old, but all of the information and content is everything up until the point she turns 12 months old. (4/11/16-5/11/16)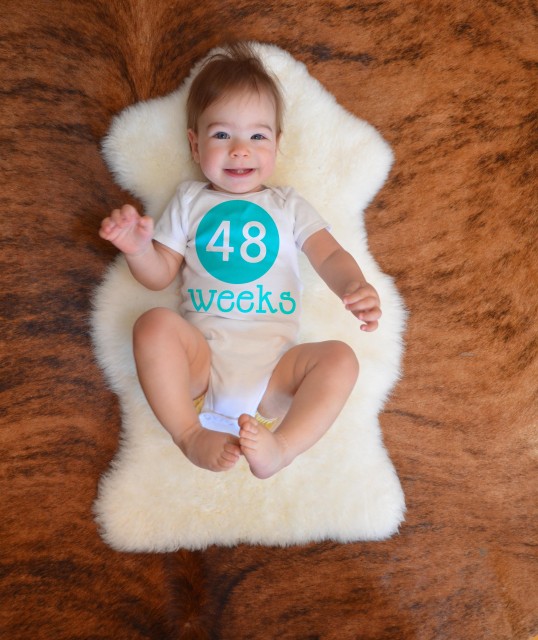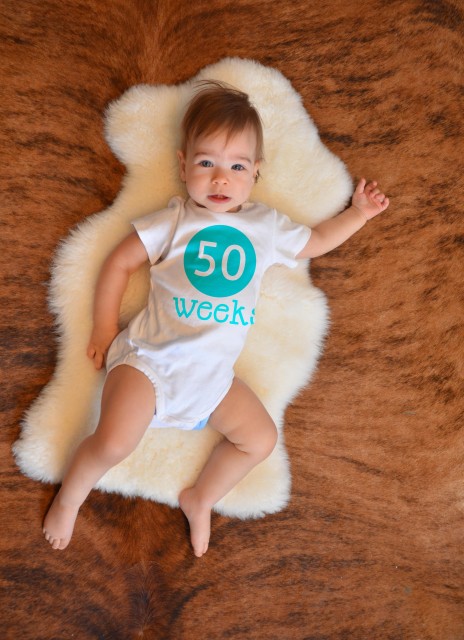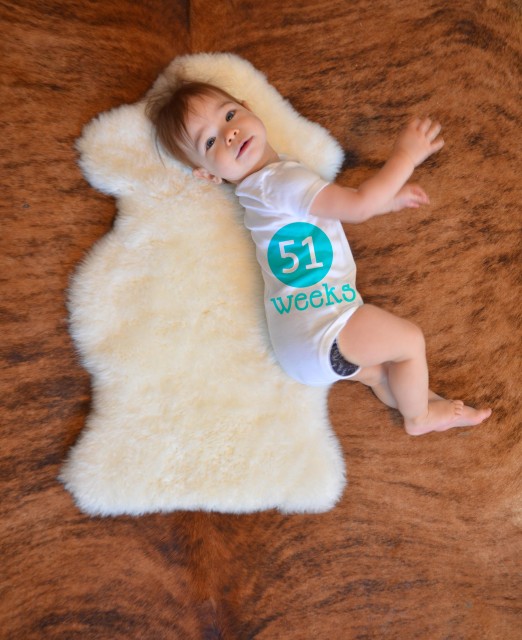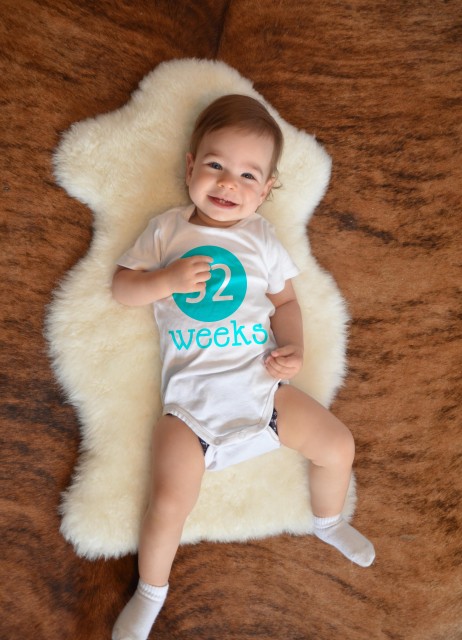 Reese's Twelve Month Stats
Weight:  18 lbs  15oz (16th percentile)
Height:  30 1/2 in (90th percentile)
Head:   18 in (70th percentile)
Alana's  Twelve Month Stats
Weight: 24 lbs 2 oz (87th percentile)
Height: 31 in (93rd percentile)
Emi's Twelve Month Stats
Weight: 16 lbs. 3oz. (below 3rd percentile)
Height: 28 in (10th percentile)
Head: 17.1 in (5th percentile)
Mia's Twelve Month Stats
Weight: 16 lbs. 2 oz. (-10th percentile)
Height: 27 1/4 in (5th percentile)
Head: 16.9 in
Ally's Twelve Month Stats
Weight: 17 lbs. 4 oz. (below 5th percentile)
Height: 27 1/4 in (5th percentile)
Head: 17.7 in (50th percentile)
Jonas' Twelve Month Stats
Weight: 23 lbs. 8 oz. (80th percentile)
Height: 30 1/2 in (75th percentile)
Head: 18.7 in (90th percentile)
Kathryn's Twelve Month Stats
Can't find them on the blog
Hannah's Twelve Month Stats
Weight: 21.2 lbs (50th percentile)
Height: 29 3/4 in (75th percentile)
Head: 18 in. (50th percentile)
Jensen's Twelve Month Stats
Weight: 21 lbs 6 oz.(50th percentile)
Height: 29 1/2 in (50th percentile)
Head: 18 1/2 in (75th percentile)
Reese still loves books, lately she has been a lot better with turning non board book pages and not ripping or crinkling them. She also loves to point out the small logos on the spines of the books. A lot of the board books have an animal or characters from the story on the spines. She will now pick up books and bring them to us to read to her which is so much fun. Especially when you know that is what she is wanting to do rather than just guessing. We sing a lot of song, and do some rhymes as well, thanks to Story Time our list is getting longer.
Excited about the ducks.
Reese has been "throwing" things but always drops them half way through behind her. It made us laugh.
It is insane in a good way, how much Reese understands of what we say! We will ask her to do things we have never asked before just to see if she will do or try to do those things. 90% of the time she surprises us by doing said request when we had never manually showed it to her before. Here you can see how we started putting things away and into containers rather than always just pulling them out.
Reese does baby sign language still, and it is AMAZING to be able to communicate with her. I know she wants to say more as she is always babbling and squealing,but we will take what we can get. She says please (Bitte), More (Mehr), All Done (Fertig) which she sometimes uses the same type of wave to say bye bye, so kinda confusing here and there, but HATES saying the drinking sign. She wants to drink and whines and cries,but refuses to say the symbol. So we are trying to be consistent so that she does the sign rather than pointing and grunting.
 Reese never took a bottle,but has been using a sippy cup for a long time. She also will drink from a regular straw cup, and when we offer her something from ours she always starts chugging from the get go. I think she assumes it will be something yummy and sweet like a milk shake, juice,etc.
Trying to show off for Grammie.
When Reese was to be silly, she scrunches her nose like this video and almost grunt/breathes like that. She will do that and crawl at Grant when she wants him to chase her or play after dinner.
Reese is down to 3 nursing sessions a day. I was hoping to have her weaned close to the one year mark, so we are slowly transitioning to less and less feedings. Soon I will cut out the after nap feeding, and then the morning feeding. She drinks pumped milk from our freezer stock at meals and after naps since I cut those feedings out.
Reese still loves Story Times at our library. Here she is showing off her newer skill of being able to climb the bigger bleacher/seat/stairs at the library. She LOVES stairs. At church, we let her climb them before and after service to get out extra energy. At Kira and Andrew's house, that is one of the main things she wants to do. We taught her early on how to go backwards off of things like our bed, couch, and stairs so it is nice that she doesn't just try to walk off of items. We of course still pay attention because if she is really distracted she might not notice that there is a drop off in front of her,but in general she does really well.
We like to joke, that she is ready for her baby brother. 🙂 Right now patting(really hard) and poking eyes are her favorite. We have to watch her like a hawk around Jackson since she gets so excited about him… a little too excited.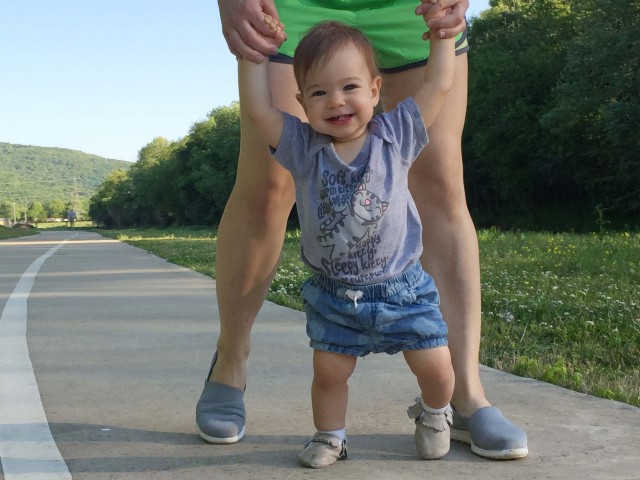 Reese surprising Grammie.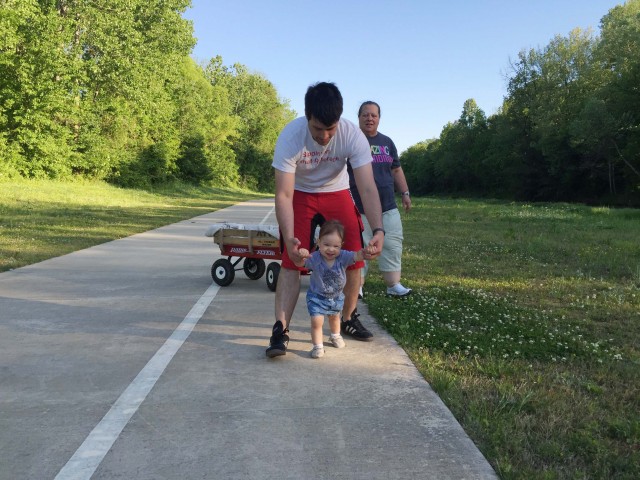 The Bear Crawl that Reese only does when she doesn't want her knees touching something. She used to do it when she had to crawl in the grass.
4/26/16 Reese clapped for first time. Before that she would clap with one hand still in a fist and the other open,but now she does a true clap. When she was really young she would always have her hands in fists and would almost wring her hands to where it looks like she was constantly plotting things. Kira and Andrew always got a kick out of it. Reese doesn't hold on to you when you put her on your shoulders or hold her on your hip unless she thinks you are going to put her down or hand her to someone she doesn't want to hold her. Then she gets an iron death grip going on.
 In the mornings, we will play in the sunroom, and we like to watch for chipmunks, squirrels, bunnies, birds, and the occasional neighborhood cat.
 We have finally found a food Reese doesn't like. She will normally try everything we give her. She will show a preference to what she likes more than other things on her tray,but no strong reactions thus far. But sadly, grapefruit is not something she likes. She tries it multiple times,but much prefers oranges or tangerines. I'm not giving up on her yet though, and will continue to offer them since they are one of my favorites.
 Reese will suck her thumb in public when she is nervous or in a new situation. She will make noises and try to get strangers attention, but then get really bashful when they try to talk to her or smile at her. Sometimes she even cries just because they talked to her. I can't tell if this is her personality or just a phase. Her cousin Alana showed lots of signs of being very introverted at this age, but now is very outgoing. So, who knows. Other times she will smile and be super cute to the most random people. There are sometimes she will smile and wave or try and interact with some people that I would assume would be annoyed or just ignore her. I'm surprised daily how nice people can be when you have a young child, especially people I would never expect by their body language or expressions. Just reinforces to not judge a book by its cover.
Here is a video we sent Grant while he was at work.
4/18/16 Reese took her first steps, and to say I was a little excited might be an understatement. So around 11.5 months old she was walking all the time and was much more steady.
Here she is more steady, and you can see how much she likes to babble these days.
Once Reese started walking, we started putting her in some of those leather moccasins that I sewed so she had more traction,but also wasn't ruining her socks. We also found a pair of soft shoes that had grippy soles that looked more like tennis shoes without a thick rubber sole so they were soft on her feet. She loves shoes, and will bring us them to put on her. We try to keep her barefoot or with socks at home,but she does like her shoes…wonder where she got that from. 🙂
 We got to borrow a walking toy from Kira and Andrew that we showed pictures and videos of in the last monthly update that Reese still enjoys playing with. She has finally figured out how to turn it around so she doesn't get a frustrated when pushing it into a dead end. We also borrowed a music table that Reese prefers to push around her sunroom from all sides rather than hitting all of the buttons on it.
Reese loves making animal sounds for dog, cat, duck, sheep, and cow. There are a few others,but she isn't as consistent with those as she is with these.
Reese walking on the Greenway with Grant while he was watching her for a few hours while I hosted cooking club.
The type of videos Grant takes… Reese farting. 🙂
Reese loves playing and taking baths. These days she doesn't stay in as long, and will make sure to tell us when she is all done or will try to climb out of the tub. She loves play with her foam letters, looking for the rubber ducks she has, and trying to drink/choke down bath water. She is really good about water getting onto her face. She doesn't like it but just kind of acts shocked until it isn't running into her eyes, and then resumes whatever she was doing. She will also stand when we ask her which makes it much easier for the cleaning process. She also showers with me a few times a week. I will let water into the tub and let her play then I will join her and wash my hair,etc. Once I'm done we turn off the shower, and she plays in just the water in the tub while I clean her, and then we both get out. It isn't as relaxing as taking a shower by myself,but sometimes this is the only way I can squeeze in a shower during the day while I'm not 100% exhausted. Also, during her naps would be the ideal time to shower,but since I work from home, that is prime working time not showering time. I could also get up earlier to shower,but these days I treasure my sleep.
Reese still loves peekabo and will initiate this and other games more. It is so much fun getting to see her personality show through, and to know that she wants to do something. She tends to be very shy in public where she keeps a straight face and sucks her thumb. So, it is hard to tell if she likes or dislikes something. So this is the Reese we get to see at home. I also wish I had her core strength, she can do legit to the floor squats for minutes on end.
 Reese still adores Panda Bears, and in her birthday post, we will show you her Panda themed party.
 I think both Reese and I are enjoying having our Honda Pilot. She sits up higher, and can occasionally see things out of the windows or the rear of the car. In the Accord, she could only see the seat and what was below the window. This isn't a huge deal,but a nice plus. Also, I enjoy not having to bend down to get her in and out of the car seat,but can just pull her straight out. Again, not a deal breaker, and I have no problem driving the Accord,but I do like the added bonuses even if it is weird driving an automatic after more than 8 years of only having manual vehicles.
 Reese says Uh Oh, Mama, and will whisper Papa. She does the whisper/lipsmacking on purpose and giggles after looking at Grant or me for my reaction. Grant thinks she won't ever say it out loud like normal,but I think it is a matter of time. She says the same sounds for more, please, bath, and ball, but they aren't officially the full words. We know what she means because we are around her all the time,but that doesn't mean anyone else would.
Reese has started to give open mouthed kisses that are very sweet but kinda gross and wet,but as parents we can't help but love them.
Grant and Reese have dance parties since Reese loves listening to music. She will walk into our living room and swing her one arm which is her signature dance move these days which is her way to request music. We tend to only play pandora music on our TV so she doesn't even know it can play movies or shows,but she associates it with music.
Thanks for reading our update on our little Reese! I can't believe that she is already a year old!!!!