I am now 26 weeks, so here is my 25 week update.
Check out the week 24 update Here: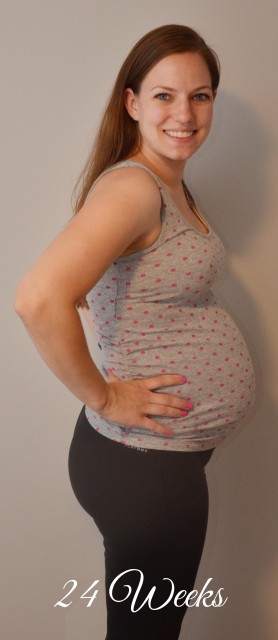 How far along: 25 weeks
How big is baby:  One pound and eight ounces and the size of an average rutabaga.
Weight gain: 15 Pounds
Sleep: Sleep is hit or miss these days. If I take a nap, I might fall asleep super early at night or be up until midnight trying to fall asleep. Then other days I don't take a nap and can't fall asleep either. So just very restless at night.
Diet/Cravings/Aversions: All Mexican food sounds good as well as chocolate and fruit.
Movement: Lots of movement, and I love how active he is. Grant will feel him moving all the time while I'm already asleep.
What I'm loving: Seeing how much we have done and ready for this baby. We still have a lot to do,but since we have one kid already everything isn't as overwhelming.
Symptoms: A few more spider veins, and a bigger stomach of course. At this appointment, I was measuring two weeks ahead. So instead of 25 weeks I was measuring 27 weeks,but since I was within 2 weeks the doctor said it was fine.
What I'm looking forward to: Watching Grant and Reese interact and getting excited for a little brother to be in the mix.
Thoughts: This week was a rough one. Reese just got over being sick, and then Grant had it on Tuesday night, Wednesday, Thursday, and went to work on Friday but wasn't 100% until the weekend. So taking care of Reese and Grant and being pregnant was tiring to say the least.
Let me know if you have any questions!
To see our Amazon Baby Registry