I am now 25 weeks, so here is my 24 week update.
Check out the week 23 update Here: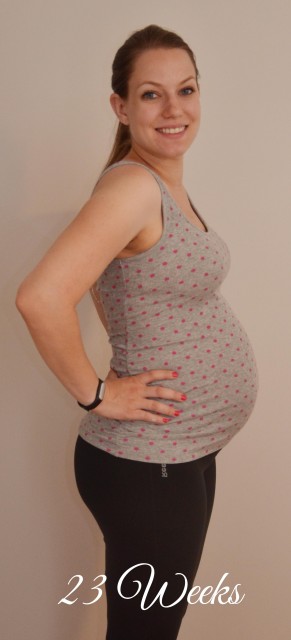 How far along: 24 weeks
How big is baby:  One pound and three ounces and the size of a large mango.
Weight gain: 13 Pounds
Sleep: I have been sleeping poorly this week just too many things on my mind where I just can't sleep well enough.
Diet/Cravings/Aversions: This week ice cream and anything cold sounds good… it is just soo hot right now with no rain in Huntsville. Smoothies have been almost a daily treat as well as watermelon.
Movement: Lots more movement and kicking throughout the day which is a lot of fun.
What I'm loving: We had family in town this weekend, and we had such a blast. This week is Viability week which means, if I were to give birth today, the hospitals would do everything possible to save our baby. Anytime before that, your pregnancy isn't considered viable because the changes of survival are so low for the baby. Obviously I pray we don't have to deal with the NICU at all,but it is just nice to know we have hit this milestone.
Symptoms: I am feeling huge these days. Thankfully I don't feel bad,but just feeling very large, and standing up and sitting down, and picking Reese up is more strenuous these days. I also had my first ever Braxton Hicks contraction. With Reese I never had any, so it took me a bit to figure out what it was.
What I'm looking forward to: Family visits, and making progress our the house with organization and cleaning.
Thoughts: Grant, and I are really having a hard time with names so I hope we come up with a few top contenders soon.
Let me know if you have any questions!
To see our Amazon Baby Registry