I am now 24 weeks, so here is my 23 week update.
Check out the week 22 update Here: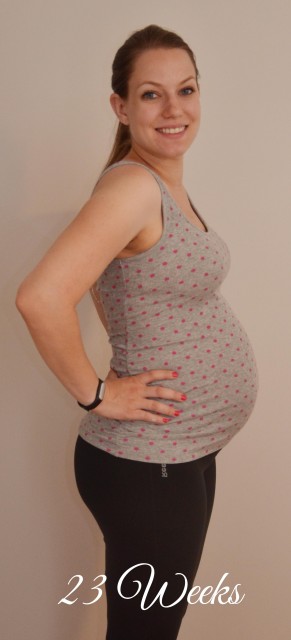 How far along: 23 weeks
How big is baby:  Seventeen ounces and the size of a large mango.
Weight gain:  12 Pounds
Sleep: Still sleeping just okay, I'm not really uncomfortable just keep tossing and turning and having strange dreams.
Diet/Cravings/Aversions: Any food sounds good right now especially chocolate and fresh fruit.
Movement: Tons, and Grant can feel it all of the time which is a lot more fun too.
What I'm loving: This week I was very excited about having a newborn again, I know it is crazy and once the sleep deprivation hits I won't be as thrilled,but just feeling so blessed.
Symptoms: I look huge compared to how big I was with Reese, and I can tell. I have been more emotional this week for sure which I'm not a fan of.
What I'm looking forward to: That I was able to start painting the guest/baby room this week, so I'm hoping to get it done before the upcoming weekend because we have Bryan and Amanda coming into town!
Thoughts: Paint makes such a huge difference, just seeing the baby room looking better wants me paint the whole house before the baby comes.. maybe this is nesting?
Let me know if you have any questions!
To see our Amazon Baby Registry click HERE!