I am now 23 weeks, so here is my 22 week update.
Check out the week 21 update Here: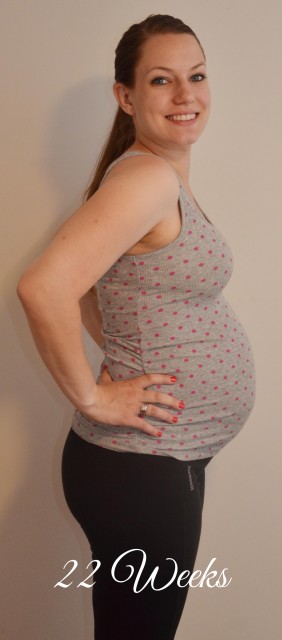 How far along: 22 weeks
How big is baby:Sixteen Ounces and the size of a spaghetti squash.
Weight gain: 11 Pounds
Sleep: Sleep has been a bit better this week just more exhausted earlier in the evening so earlier bed times.
Diet/Cravings/Aversions: Right now anything cold and not heavy sounds good. Anything from the grill, watermelon, iced decaf coffees, smoothies,etc.
Movement: Lots of kicks which I just love feeling during the day as a constant reminder.
What I'm loving: Getting to swim in the pool with friends! It has been so hot so early this summer, and man being pregnant during the hot summer isn't fun. By this time last year, I already had Reese, and the months of Mid May-June just didn't happen or so it felt since we were so sleep deprived. Anyway, I really don't remember it being nearly this hot.
Symptoms: This week I think my stomach stretched out more, so I was feeling some round ligament pain which really wasn't painful,just more a stretching feeling.
What I'm looking forward to: Getting more things organized and ready for this baby. We have so much stuff for this baby done and ready that I almost feel more unprepared than I did for Reese. However, there are lots of little things to get done so it is always a back and forth.
Thoughts: So many people I know are announcing they are also pregnant, and it is so exciting! When you are going through a big phase in life like this, it is fun to have other to talk about it to.
Let me know if you have any questions!
To see our Amazon Baby Registry click HERE!