I am now 22 weeks, so here is my 21 week update.
Check out the week 20 update Here: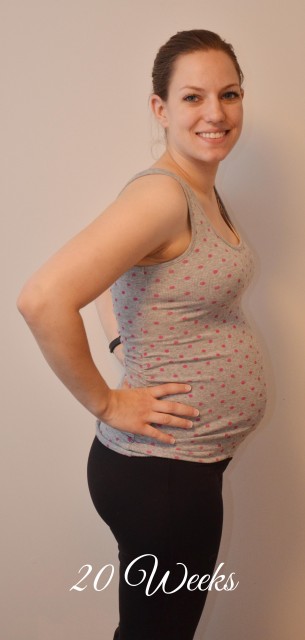 How far along: 21 weeks
How big is baby:Twelve ounces and the size of a carrot.
Weight gain: 10 Pounds
Sleep: This week we have been terrible with sleep! Which is exactly what I said this week when I was pregnant with Reese as well. I just am dragging during the day wanting to take naps, but then can't sleep at night. Or I don't take a nap, and still toss and turn all night long. Not sure why because it isn't because I'm uncomfortable; my mind just won't turn off.
Diet/Cravings/Aversions: I have a few things this week that just don't sound good so I have been eating more toast and bland food just like I did with Reese during this week.
Movement: This little guys has some big kicks especially when something is pushing on my stomach in spots just like it was with Reese. I love feeling his kicks because they are pretty constant during the day/night.
What I'm loving: I'm still riding the high of everything being healthy with this baby. I'm not sure why I was more nervous this time,but I was.
Symptoms: I am starting to feel very large and people are noticing and commenting way earlier than they did when I was pregnant with Reese. So far only nice comments so let's hope it stays that way.
What I'm looking forward to: This week is Memorial day weekend, so that means Gail is here for a visit. Having family in town is always fun.
Thoughts: Reese has been more demanding of needing to be worn out and entertained so she takes good naps which means we have been on the go a lot more. This is fine, but definitely tiring.
Let me know if you have any questions!