I am now 21 weeks, so here is my 20 week update.
Check out the week 19 update Here: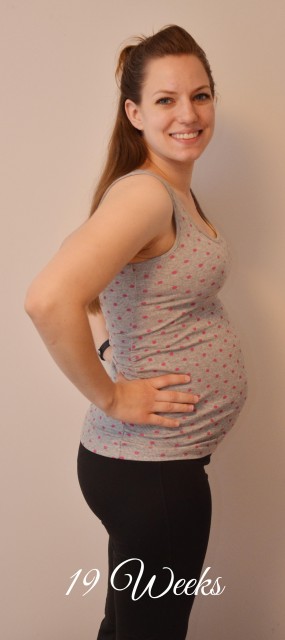 How far along: 20 weeks
How big is baby:Ten and a half ounces and the size of a banana.
Weight gain: 8 pounds
Sleep: Sleep has been good. I sleep like the dead which is nice,but I have had a few strange dreams which I wish wouldn't happen,but I had them with Reese too. I do have to get up once a night to use the restroom.
Diet/Cravings/Aversions: Anything chocolate or peanut butter sounds great as well as fruit. Reese and I have been eating sooo much of the seasonal fruit it has been wonderful. Nectarines, strawberries, blueberries, and peaches are almost a daily treat as well as watermelon. Also, sandwiches are sounding amazing again.
Movement: With Reese we felt light kicks at this point. I feel LOTS of movement and kicks all the time. Grant can feel them a ton too. Sometimes after I'm asleep he can feel him kicking.
What I'm loving: We got to have our 20 week anatomy scan this week, and it was so cool to get to see this baby again. His profile pictures look almost identical to Reese so I'm dying to know what he will look like, and if he will look similar to Reese or not. Sometimes you see siblings where they look almost identical so we will see if this is the case or not. Everything looked perfect on the scan, so we are feeling very blessed.
Symptoms: This last week, I was a lot more emotional than I think I ever was while pregnant with Reese. A few days before our ultrasound, I slightly freaked myself out that there might be something wrong when we have the ultrasound for no reason whatsoever. Glad that my hormones have calmed down again though. I can tell that I'm a lot bigger, well, sticking out more than with Reese. People in public are already asking me what I'm having or what "Flavor" this one is. When I was pregnant with Reese I think I had less than 10 total people ask me anything, and that wasn't until I was 34 weeks+.
What I'm looking forward to: Getting to the 24 week point where the pregnancy is considered viable. I'm also looking forward to Gail's visit next week since I love seeing her and Reese spending time together. Having another set of hands is helpful as well,but it is fun being around someone else who is as crazy excited about what your kid does.
Thoughts: Trying to get things checked off our list slowly but surly since I'm at the half way mark which is cray cray.
Let me know if you have any questions!