I am now 20 weeks, so here is my 19 week update.
Check out the week 18 update Here: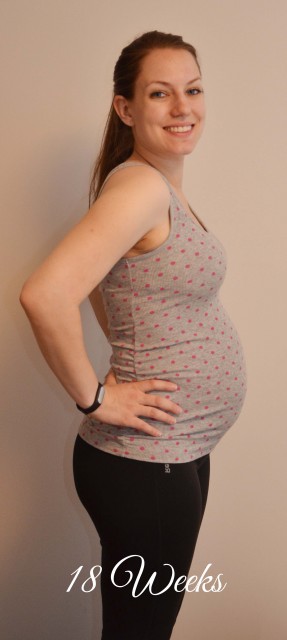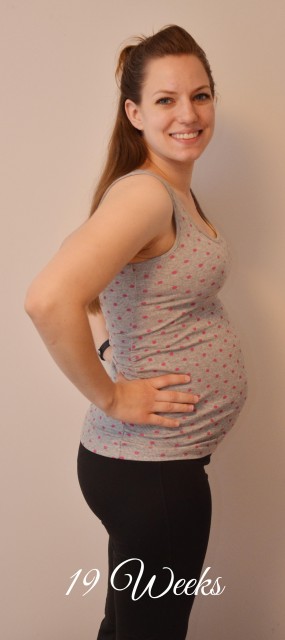 How far along: 19 weeks
How big is baby: Eight and a half ounces and the size of an heirloom tomato.
Weight gain: 5 pounds.
Sleep: Sleep has been pretty good when I'm not having crazy dreams. I'm almost sleeping completely on my side these days.
Diet/Cravings/Aversions: Ice cream and watermelon always sound good. I have been enjoying all of the fresh fruit like cherries, blue berries, strawberries, raspberries, peaches, nectarines, apples,etc. There are times when I will cook something, and then it won't sound good so I make something else for myself,but in general, this only happens occasionally.
Movement: Grant and I have both been feeling him move a lot. With Reese it was harder, and it wasn't until this week that he felt her first faint kick. This time, there is no doubt they are kicks, and he has been feeling them for weeks which is a lot of fun. With Reese I could always tell she was more active at certain times than others,but so far he is all over the place.
What I'm loving: That we have a lot of the bare necessities that we need for this baby when he is born already. I feel like I can really start organizing and getting mentally settled. I do love how fast everything is moving. I'm in the ignorance is bliss phase of being excited for a new baby. I know once he arrives it will be hard, tiring, emotionally draining, wonderful,etc, but for now I try to only get excited about the happy parts since somehow you forget how rough the newborn phase was in the beginning.
Symptoms: I have noticed myself being a little bit more emotional which I'm not a fan of. In general I'm pretty even keel, so I don't enjoy feeling "emotional." I can also tell that I'm carrying him so differently. My stomach sticks straight out so much more than with Reese to where everyone can tell I'm pregnant.
What I'm looking forward to: Finding a few names that we like, with Reese we had 3-4 names that we kept going back and forth on so I hope to get to that point soon. Getting to see more of him during our 20 week ultrasound.
Thoughts: I just finished weaning Reese which happened right around the time I was hoping, and I'm so grateful that it was such a great experience. I am however looking forward to a few months off before this next baby comes. I'm dreading the hot hot summer that I'm assuming is coming since being pregnant and dying of heat with a toddler doesn't super fun to me. However, I try to remind myself how lucky I am to have such a wonderful husband, a healthy amazing daughter, and hopefully soon a healthy son. All of this is totally worth it even if it seems hard sometimes, and I don't mean to sound whiny or complainy.
Let me know if you have any questions!