I am now 19 weeks, so here is my 18 week update.
Check out the week 17 update Here: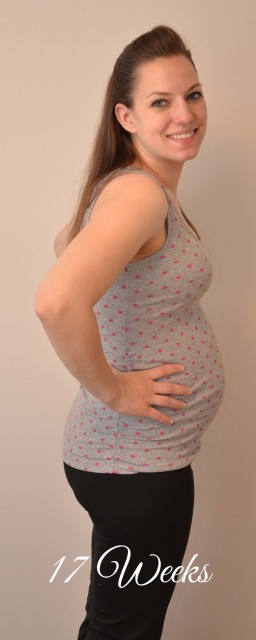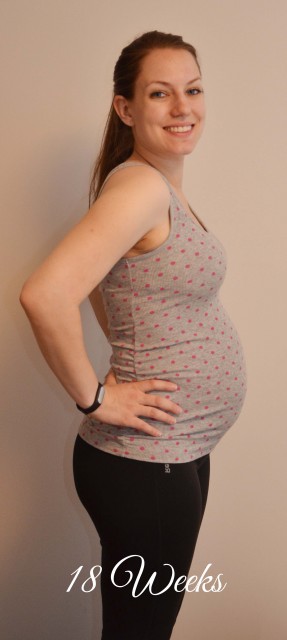 How far along: 18 weeks
How big is baby: Seven ounces and the size of a bell pepper.
Weight gain: 4 pounds.
Sleep: I have really gotten big this week, and it has gotten uncomfortable to sleep directly on my stomach which is a sad day since I could do that for a lot longer with Reese. Sleep is great though even if I'm still tired pretty early these days.
Diet/Cravings/Aversions: Anything that I don't have to cook sounded good this week,but we kept eating out to a minimum. Reese has been more clingy lately so cooking has been more of a challenge these days. Watermelon has been super yummy even if I feel cliche saying that.
Movement: I have felt consistent movement during the day which is lots of fun. I think the kicks are hard enough for Grant to feel,but they are so random that I haven't been able to predict them enough for him to feel any thus far.
What I'm loving: Feeling kicks, having a more round stomach this time around. With Reese, my stomach was more pointy looking half the time, and it just looked like I was wearing too tight of a shirt with a stomach rather than being pregnant where this time soon there will be no mistaking it… not looking forward to difficulty moving later one,but I can tell I'm carrying this baby totally different.
Symptoms: Just feeling bigger, but the congestion has pretty much gone away so that is nice. I'm in between clothes, regular shirts will get stretched out so I put away all of my non-maternity clothes,but I need size Extra Small and Small for shirt and have more mediums than smalls. I will make due no problem,but just last time I wasn't sticking out so far, just more round and flat so I didn't need shirts to be as long as early.
What I'm looking forward to: Getting to see the baby at the 20 week mark for the anatomy scan, and of course hoping everything looks good and this baby is healthy.

Thoughts: NAMES!!! We had some top boys names when I was pregnant with Reese, and I don't think they are on the table anymore. So I'm nervous about picking a name this time. I hope we find the perfect one a little earlier than it took us with Reese.
Let me know if you have any questions!