Check out the week 28 update Here: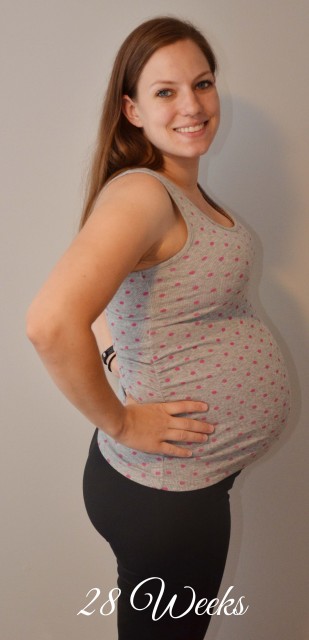 How far along: 29 weeks
How big is baby:  Two pounds 9 ounces and the size of a butternut squash.
Weight gain:   21 Pounds
Sleep: My sleeping is going pretty well, my stomach is a lot bigger, so it is just harder to get comfortable.
Diet/Cravings/Aversions: I have been all about Mexican food, Iced Decaf Coffees due to the hot hot summer, and lots of fresh fruits. I have also been drinking lots of sparkling water curtesy of Grant having it on tap for me.
Movement: Boy oh Boy is he moving tons and tons. Grant can feel him kick all the time, and I can really tell the difference in movement since this time the placenta isn't on top. It is so much fun feeling the kicking.
What I'm loving: Just the thought of Reese having a baby brother, and the new addition to our family. I know it will be a big transition, and I know the adjustment period will be a while,but I'm excited about it none the less.
Symptoms: I can't stay on my back for too long as I easily get out of breath. Bending down and picking up Reese isn't too hard these days,but standing up while holding her from a siting down position is getting harder for sure.
What I'm looking forward to: Just the heat of the summer going away! This summer has been brutal espeically with a toddler that LOVES being outside, but not having a normal pool to swim in. Around here, you cannot pay just for a day pass at a pool unless you are the guest of a member,but a yearly pass which goes from memorial day to labor day costs more than $400 a year. So, we have been doing splash pads which are free,but don't open until later in the day. I'm just glad we have some amenities like those in Huntsville.
Thoughts: I have to admit, there is a little bit less pressure with this pregnancy in the what I still need to do or accomplish. Most things we have from Reese or have the knowledge of which is very nice to have a "shorter" to do list.
Let me know if you have any questions!