I am now 32 weeks, so here is my 31 week update.
Check out the week 30 update Here: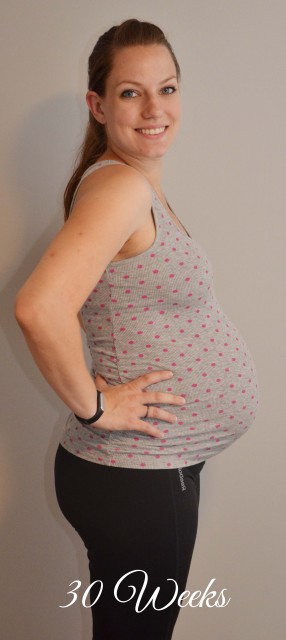 How far along: 31 weeks
How big is baby:  Three pounds five ounces and the size of a coconut.
Weight gain:  24 Pounds
Sleep: This week sleeping has been okay, getting comfortable is a lot harder especially since my stomach is so big. I also cannot take naps during the day anymore, or I just don't sleep at night,but toss, turn, and am restless.
Diet/Cravings/Aversions: I have been having more food aversions which are all very random to where I make dinner for us all only to realize that I really would rather not eat it. It is frustrating because then I have to figure out what does sound good to me as I'm hungry. However, I know this isn't really that bad, and I'm just being a baby about it.
Movement: I have been still feeling tons of movement and kicks that surprise Grant with how strong they are.
What I'm loving: Grant and I got to hit the 8 years of marriage milestone, we plan to celebrate later this month on a date night while a babysitter is present at the house while Reese is in bed,but it will be fun to dress up and get a little bit of quality time before this man makes his grand entrance. I also have been having more playdates with a new friend here in town who has two twin girls just a few months older than Reese, and who also speaks German with them which is wonderful!!!
Symptoms: My stomach feels tighter as he is slowly getting bigger and bigger. I have also had heart burn here and there which is strange to me because I think I had it once when I was pregnant with Reese.
What I'm looking forward to: Getting a lot of things checked off of my list. Since Reese is in School a few days a week, I have a larger block of time when I'm done with work to put toward projects that I have been wanting to start/finish before this little guy comes.
Thoughts: I'm starting to get a little bit more nervous about not having a name picked out yet. Grant and I have discussed a few,but we aren't a fan of the nicknames that can be made from the names, or how they are pronounced in English versus German. Picking a name is such a big decision in our eyes, that we really don't want to mess it up. On a side note, it was funny to hear that a few of the names that I liked were family names without me even knowing it.
Let me know if you have any questions!
To see our Amazon Baby Registry.