I am now 38 weeks, so here is my 37 week update.
Check out the week 36 update Here: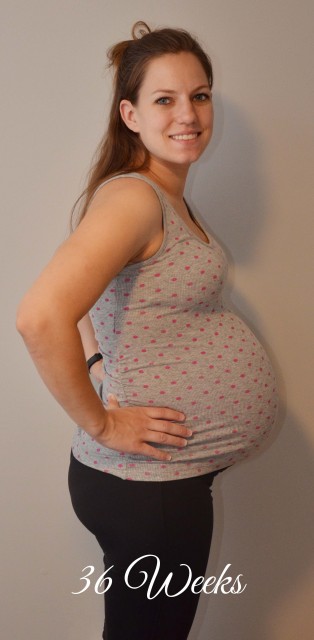 How far along: 37 weeks
How big is baby:  Six and a half pounds and the size of a bunch of swiss chard.
Weight gain:  28 Pounds
Sleep: I have been getting longer deeper stretches of sleep so that is nice. My stomach is huge and heavy so again it does make it harder to roll over,but all in all pretty good. I have tried using my maternity pillow off and on,but still prefer just a small pillow between my legs.
Diet/Cravings/Aversions: I have been loving hot tea, Mexican food, chocolate, fruit, and bland foods like toast. Most other foods just don't sound good, or I have strong food aversions.
Movement: Movement all the time especially at night and during Reese's nap time. He repositions during other parts of the day too,but he is most active during those two time frames. He gets hiccups at least once or twice a week so that is always funny to feel.
What I'm loving: Reese has started to do pretend play of crying like a baby where she wants us to rock her or hold her or put her in baby brother's crib with one of his blankets on. She also does this same soft fake cry when she sees another baby in public or in a book. It is very sweet, and when we ask her where baby brother is, she will pat my stomach as well. I'm also enjoying slowly getting things marked off of my to do list. I know I sound like a broken record,but I feel like once I get something checked off another thing we didn't think about gets added on to it.
Symptoms: I had my gnyo appointment this week, and I'm measuring ahead again one week early. I don't have Strep B which I didn't have with Reese,but that is very nice as I would rather not be given antibiotics during labor if I don't have to. We must have scared our little baby a ton at this appointment. The room was super cold as was the gel they use to detect the heart beat with the doppler. His normal heart beat is in the 134-145 range at every appointment. The second she started checking his heart beat he was kicking and moving like crazy with a heart rate of 194! After about 30 seconds, he finally calmed down, and his heart rate dropped to his normal range of 135. The nurse and I both got a good laugh out of that. As you can tell from the pictures above, I have definitely dropped. Still having Braxton Hicks contractions on and off daily so we will see if he decides to show up early by a week like Reese did or not.
What I'm NOT looking forward to: I just found out that my gyno who I adore will be out on vacation during the week I'm due since that is Fall Break for all of the schools in our area. Which means that if he is born the weekend before his due date, the week of, or the weekend after it will be another doctor delivery my baby. This makes me very sad as I LOVED my delivery experience with her before, and I haven't even met either of these other two doctors. She asked me if I wanted to be induced,but I don't feel right about inducing without a medical need. So I'm praying he is born a week early or a week late so that my doctor can deliver him.
Thoughts:  We still need to nail down a name which is kinda stressing me out, not gonna lie. We had a few top names picked with Reese,but this time we don't have as many options picked which could be a good or bad thing not sure. We had our maternity pictures done a few weeks ago, and I can't wait to see them. I hope that they are good. I keep trying to tell myself that in less than 2-3 weeks I could have my son, and it still doesn't seem real until I'm holding him.
Let me know if you have any questions!
To see our Amazon Baby Registry.