I am now 37 weeks, so here is my 36 week update.
Check out the week 35 update Here: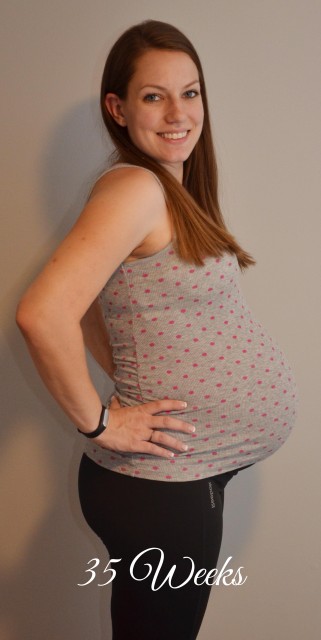 How far along: 36 weeks
How big is baby:  Six pounds and the size of a head of romaine lettuce.
Weight gain:  27 Pounds
Sleep: Hasn't been great or terrible just somewhere in between, still getting up to use the restroom, just have a very large and heavy stomach so that gets old. 🙂 But I'm in the home stretch, and even if I'm more comfortable later, I will be getting a lot less sleep once he is here.
Diet/Cravings/Aversions: Food in general doesn't sound good; so I mostly am having food aversions to everything but fruit and Mexican food, go figure.
Movement: He moves so much it is crazy, sometimes my stomach looks like jello. Grant is always surprised how hard he kicks or how you can just tell that a limb of some sort is sticking out from the outside,but he is just running out of room.
What I'm loving:  How cute Reese is with her baby doll, and how interested she is becoming in other babies. I think she will be a great big sister.
Symptoms: I have braxton hicks contractions off and on every day,but they aren't painful, and at first I almost alway think he is just stretching because it is really hard to tell the difference. I sometimes get shooting pains in my legs when I get up too fast or sat in a strange position. I have stretch marks which makes me sad. I have noticed just being more physically exhausted by the end of the day,but no ankle or foot swelling at all like I had with Reese so that is a nice added bonus. I was measuring on target rather than ahead at this latest appointment.
What I'm looking forward to: Getting a few more things checked off my list, we don't have much time left so right now it is just figuring out logistics or who can watch Reese, and seeing if the times we picked for my mom to arrive will fall into the time frame of when I go into labor since that would be the easiest with finding help for Reese. It does make everything a lot more difficult when you don't have any family in town.
Thoughts:  I'm very excited about the Mother Son bond that I keep hearing about. Reese and I love each other of course,but she and Grant have a very strong and special bond. I wonder if I will have something like this with my son.
Let me know if you have any questions!
To see our Amazon Baby Registry.