I am now 36 weeks, so here is my 35 week update.
Check out the week 34 update Here: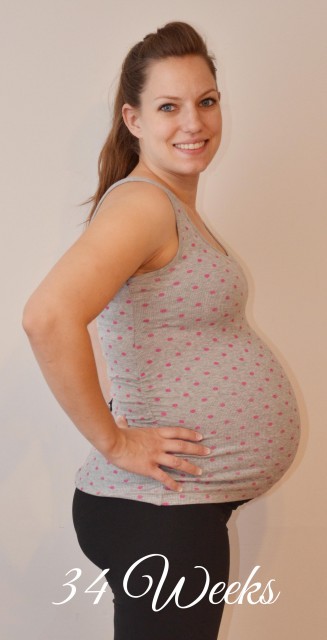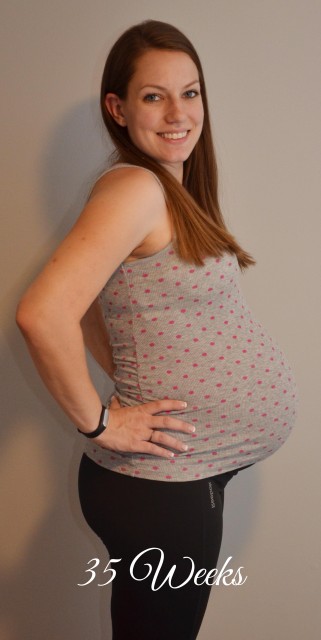 How far along: 35 weeks
How big is baby:  Five pounds and eight ounces and the size of a Honeydew melon.
Weight gain:  26 Pounds
Sleep: This week sleep has been better, Grant and I are getting better with less coughing so I have been getting a few solid nights of sleep which is wonderful.
Diet/Cravings/Aversions: Nothing really sounds good except Mexican food and chocolate.
Movement: He moves a lot which makes my stomach look so strange at nights,but I love the little reassurances that he is doing well.
What I'm loving: Getting some of the last minute prep done like installing the car seat, mirror for the car seat, and making a list for the hospital bag.
Symptoms: At my last appointment, I measured a week ahead instead of two,but still a lot bigger than I was with Reese. Lots more bladder control issues due to some coughing and just more swollen down below since his head is pressing down, and stretch marks on my thighs now. 🙁
What I'm looking forward to: This weekend we are doing our Maternity Photos/Family photos, we found a photographer that we are hoping does well because our previous one we used moved to Chicago. Kira, Andrew, Alana, and Jackson are also coming for a visit, and we just love spending time with them. Reese and Jackson are only 8 months apart, and seeing them as Jackson gets older is an awesome reminder of how close in age they are. Also, Jackson and our son will be around 8ish months apart as well depending on when he is born.
Thoughts: This pregnancy has been more wearing in the later portion of it,but I'm very blessed to have had such a healthy pregnancy. This week I have been getting a few non baby related projects done that I have put off since before Reese was born due to never finding the time.
Let me know if you have any questions!
To see our Amazon Baby Registry.