I am now 35 weeks, so here is my 34 week update.
Check out the week 33 update Here: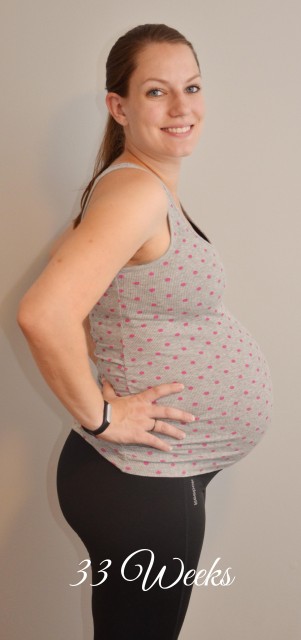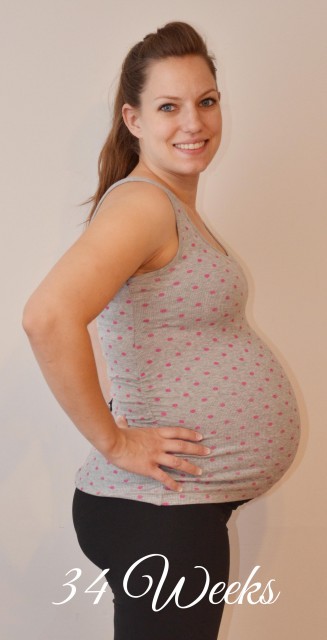 How far along: 34 weeks
How big is baby:  Four pounds and fourteen ounces and the size of a cantaloupe or Pineapple.
Weight gain:  25 Pounds
Sleep: Has been horrible this week. Whatever virus Reese had which caused her ear infection was passed on to Grant and I. We have been coughing so hard at night that we have both been getting less than 3 hours of sleep. My stomach muscles are so sore from coughing. I will be SO glad when we are healthier again, but at least Reese is sleeping well again.
Diet/Cravings/Aversions: Food has been hard this week, since we are sick only bland things sound good, and honestly cooking doesn't sound fun either. So lots of toast.
Movement: He moves all the time, and that is so nice.
What I'm loving: The thought of being healthy. I am thrilled that I didn't get this sickness worse or get anything that I really needed to take medicine for. I'm also loving gargling salt water, my netti pot, and honey, lemon tea.
Symptoms: No swelling like I did with Reese, but just more of a waddle since he is head down, and everything just isn't as toned as last time. 🙂 Stretch marks, a little bit of bladder control issues due to the constant coughing.
What I'm looking forward to: Being healthy, and Reese being back in "School." We weren't sure if she was contagious, and found out she had an ear infection,but just to be safe we had kept her home which was harder on me since I really wasn't feeling well,but that is life when you don't have family in town. You just suck it up and deal with it, but of course Reese is 100% worth the effort.
Thoughts: We need to pick a name!
Let me know if you have any questions!
To see our Amazon Baby Registry.