I am now 34 weeks, so here is my 33 week update.
Check out the week 32 update Here: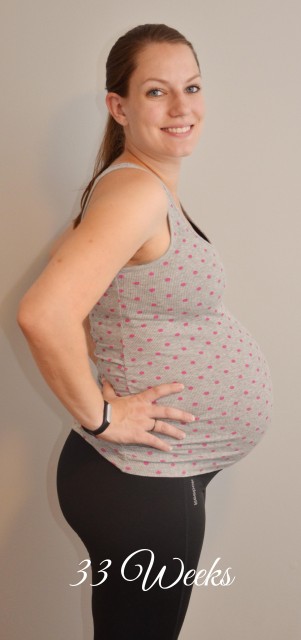 How far along: 33 weeks
How big is baby:  Four pounds and eight ounces and the size of a pineapple or honeydew melon.
Weight gain:  25 Pounds
Sleep: Sleep has been okay. I'm huge, and have to get up to go pee, so not the most fun thing. Also, even though I'm tired during the day, I cannot take a nap or I won't sleep at all during the night.
Diet/Cravings/Aversions: I have been having lots of food aversions lately. I will make food for dinner and then end up eating something bland because it just doesn't sound good.
Movement: He moves all the time, especially after 9pm… not looking forward to switching his days and nights like we had to for Reese.
What I'm loving: That a few of the mornings the weather has been nicer and a tad cooler. Not anywhere near the temperatures I would like,but I'll take what I can get.
Symptoms: With Reese I was already having some swelling so even though my stomach is huge, I at least don't have swelling in my ankles or face which is nice. I have noticed my first stretch marks which makes me sad. With Reese I was able to not get any at all, and I realize it is very vain and trivial and the baby is totally worth it,but just a bummer. I can also tell he is pushing down a lot more as things below are more swollen and sore.
What I'm looking forward to: I love getting more and more done for this baby. Since we already have one kid, there isn't nearly as much to do, but it is nice whenever I can get things more organized and ready.
Thoughts: No one is throwing us a baby shower this time,but I am trying to get all things squared away. Reese is sick this week which does make everything more tiring and stressful. I missed a friend's birthday brunch because I wasn't sure if she was contagious or not. It will be hard being very tied down to an infant again, I have so much freedom with Reese's schedule and independence that it really will be an adjustment. We did get to celebrate our 8th Anniversary at bonefish grill which was a lot of fun and yummy!
Let me know if you have any questions!
To see our Amazon Baby Registry.