2015 was the year to get together with my family at Christmas since we do one year with mine the next year with Grant's, but since we all got together for an early Thanksgiving instead, we were able to have our first Christmas as a family since Grant and I have gotten married and at our home as well. It was very low key,but we loved it. So here are some of the things that we were up to.
This year we didn't do a family advent calendar because Reese was just too young,but we did celebrate St. Nick's day on December 6th.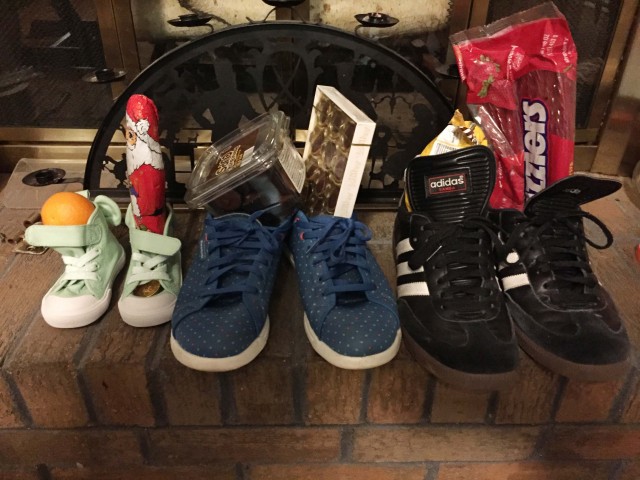 You set out your shoes and St. Nick fills them instead of filling your stockings later on.
We still put up stockings,but just because I like how they look on the mantel. We normally don't fill them unless we are celebrating with American Family.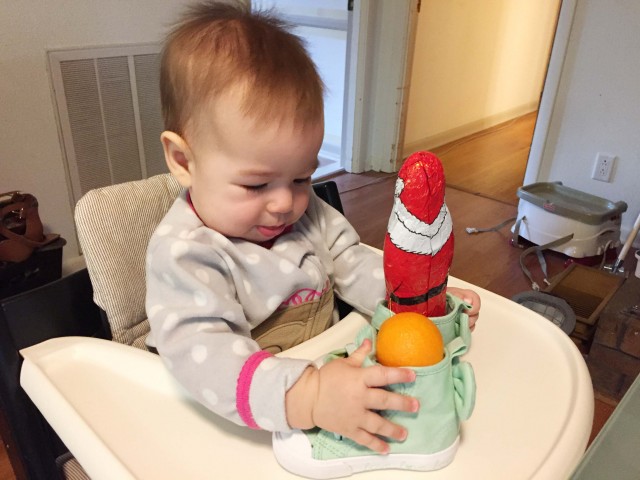 Here is Reese with her shoes on that morning.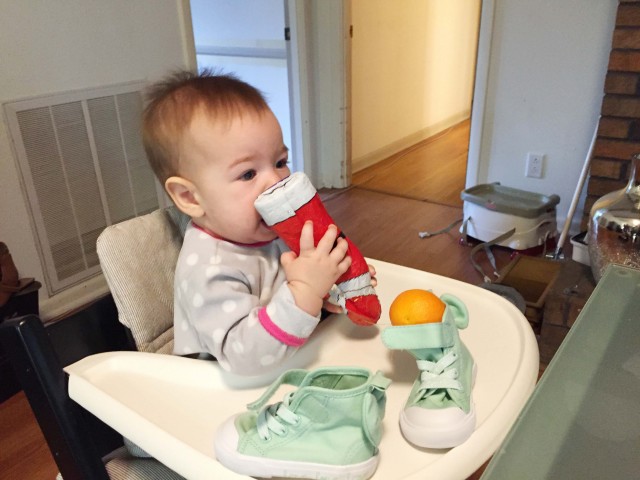 Everything went into her mouth at this time… She didn't even know this was chocolate.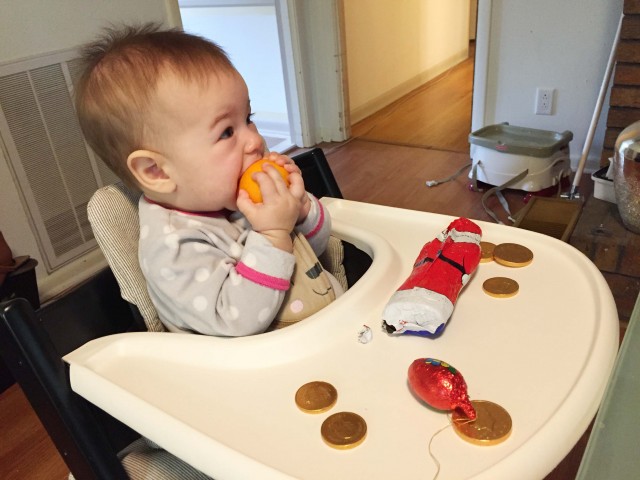 It is traditional to give oranges because it was a sign of wealth, we always got some in our shoes growing up.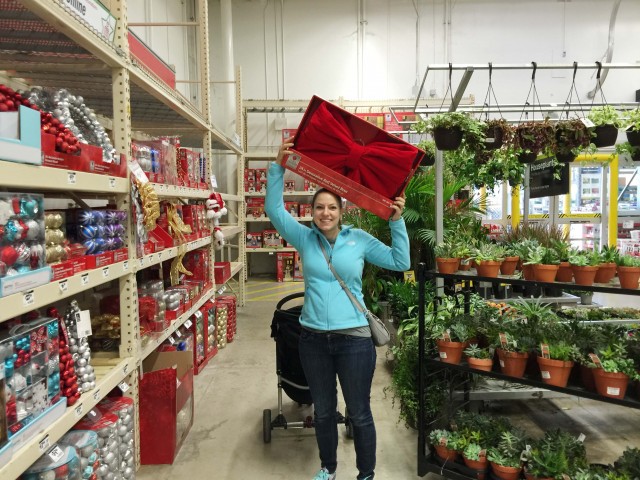 What I would look like if I wore a bow the size most people put on their little girls. 🙂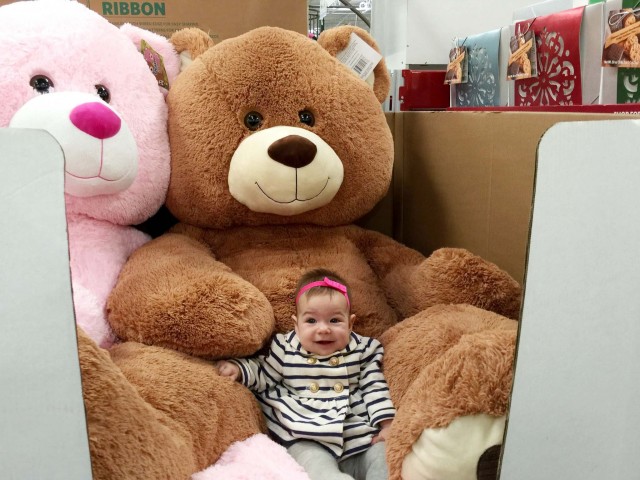 Grant tried REALLY hard to convince me to let him buy one of these teddy bears for Reese from Sam's Club.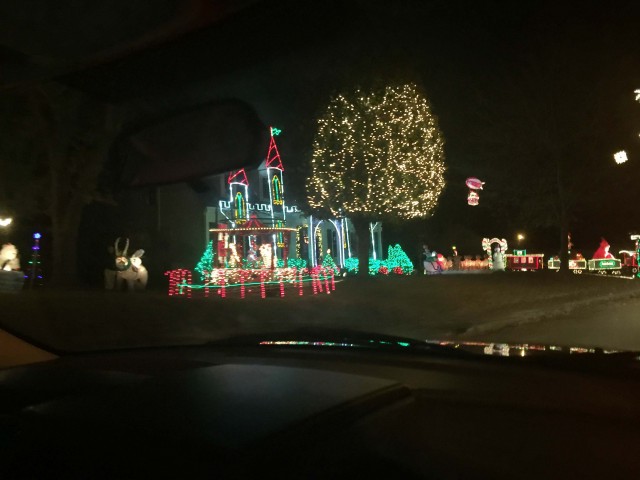 There is this house a few neighborhoods over that goes crazy each year with lights.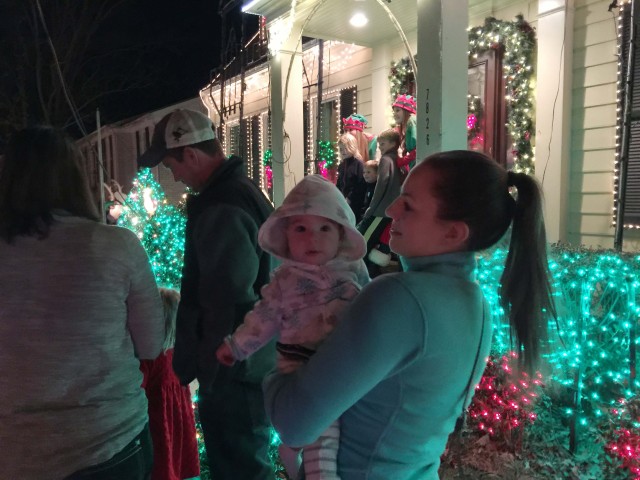 Reese and I in line to see their own personal Santa!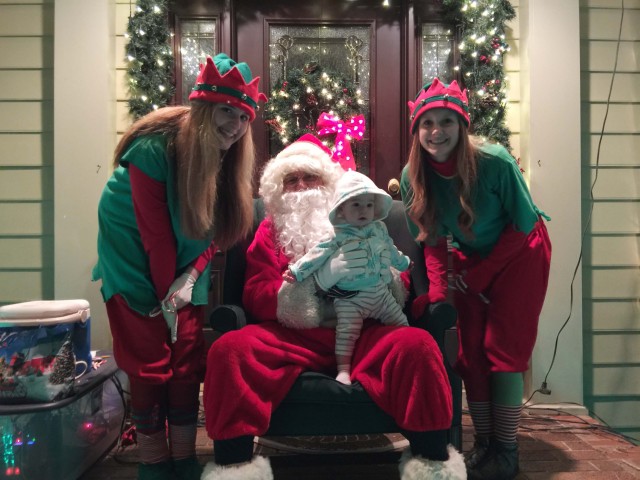 Reese with Santa and the elves.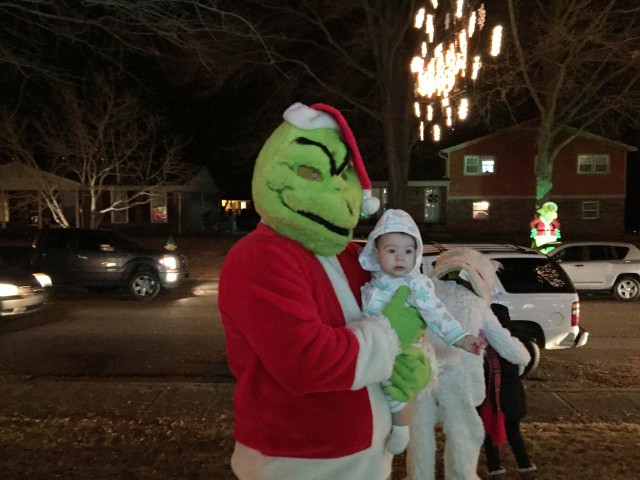 Reese with the Grinch.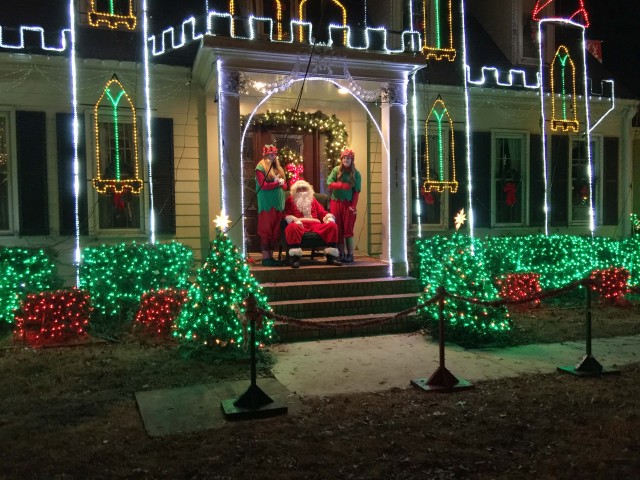 Another view of the house.
Family selfie; I think we plan to make this a tradition to come here each year.

Here is a video walk through of how crazy all out these people go. The street was also packed with people coming to park to see the lights and get their pictures with Santa.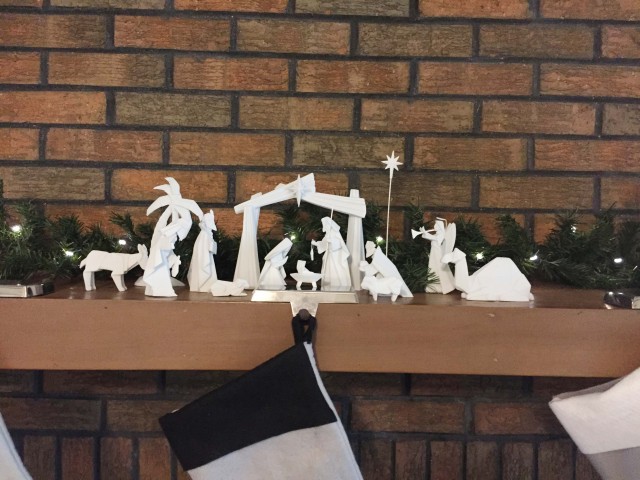 I have been wanting a nativity set for years,but I couldn't find one that I liked until this year. HERE is where I got it, and I love it so much!!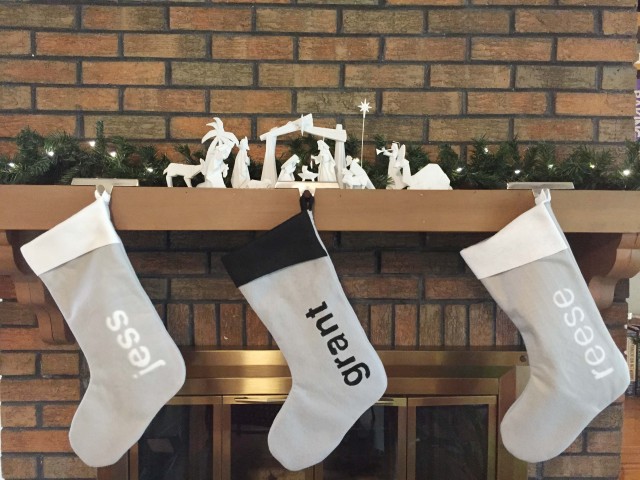 Our set with Reese's stocking up on the mantel as well which I sewed. See the tutorial here.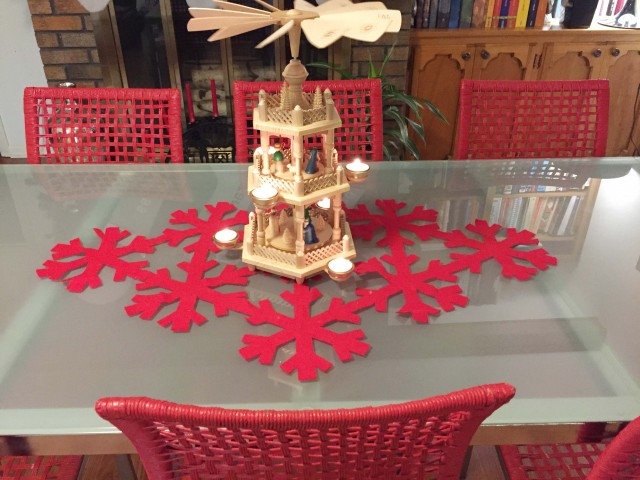 Here is a German Pyramid which has candles that spin the blades at the top. My parents gave this one to me, and what I love most about it, is that it uses tea lights rather than the expensive, special sized candles others use. Similar one here.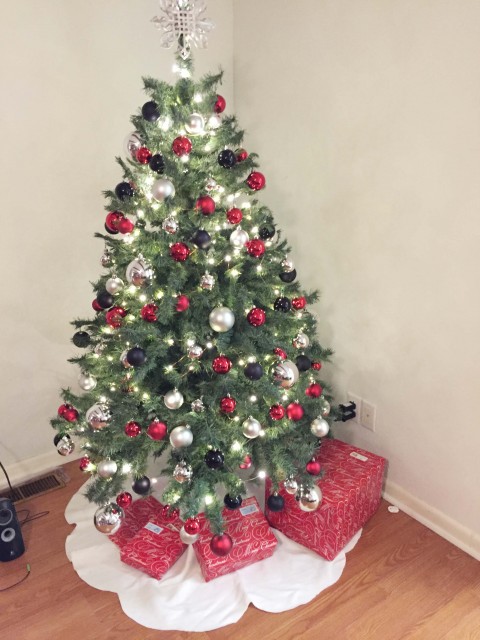 Our tree with presents, I found a new kind of Christmas tree lights to use this year, so look for a post about those soon.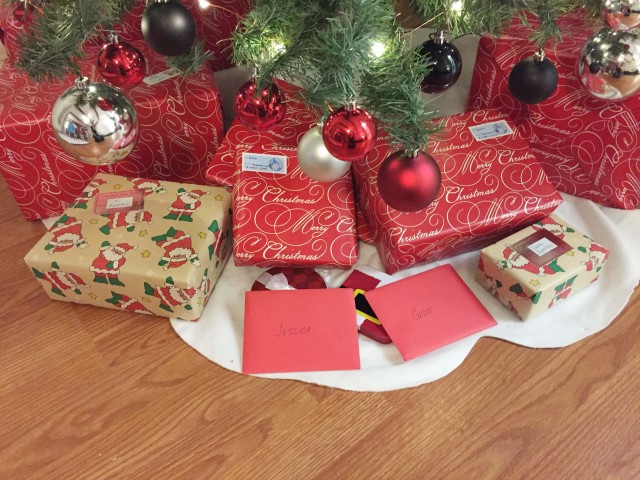 I never grew up getting lots of presents. I got one gift to be exact. As a child, it was hard not to be jealous of my friends at times especially if the gift you got wasn't what you had been hoping for,but in retrospect I'm so glad with how my parents handled Christmas.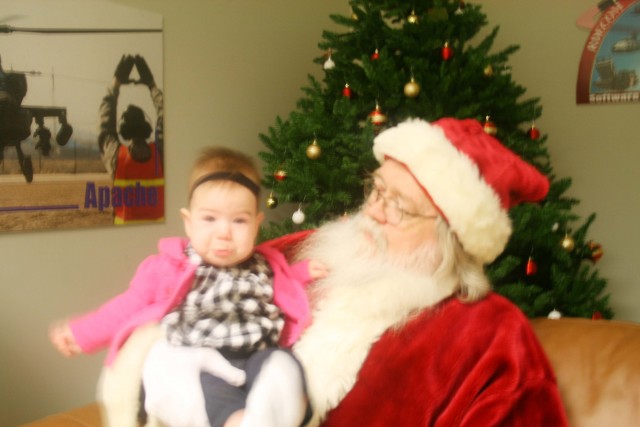 So the building where Grant works host a yearly Christmas Party. So Reese and I were able to come and see where he worked. You are not allowed to take pictures,but they hired a professional photographer to take the kids pictures with Santa. To say we were underwhelmed with the quality of the photo is an understatement. Grant said all of the photos looked like this. (Also, Reese was sitting really still so even my phone would have gotten a better picture… ahh well.)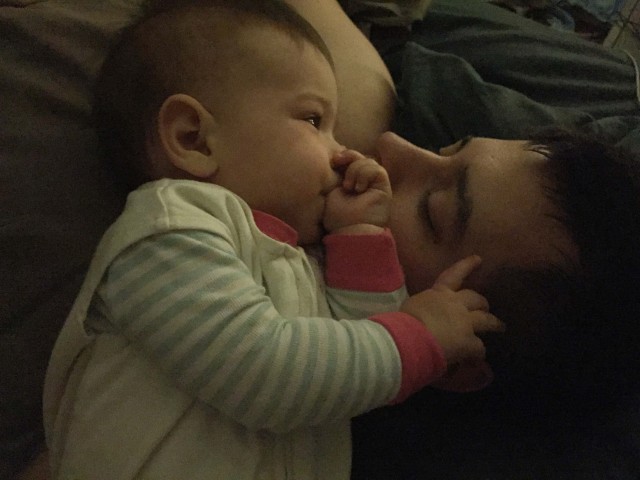 The morning of Christmas Eve cuddling with Papa.
 Our dinner for Christmas Eve was this amazing crockpot ham. Kira found this recipe, and it is super easy and delicious. Simple green bean casserole which I only make at holidays since Grant isn't a fan, and cornbread dressing.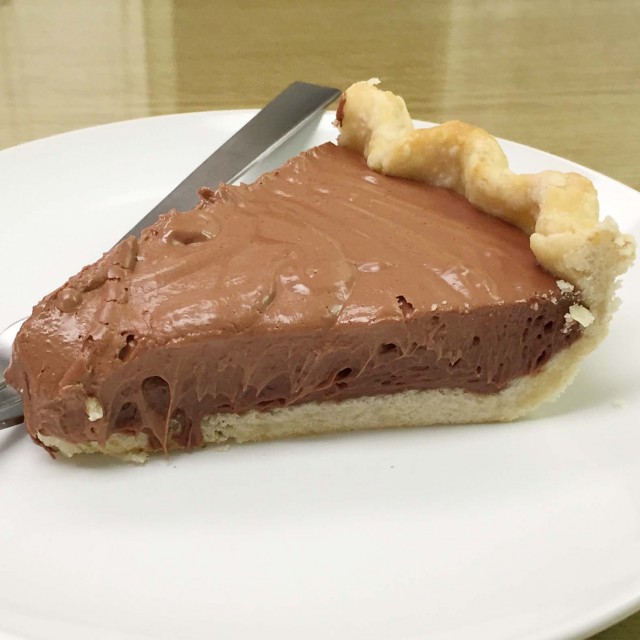 I also tried my hand at making a french silk pie. It turned out really well, I used my friends recipe which I will need to share some time, and THIS amazing crust recipe.
Reese liked it too.
We open our gifts on Christmas Eve which is German in tradition.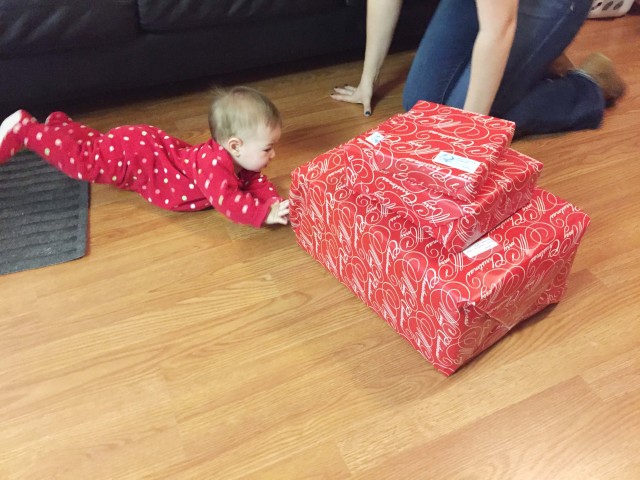 Reese loved the boxes and wrapping paper.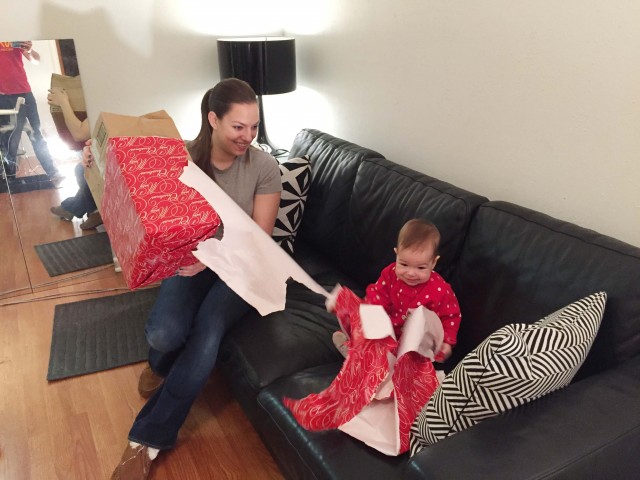 Once she figured out how to open everything she had a ball.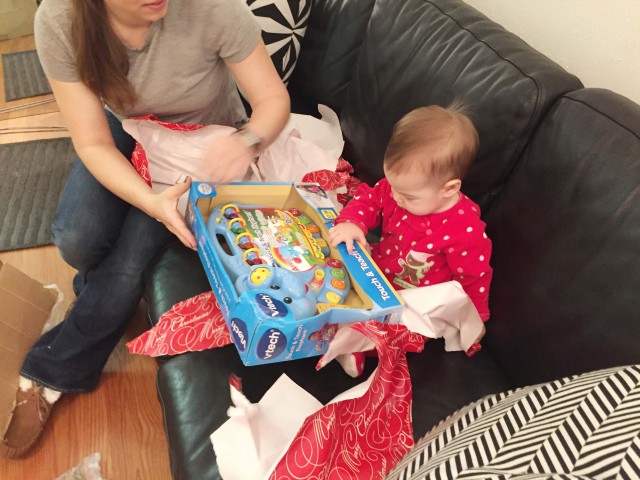 Looking at her gifts.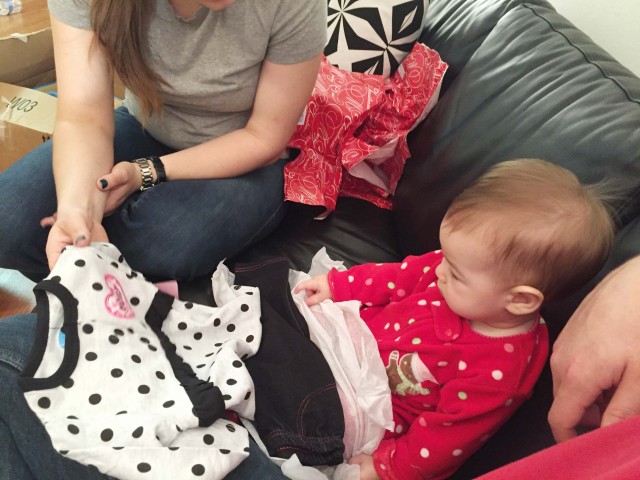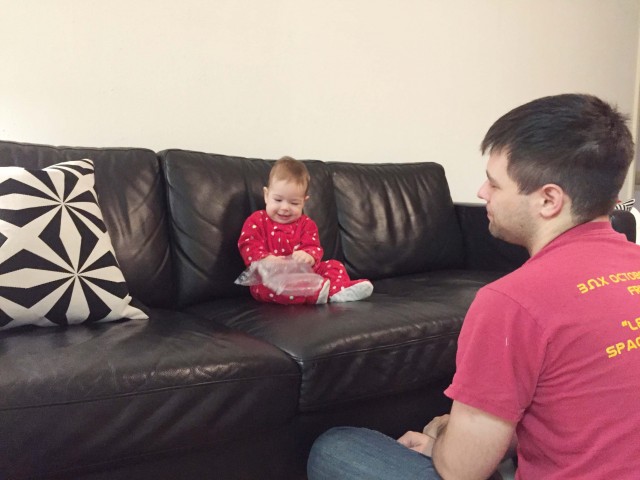 Playing with packing materials is super fun.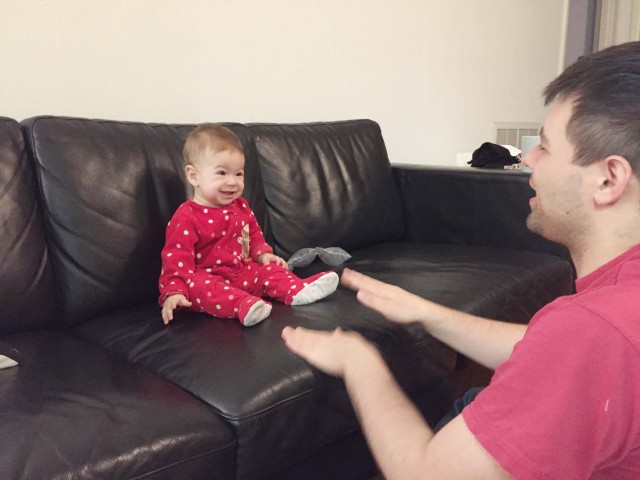 Papa is super fun too!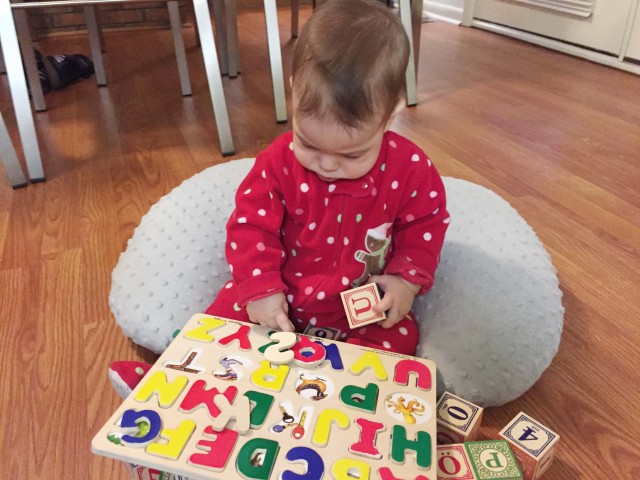 We aren't sure if we plan to do this each year,but we gave Reese one gift for learning which is the Melissa and Doug Alphabet Puzzle.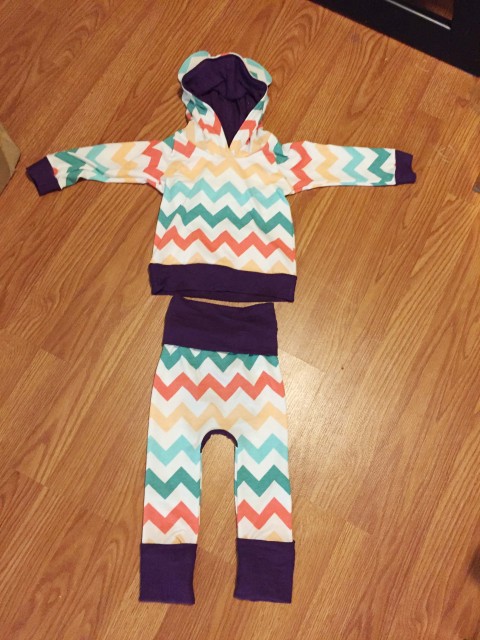 One gift of something she needs which is this cute outfit I sewed for her. I used this pattern.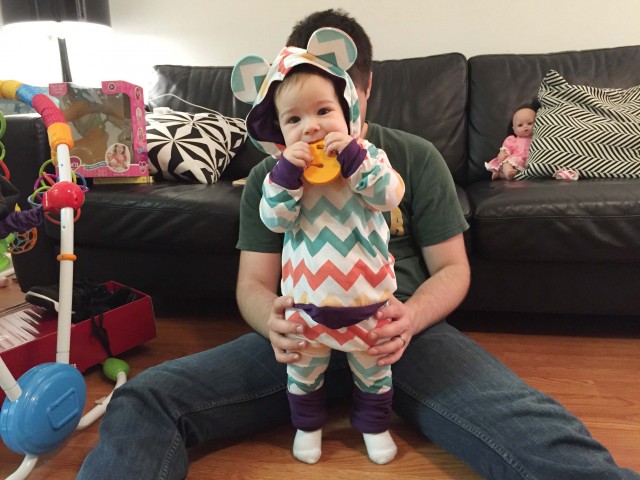 And one gift that is fun which is that doll in the back ground.
I liked the symbolism of the three gifts as the three gifts the wise men gave baby Jesus. A "gold" present, or something a child would want and treasure, like a favorite toy; a "frankincense" present, or a gift that will be used in education or spiritual life, like a Bible/Book; and a "myrrh" present, which is something for the body, like clothing or shoes. So again not sure if we will continue this on each year,but I liked it this year. Our main gift to Reese was opening a college fund, and some of our relatives were willing to give toward that rather than gifts for her which we REALLY appreciate.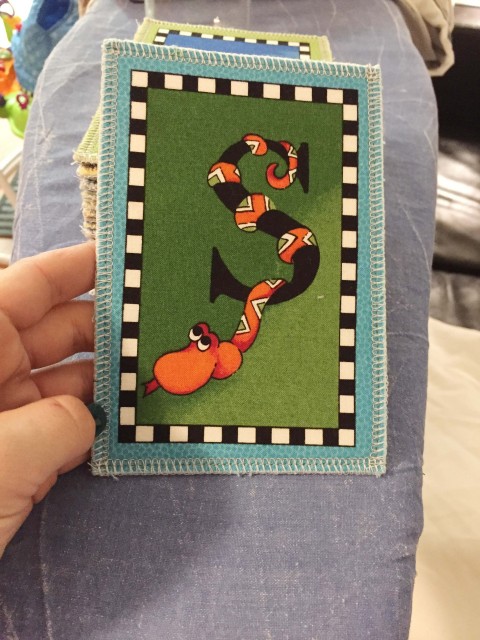 These are some cool alphabet cards that are made of fabric and washable that Gail found for Reese.
Reese got so many cute and cool gifts,but this video had us laughing cause it is so Reese.
On Christmas day, we facetimed with Gail, Byran, and Amanda and let Reese open her gifts from them at that time so they could see.
We also let Reese have her first taste of our protein pancakes,but with chocolate chips in it rather than blueberries like normal, and of course she loved them.
It was a great first Christmas as our family, and we will have to see which traditions we use again and which new ones we add.