Sebastian's Ten Month Update – The stats for these posts are taken on the day Sebastian turned 10 months old, but all of the information and content is everything up until the point he turns 10 months old. (7/01/17-8/01/17)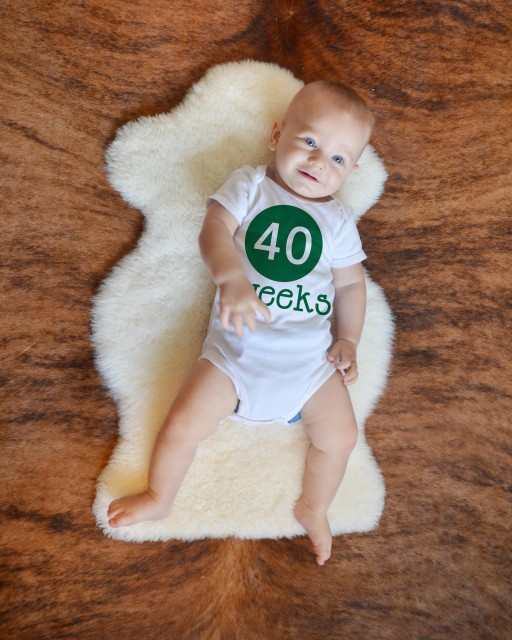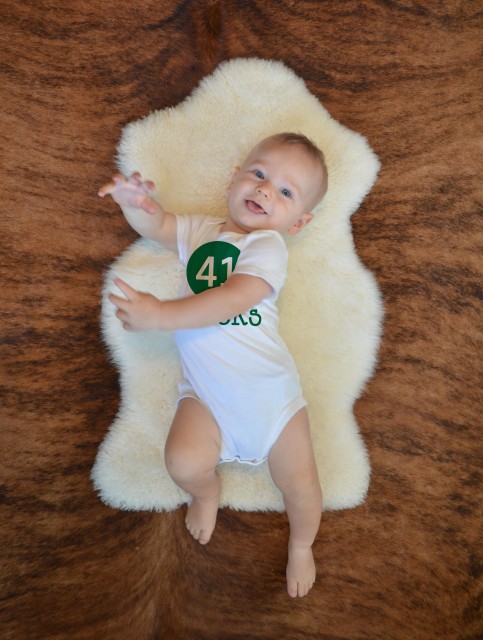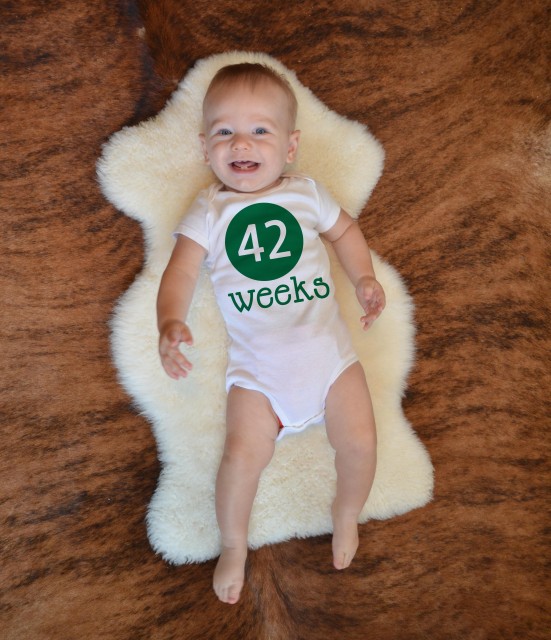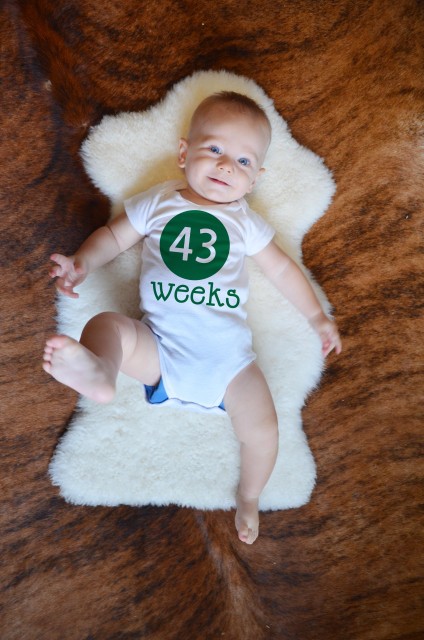 Sebastian's Ten Month Stats
Weight:  19 lbs 2 oz. (38th percentile)
Height:  29 in (72nd percentile)
Head:   17 1/2 in (30th percentile)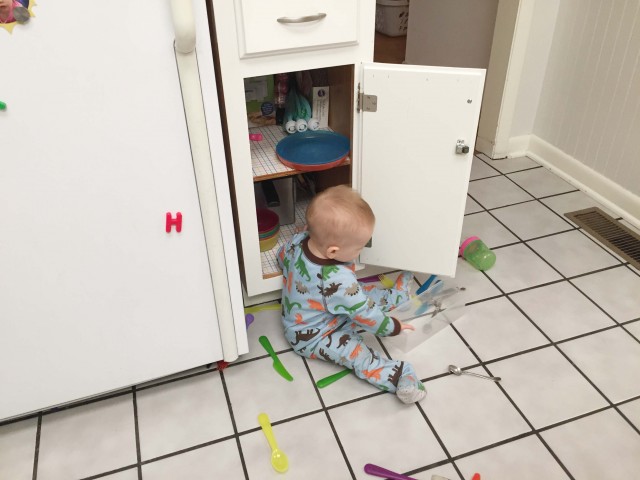 Playing with the kids silverware is on of his favorite activities.
Sebastian loves stacking blocks and has started clapping for himself when he gets the blocks to stay up. He is also interested in anything that Reese is interested in.
This normally never happens to us as Grant says in the video, but it was hilarious none the less.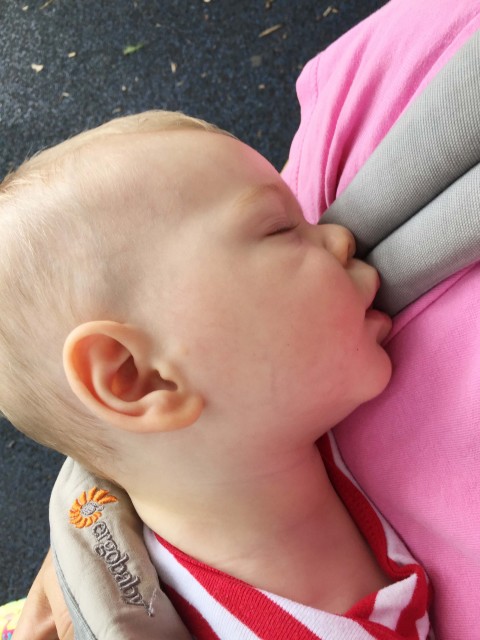 Going to the park is fun but wears him out quickly.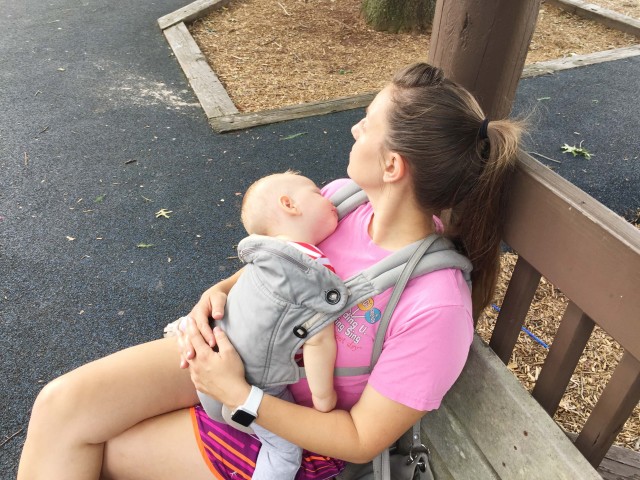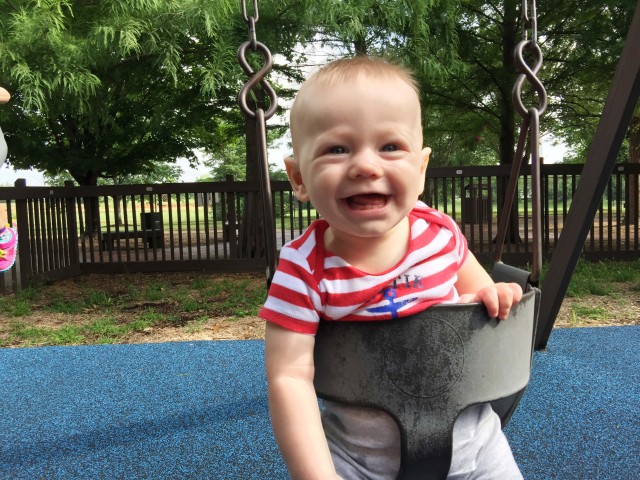 He likes swinging.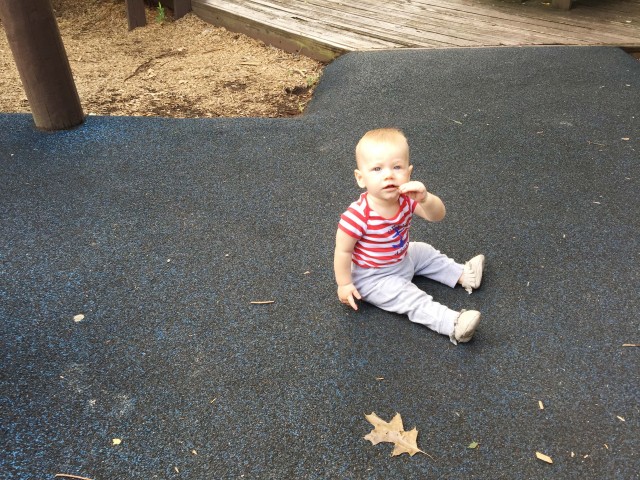 He is a lot more daring than Reese, and it took us a while to show him how to crawl backwards down stairs, off of couches, etc. He just wanted to tumble down head first.
Some days I wonder why we even buy our kids toys. Here is Sebastian  "cooking" something in his pot. For a good few weeks this was his favorite toy of choice to stop complete melt downs in the morning before breakfast was ready.
On the weekend of the fourth, the kids and I went to Nashville to be with Kira, Andrew, Alana, Jackson, my parents who were visiting for the holiday, my sister Tanya, Emi, and Jonas who were also visiting. This was our second annual trip and get together, and I hope we can continue to do it in the future.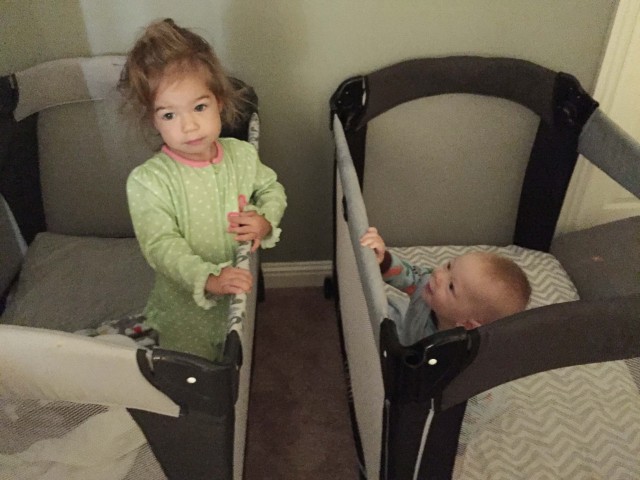 Here are the kiddos the morning after we arrived.
Sebastian and Jackson are about 8 months apart in age. I have a feeling they will be best buds and trouble makers as they get older.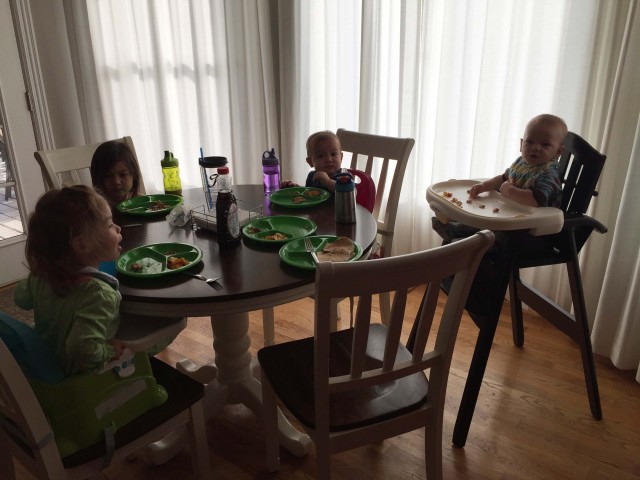 Sebastian can be in a booster seat while eating, but he was the youngest so fit the best in the highchair.
Sebastian liked to shriek a lot during this stage, and as you can see, Jackson and Sebastian fed off of each other's energy.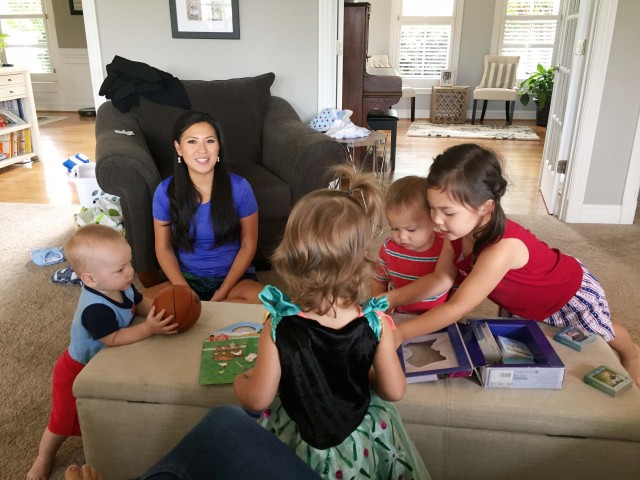 Watching the cousins was super fun!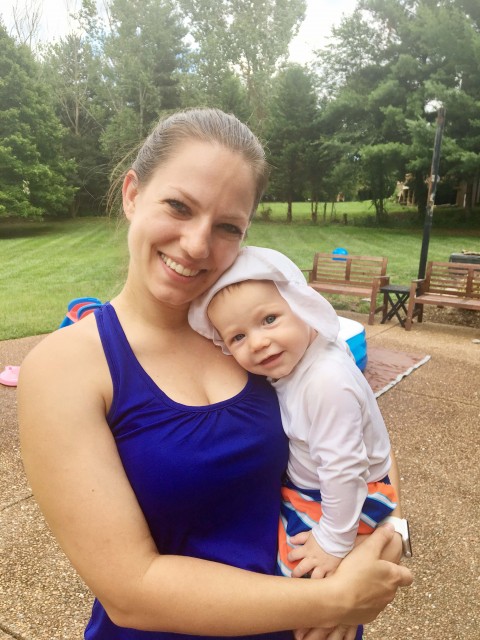 We got a lot of time outside to play in the water. Sebastian has pale skin, and I don't really see him tanning. So he will have to wear rash guards and sun hats for most of his life I fear.
We got to see Opa and Oma on this visit to Nashville. Here is Opa reading Sebastian a book, he likes turning the pages.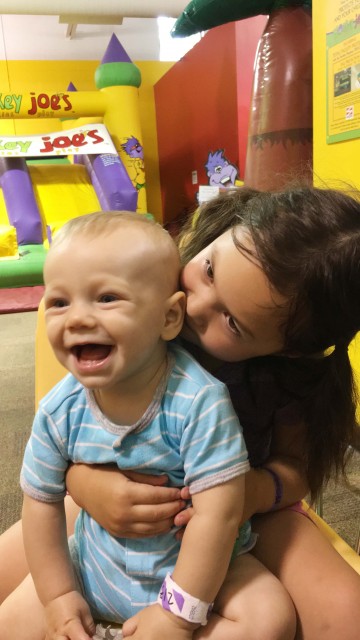 Before we left Nashville, we got to go to a jump house with the cousins. Sebastian had no fear and LOVED it. He couldn't really jump yet, but just climbing around and exploring everything was awesome.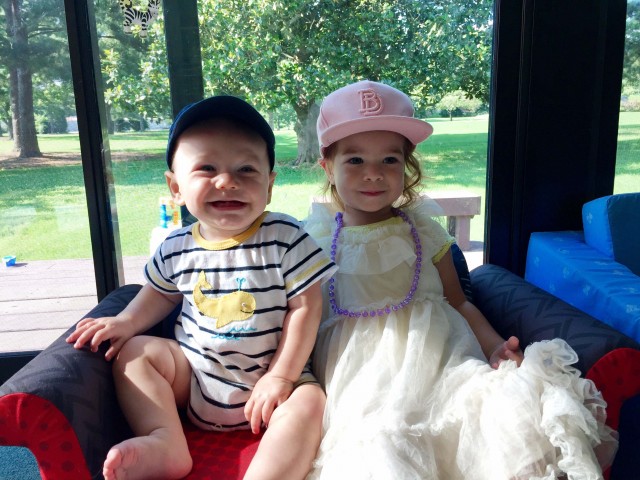 Whatever Reese is doing, is what he wants to be doing. I bought this hat which is super cute, but he has already outgrown it.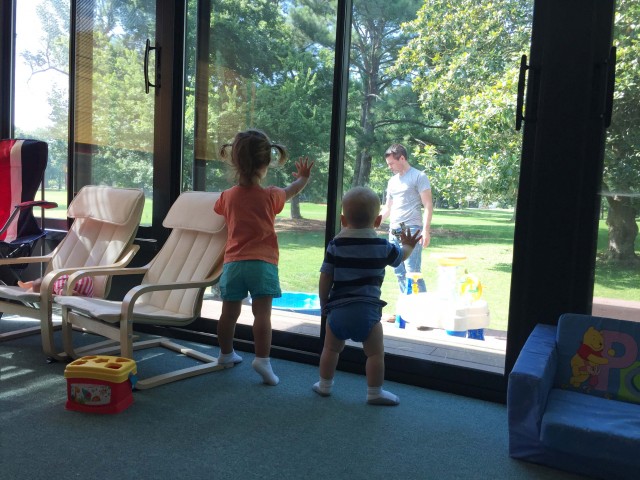 Playing in water is his favorite. Here are both kids waiting for Grant to finish cleaning off their kiddie pool and water table. We learned that if you put 2-3 drops of dish soap in them, film takes almost three times as long to form. I also when you decide to change the water and clean it, just one spray with the hose makes it really clean.
Here you can see when Sebastian first learned to clap and on command. It took Reese a lot longer to clap, but I think a lot of that had to do with her sucking her thumb.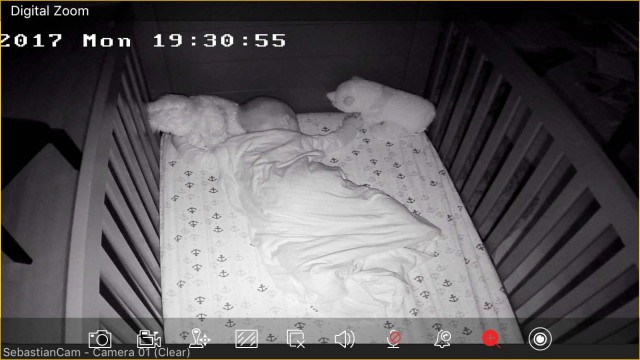 He is still a stomach sleeper, but he also rearranges his stuffed animals and likes to be touching them when he goes to sleep.
Sebastian is still nursing about 3 times a day, but he loves food. If he really likes a type of food or what he is eating he will smack his lips and mouth a lot.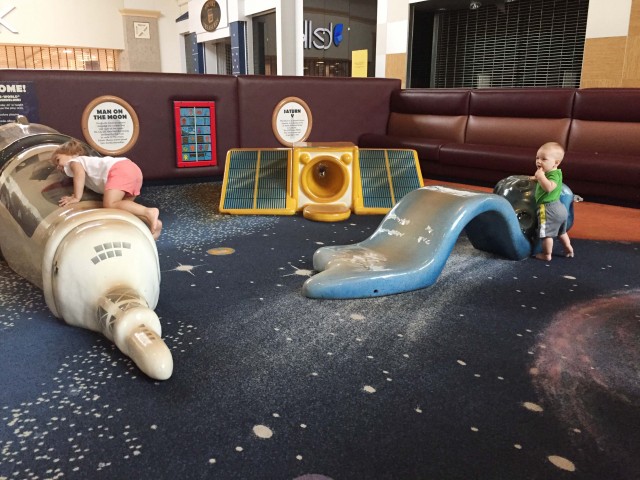 Occasionally we go to the mall play area which is the soft foam type of stuff. Since he isn't walking yet, he can play more here than some of the outdoor places.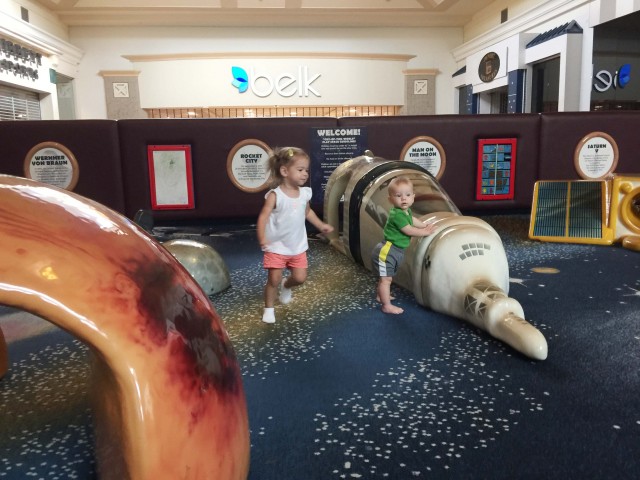 Since it is so hot outside, it is a nice change of pace.
I try and take both kids or just Sebastian depending on the schedule to Story Time at the library. As you can see he likes screeching as well as doing a bear crawl when he wants to really get moving fast. The only downside to this is if he does misstep, he face plants which results in lots of crying. Also this bear crawl has a slight angle to it, so Andrew calls it the demon crawl because it looks like something out of a horror film.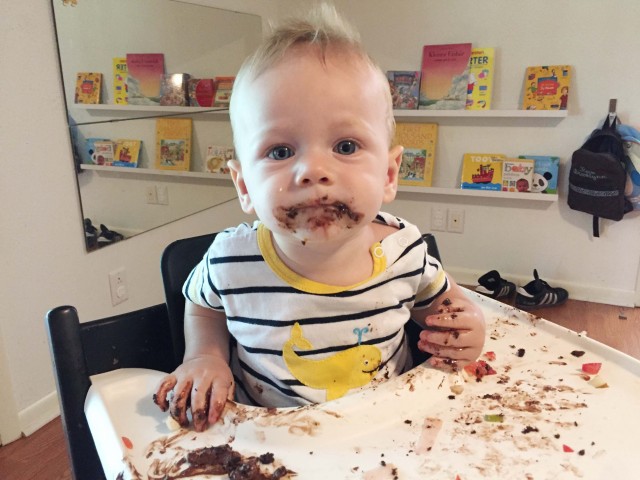 Sebastian had a taste of his first cupcake. I bought one from Walmart to split with Reese, and he went crazy when he saw I wasn't going to share. So, I gave him a 1/4 and he demolished it.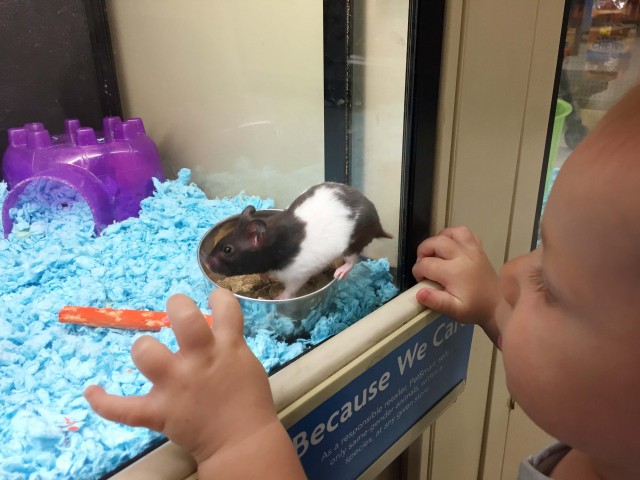 Since it is so hot out, I have taken the kids to the pet store a few times to look at the animals. Sebastian loves animals especially dogs and cats so far. However, he is excited about most of them.
Sebastian loves to dance to music, any beat or tune and he is dancing. In this video it almost looked like he was locking or hitting hard to the beat it had me laughing so hard!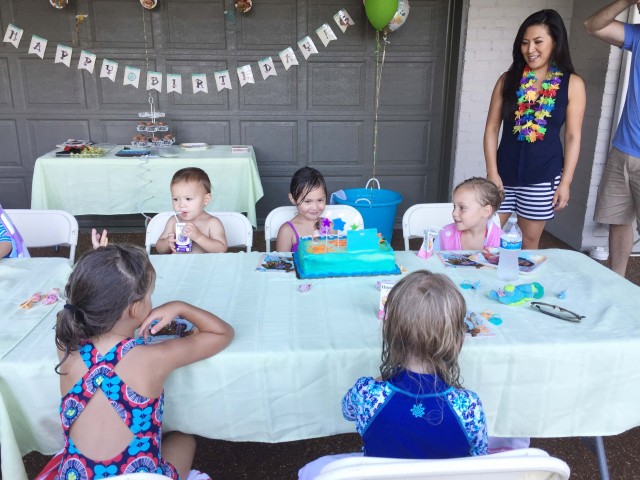 At the end of this month, we went back to Nashville, but as a whole family for Alana's Birthday party.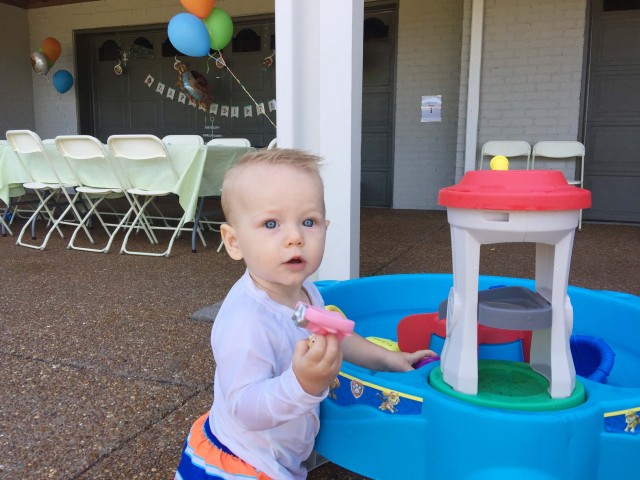 It was a water and Moana theme, which Reese thought was the coolest thing ever.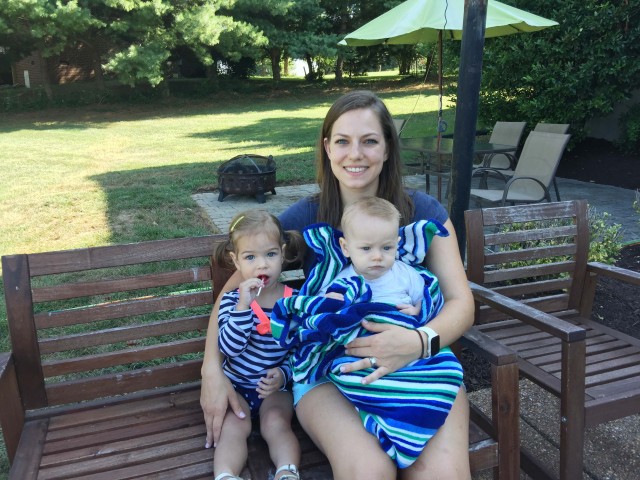 It was actually a little chilly that day when the sun wasn't directly on you, but none of the kids complained because they didn't stop moving at all.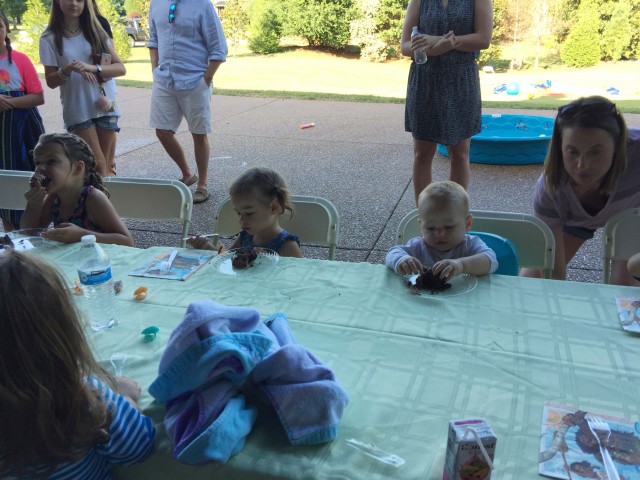 Here are both of them getting a cupcake during the birthday party.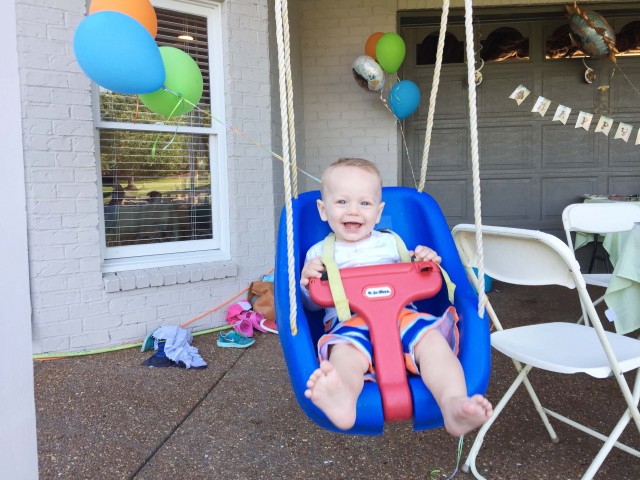 Sebastian also got a little bit of swinging in during the party.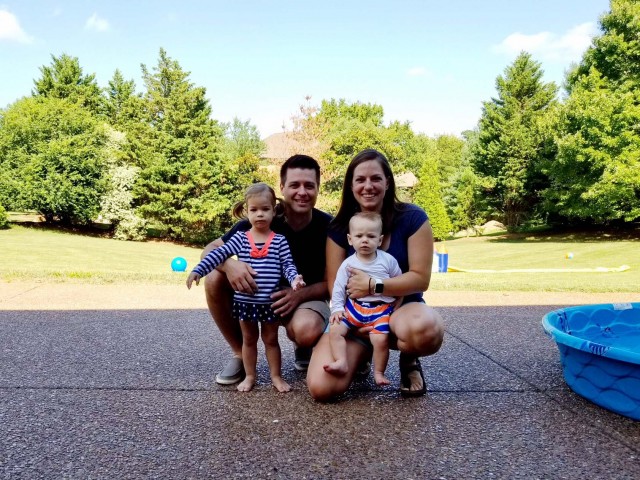 A family photo.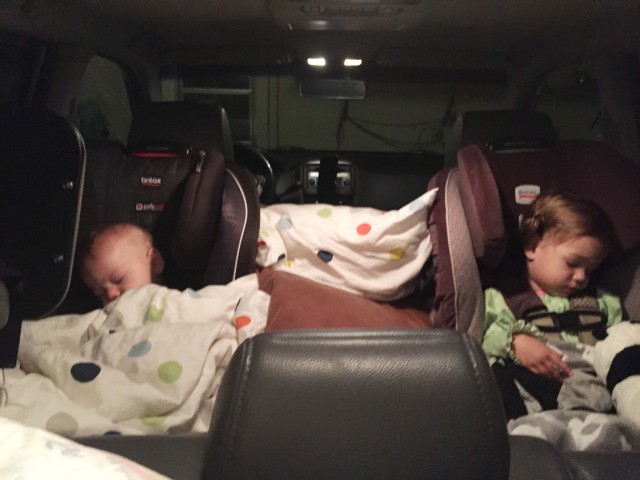 Both kids did great on the way home sleeping most of the way which is very nice.
Mama and Papa came for a few days on their way home from Nashville so that was nice. I love Reese getting to hear German from someone other than me, and Mama taking the time to color, talk to, or just be around my kids is so amazing. Not to mention the help with doing dishes and laundry. 🙂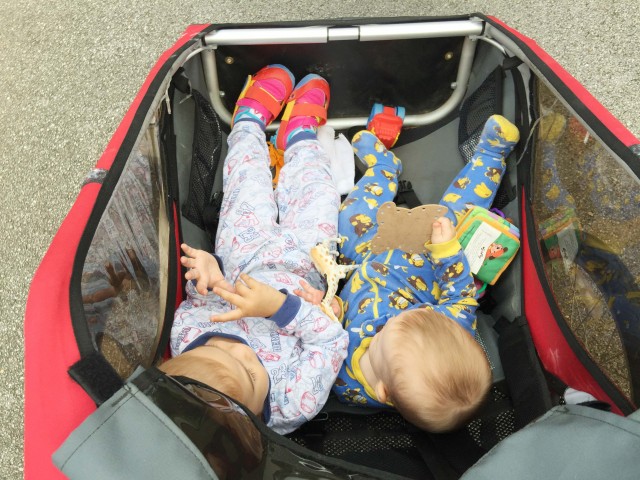 We still go on a lot of walks. Sebastian really likes our Thule trailer, and will try to get in it if he sees it in the garage.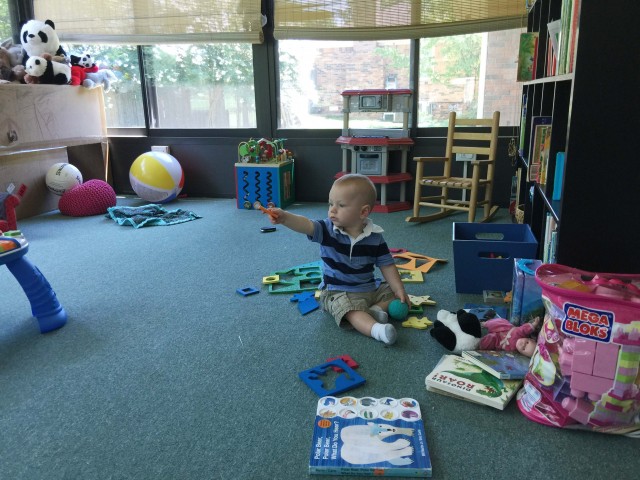 Tanya and Wilson gave us some of the toys that their kids had outgrown, and this peg toy with different foam shapes and plastic pieces is one of his and Reese's favorites. They both play with them completely different, but both love it. Thanks Robertsons!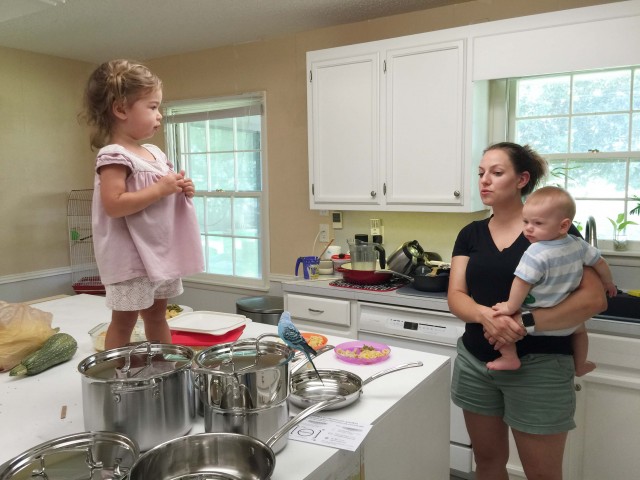 During this time we also Pet sat Kellan my friend's bird for about two weeks I think. The kids loved having him there. He was an easy pet to house sit, but it was also a nice reminder that I have my hands full with two littles.
We try as hard as we can to make sure Sebastian is home for his naps, but especially on the weekends occasionally he has to take a car nap. He is a trooper and the second child.
Sebastian love playing "chase" either with each other or with us.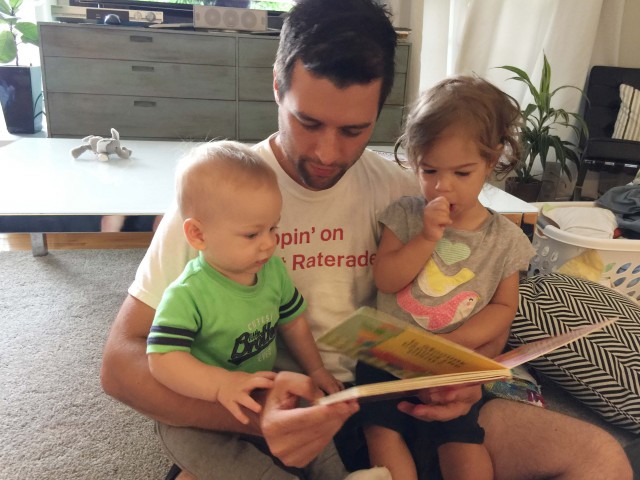 Both kids love reading books, Sebastian loves turning the pages, but he is also very impatient when it comes to the books. So sometimes, you are just turning the pages since you can't read the book that fast.
He has gotten a lot better at walking behind these type of push toys.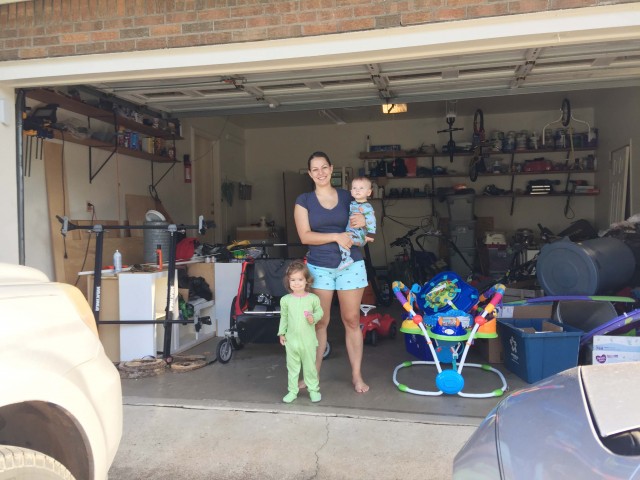 Every morning we say goodbye to Grant as he heads out to work. We miss him and wish he could stay with us all day, but I know he secretly needs a break from the chaos too. Sebastian loves waving bye bye.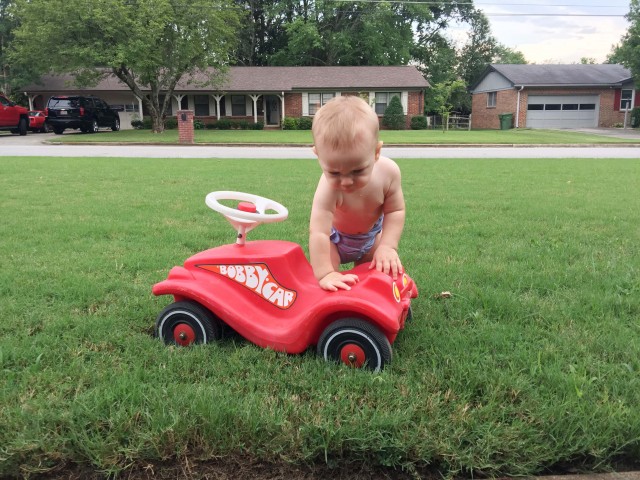 Sebastian's new obsession is the bobby car. This one was mine and my siblings when we were younger, so I would say it is in great shape for being at least 30 years old. We got a replacement horn since that was the only thing broken, and Sebastian loves honking the horn, getting off and on, and pushing it around. 

Sebastian got his 3rd tooth 7/1/17 and his fourth tooth on 7/4/17.
He is in size 12-18 month clothes depending on the outfit, the piece of clothing, and the brand.
He is still terrified of the roomba and cries all the time if he can hear it.
Both kids are still separated for their main afternoon nap, but together at night in their room. As I mentioned before, Sebastian was seen at an ENT, and we decided to see how he is doing rather than go with tubes for his ears. Since his appointment, he hasn't had any ear infections so we will continue to wait since the actual pros of the tubes aren't really that great. So we are hoping he continues to be ear infection free.
Separation anxiety has hit as well, if I leave the room he is a crying mess which gets really old really fast, but I love him so much even if he is a whiney pants sometimes.
Sebastian has been doing better with baby sign language. He does more and please as well as all done.
The music table and walker toy are two of his favorites right now. He still loves pulling things out of drawers, baskets, etc.