I just started week 17, so here is my week 16 update.
Check out the week 15 update Here: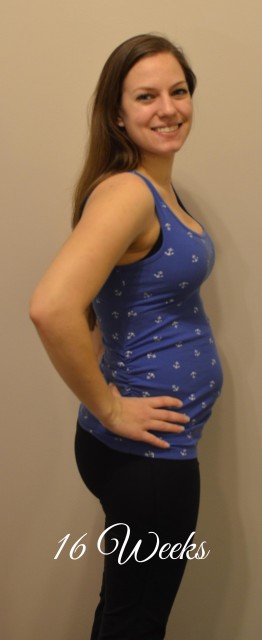 How far along: 16 weeks
How big is baby: three to five ounces and the size of an avocado.
Weight gain: I thought I had gained a pound during Thanksgiving since Kira always has such great food,but I'm back down to no weight gain.
Sleep: Still sleeping on my stomach, and still needing one trip to the bathroom each night. I am also drinking a ton more water so I know that this is part of the reason that I need to go more often.
Diet/Cravings/Aversions: Nothing exciting just trying to drink a lot of water and eat more veggies.
Movement: A few here a few there which is fun, I hope that by Christmas time others can start feeling baby too.
What I'm loving: I think I'm feeling the baby move occasionally, so that is always exciting!
Symptoms: I always have itchy skin on my legs during the winter, but NEVER this bad. I used to just make sure to put lotion on in the morning, and I was good to go. Now I use coconut oil all over,but it just wasn't cutting it on my legs. So, Kira suggested I try Aquaphor, and it does the trick, so that is wonderful.
What I'm looking forward to: Plans for Christmas time. I have been slowly working on gathering Christmas Gifts. Also, plans are coming together for my Austin baby shower, and I'm getting super excited about it!
Thoughts: Sorry for the cray cray hair in the picture, I didn't realize how it looked until I went back to edit the photos, and I'm too lazy to have grant take more.
Let me know if you have any questions!
To see our Amazon Baby Registry click HERE!