Reese's Seven Month Update – The stats for these posts are taken on the day Reese turned 7 months old, but all of the information and content is everything up until the point she turns 7 months old. (11/11/15-12/11/15)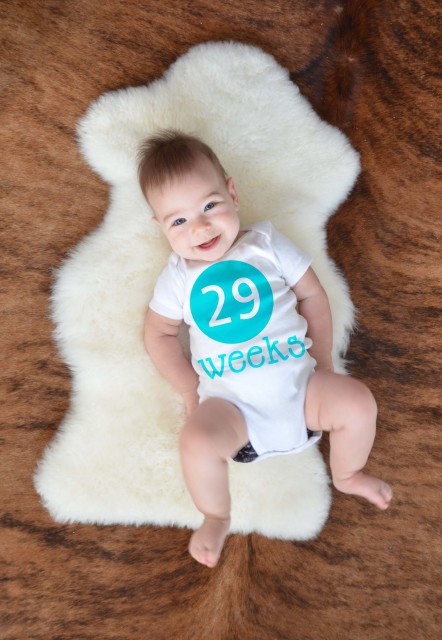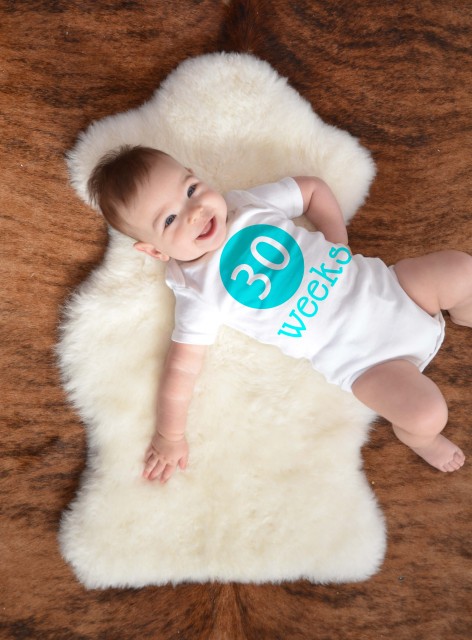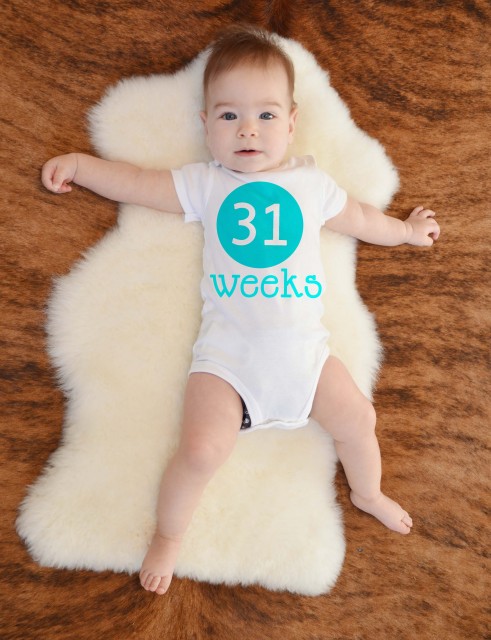 Reese's Seven Month Stats  (We took these ourselves so we tried to be as accurate as possible.)
Weight:  16 lbs 13 oz (44th percentile)
Height:  27 1/2 in (84th percentile)
Head:   16 3/4 in (33rd percentile)
Reese has still been babbling, roaring, growling, shrieking, and talking; she now says "dada,"but since we don't call Grant Dada we know it is just another sound she is saying. It is still cute though.
We still cloth diaper and love it.
We are still toothless around these parts as well.
We haven't noticed much separation anxiety yet,but she has been more stand off ish to strangers so far.
Bath time is more and more fun. She gets excited about taking a bath, and loves splashing and eating her bath toys.
She still loves watching the garage door open and close. Especially at the end of the day because it means Grant is home.
We have no clue why,but Reese loves when we walk into dark rooms.
She is mesmerized by technology. We totally understand,but don't let her watch tv or really look at anything on our phones. We feel she is just too young. If you chose to, that is perfectly fine.
Tags and zippers are still where it is at. No matter what she playing with, she will make a huge effort to find any sticker or tag and play with it for a long time.
She rolls super fast now from stomach to back and reverse. So she is pretty mobile without crawling yet.
She is still a stomach sleeper, and we had to battle our second sickness this month. She was a trooper, and it could have been much worse,but she had a fever for three days, got a whole body rash, and boom it was over. No clue why or how she got it,but there you go.
One of the cute things that Reese does is kick, swing, flail her right foot and leg. When she is in her high chair and likes something her right leg is wildly swinging, just something cute I want to remember later on.
Working more on hand eye coordination.
Playing Peek-a-Boo has been a favorite past time around these parts.
Reese Scooting backwards.
We put up some mirrors across from where Reese bounces in her exersaucer, and she loves it!
Reese isn't clapping on her own yet,but likes giving fives or clapping with one of us.
Reese is getting good at copying things we do.
 Also to mention here, Reese is now sleeping in a regular sleep sack. Since six months old she has been swaddled but had both arms out. Now we aren't swaddling at all, we went slow and steady but so glad that she is such a good sleeper.
Here is Reese rocking back and forth on her knees, she did this for at least a month getting braver and braver.
We tried this feeder with certain fruits, and it worked well, however, she got super messy when using it.(Grant will be shuddering watching this video) It was nice occasionally to have her feed herself,but she grew out of this super fast. It was much nicer to clean than any of the mesh ones which is very nice.