Here is my 12 week update; I'm 13 weeks along while writing this.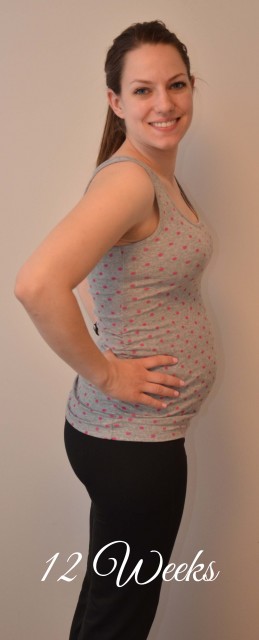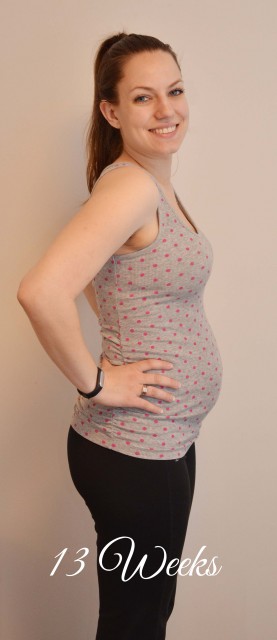 Here is my post from when I was 13 weeks pregnant with Reese.
How far along: 13 weeks
How big is baby: Almost an ounce and the size of a peach.
Weight gain: None yet, still under pre pregnancy weight.
Sleep: Still sleeping on my stomach, and still needing one trip to the bathroom each night.
Diet/Cravings/Aversions: I'm trying to drink as much water as possible because otherwise I get headaches with this pregnancy. My sweet tooth isn't better or worse so I'm probably eating more sweets than I should,but this week WINGS were all I could think about. Luckily Grant was game, and we got some Moe's BBQ wings.
Movement: I could have sworn I felt a few flutters,but maybe I'm just crazy.
What I'm loving: How this pregnancy is flying by. I know that sounds terrible,but with Reese I felt like everything took forever.
Symptoms: I get headaches if I don't drink enough water and get really dizzy if I stand up too fast. The nausea/vomiting is almost completely gone which is wonderful. The fatigue has been legit this time around too. I might have forgotten to mention it in the last post,but from weeks 7-12 I was taking one nap a day when Reese napped because I was just so tired. Now, I'm not taking a nap anymore or I won't sleep at night,but I'm nodding off around 8:30 or 9:00pm every night.
What I'm looking forward to: Trying to figure out what traditions to start with our little family, for instance, this weekend is Easter. Reese is still a little young for the Easter egg hunt,but hopefully she can have other fun.
Thoughts: I'm eating soo much food. Since I'm still nursing Reese until she hits the 12 month mark, I'm literally sustaining 3 people, it is crazy talk.
Let me know if you have any questions!
View our Amazon Baby Registry HERE!